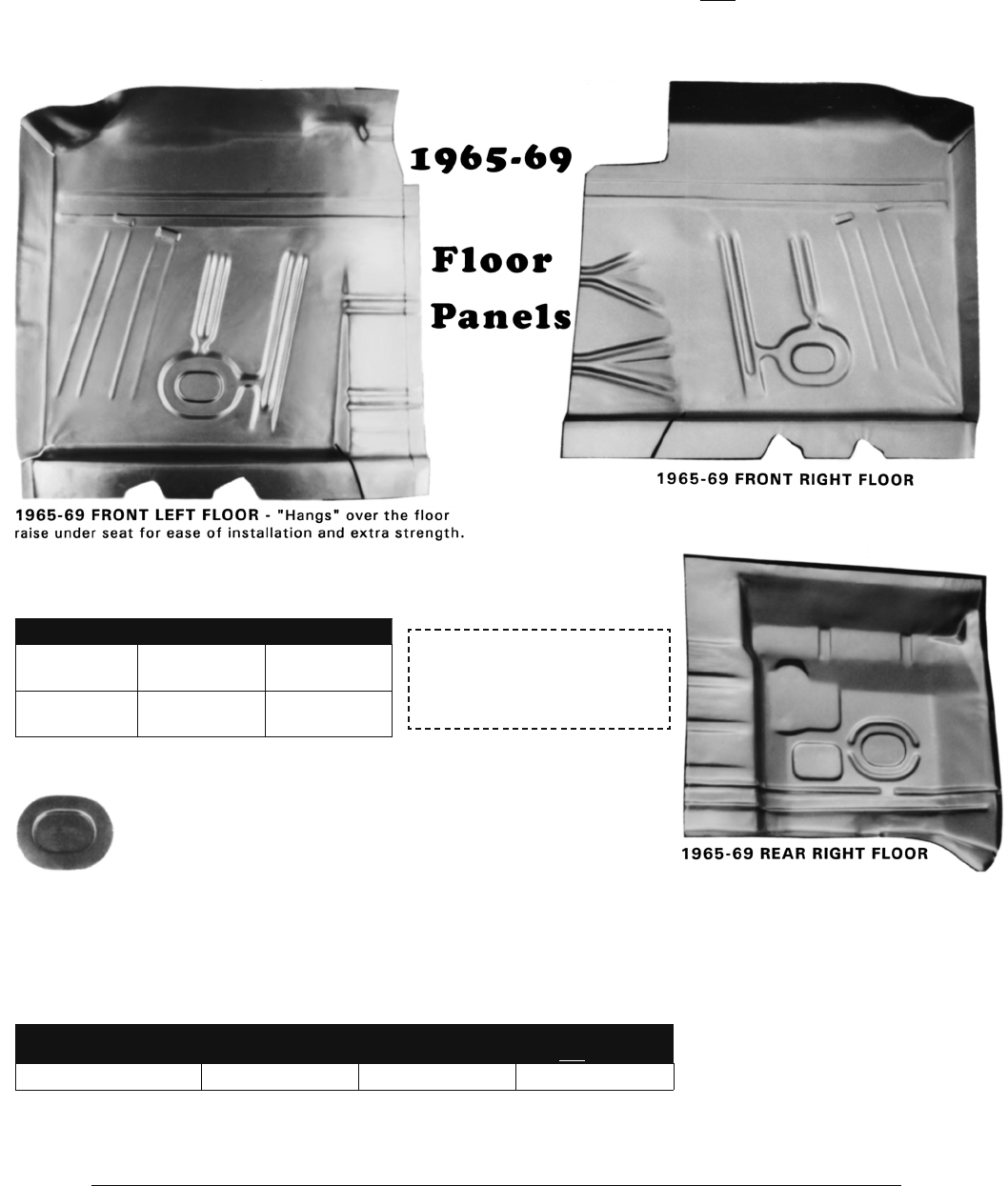 i
WARNING:
Products on this page can expose you to a chemical, which is known to the St

ate of California to cause cancer or reproductive harm. **For more information go to www.P65Warnings.ca.gov**
195
STAMPED STEEL FLOORS
These steel floors are just as original as possible. In nearly all cases the
sides go up 2-3 inches to cover all rust out and allow you to cut and
attach as needed. There are some slits in the corners (drastically lowered
cost) - just weld closed when installing. Some seams that were originally
moisture trapping overlap seams are simply "simulated" seams. These
floors will fit all Corvair Car Models: 2-Door, 4-Door and Convertibles.
The left panel on all front and rear floor panels are flanged to overlap right
or cut off and butt. The front and rear floor panels are about 10" short of
meeting under the front seats.
Note: Convertible owners will find the
floors a little wider than necessary. Just cut outer edges to width (front
& rear). The floors are stamped with the oval drain plug but you'll have
to cut out if you want. Standard owners will have to cut for the shifter.
65-69 STEEL FLOOR PANELS
YEAR
FRONT FLOORS

REAR FLOORS
1965-69 – LEFT
C8409
13 lbs.
C8949
13 lbs.
1965-69 – RIGHT
C8410
13 lbs.
C8950
13 lbs.
1965-69 Floor & Trunk Oval Metal "Plug"
1965-66 were same size and shape but had some holes and or notches. These don't.
CLARK STEEL FLOOR KITS
Order these great
REPRO

oors as a

KIT and SAVE $$
! You can
save MORE
and
ADD
the steel trunk bottom panel.
Also see panel discount page 186.
FRONT FLOOR
REAR FLOOR
C13352
35 lbs.
C13353
35 lbs.
C10405 35 lbs.

C10405T

45 lbs.
PANEL DISCOUNT
All panels & kits this page
See page 186
Start with the BEST – Clark's Corvair Parts From the Floor Up!
Your purchase of repro body panels as well as other repros
help to get the other parts you want reproduced. Thank you!