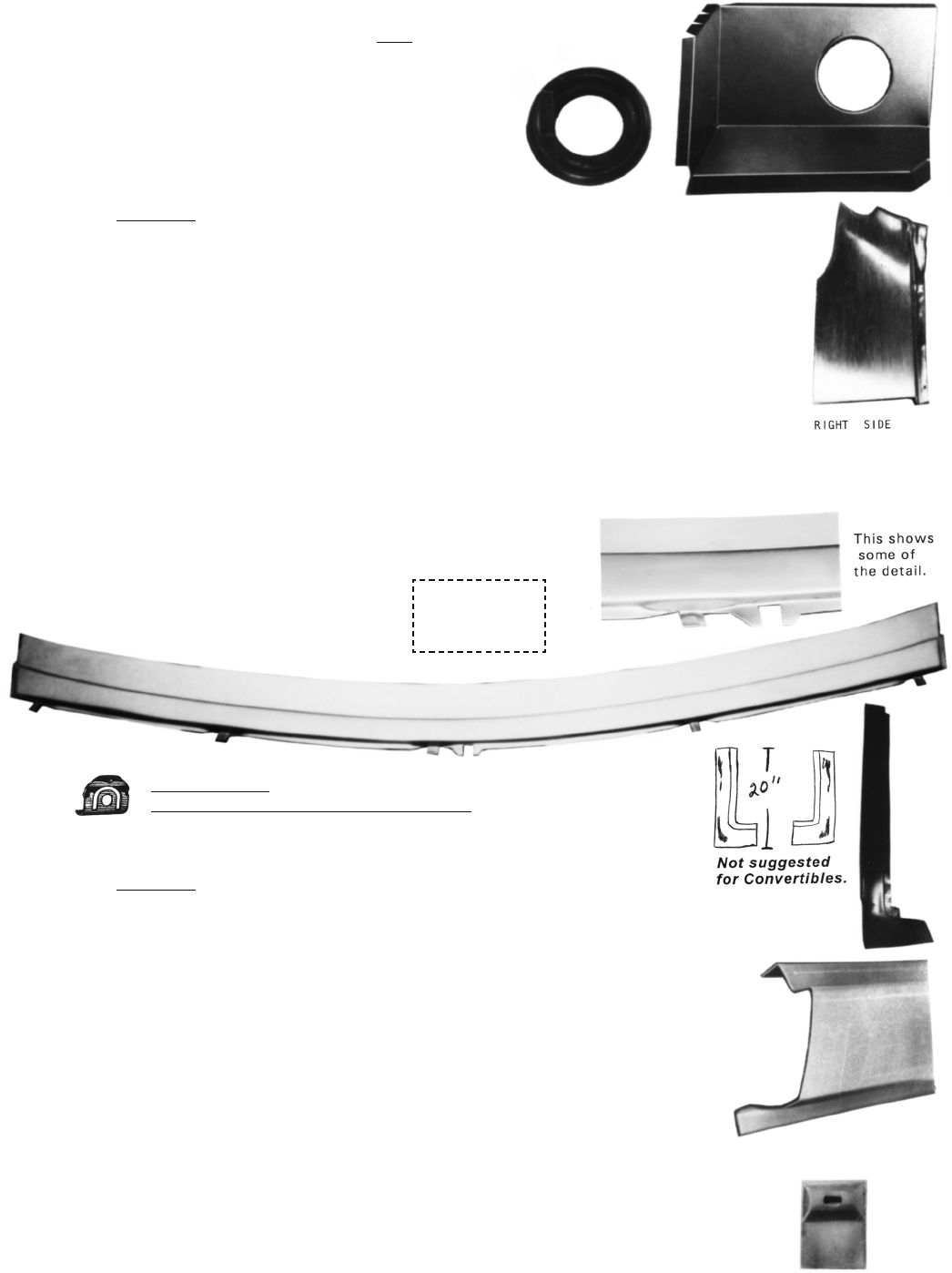 i
WARNING:
Products on this page can expose you to a chemical, which is known to the St

ate of California to cause cancer or reproductive harm. **For more information go to www.P65Warnings.ca.gov**
Handling Panels
! VERY SHARP !
193
'65-69 CAR BODY PANELS
GAS FILLER POCKET –
STEEL 1965-69 Reproduction
Goes inside left front fender.
1961-69 Large round rubber seal that goes around neck and seals to body.
TOP FENDER PATCH PANELS
1965-69
FIBERGLASS
Top of fender where it joins the windshield pillar and usually rusts.
Right side is where antenna usually is. Left side is corresponding area
Panel is about 10" x 6"
Left Side
C6709
2 lbs.
Not suggested for Convertibles.
1965-69 New Lower Steel
Windshield Panel
Note: This is a difficult panel to replace. The windshield must be removed and these stop about 2" from the left
and right end of the windshield because that area was originally part of the fenders.
STEEL REPRODUCTION
This is all new tooling with exact detail and all die cut edges. 1965-69 exact replacement
of the original.
SUGGESTED CLIPS –
For trim on fiberglass panel C640X – page 209
WINDSHIELD REMOVAL & INSTALLATION SUPPLIES
– See
pages 207-209
WINDSHIELD PILLARS – OUTER
1965-69
FIBERGLASS
Join from bottom windshield panel and extends approximately 20"
up windshield pillar where they usually rust. Extends from under stainless
windshield trim to side of pillar and about 2" into top of front fender.
ALL '65-69
EXACT PROFILE Steel Rocker Panels
These are
NOT "SLIP"
on. Your old one must be cut out for a correct weld in replacement. Come in 40" lengths.
Get
2
to do a full side. Goes from the seam hanging down at the bottom and weld under the door sill.
COUPE
and
4-DOOR
were originally 16 GA, but the
CONVERTIBLE
are stronger
12
gauge & work fine for all models.
COUPE, CONVERTIBLE & 4-DOOR – 12GA

C3350CT

16 lbs. ea.

(2 needed per side)
Support Body
During Installation
PANEL DISCOUNT
page 186
RUBBER ROCKER PANEL DRAIN FLAP
C856