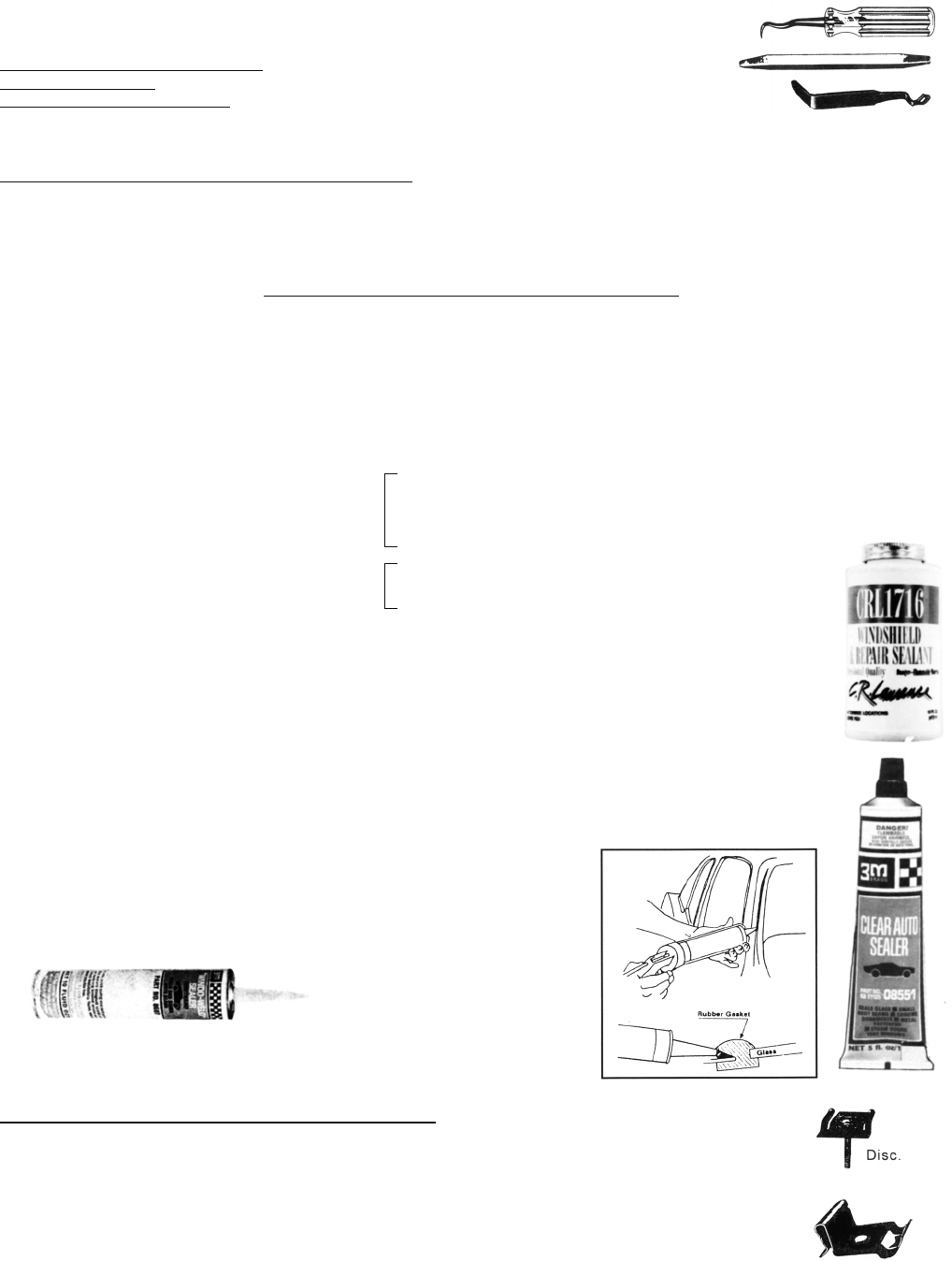 i
WARNING:
Products on this page can expose you to a chemical, which is known to the St

ate of California to cause cancer or reproductive harm. **For more information go to www.P65Warnings.ca.gov**
207
WINDSHIELD Removal + Installation Tools
'60-64 CARS & '61-65 VANS
WINDSHIELD WEATHERSTRIP-OVER BODY TOOL: 1960-64 Cars & Vans
C3749
6 oz.
WINDSHIELD SETTING TOOL: 1960-64 All
Special nylon tool. Insert into weatherstrip to open and guide glass.
C3747
2 oz.
WINDSHIELD FILLER STRIP SETTING TOOL:
Rear Van windows with "filler strips" in weatherstrip.
C3748
6 oz.
R
ELEASE AGENT – This spray easily loosens old glue, or stuck rubber weatherstrips from glass or metal. 12 oz. spray can.

C6521

2 lbs.

CAN'T SHIP BY AIR
3M WEATHERSTRIP GLUE REMOVER:
Now you can remove any extra glue without damage to fully dry/cured paint. Good for removing
some other adhesives too. Comes in a quart can.
Cannot ship via air.
C12577
2 lbs.
INSTALLING & SEALING WINDSHIELDS
'60-64 CARS & '61-65 VANS
These items also apply to any non-roll down windows as found on some 500's, 700's, and Station Wagons rear side window with rubber weatherstrips.
OLD WEATHERSTRIPS – SEALING
Sometimes you can stop leaks by forcing in sealer between the glass and weatherstrip and weatherstrip and body by using liquid sealer. We also sell the cartridge of sealer
but that is harder to get to go under the weatherstrip and therefore, may end up being messy. We also offer clear or black 3M Auto Sealer that can be put around the glass
or weatherstrip.
NEW WEATHERSTRIPS – INSTALLING & SEALING
When installing a glass weatherstrip (new or old) there are 2 places you want to be sure will seal:
1. Where glass fits into weatherstrip.
Q
Clear sealer (doesn't show if oozes out)
2. Where weatherstrip fits into the body.
There are a number of products to choose from to seal these areas. In all situations you want enough to seal but NOT ooze out all over (requires
only slight amount where glass goes).
INSTALLATION & SEALING SUPPLIES
LIQUID SEALER:
BLACK – in pint container. Apply with brush.

C1714

1 lb.
CLEAR SEALER – tubes
This is an old standard for sealing windshields – either ones already installed or when installing new ones. Adheres well to metal, glass and rubber.
5 oz. tube
CLEAR (colorless)
C6924
8 oz.
CAULKING/SEALER -
These can be used for sealing windshields to the weatherstrip
and the weatherstrip to the body. Silicone is considered the longest, best sealing. This is real silicone –
not a water based "silicone". The "regular" sealers work well, too. The
3M
will skin over a little more than
the
$$ Saver
which will remain like a flexible "clay". All are standard cartridge size.
SILICONE –
Black

C2010

1 lb.
REGULAR SEALER –
Will not harden or crack.
$$ Saver – BLACK

C769

1 lb.
TRIM CLIPS '60-64
60-64 CP & 4 Door Rear Window Trim Clips
Hold stainless trim to body on all coupes & some 4 Dr with stainless window trim. They are often rusty or bent during removal. Usage:
C3691 – 1 per side, C3691T – 1 per side, C3692 – 8 per top & 8 per bottom (16 total).
C3692
(Slightly shorter than C3691)
1/2

oz. ea.
C3691T
(with threaded stud)

Discontinued
C3691TA
– Nuts for C3691T clip. Sold set of 2.
1/2 oz./set
C3691
than C3691)
C3691T