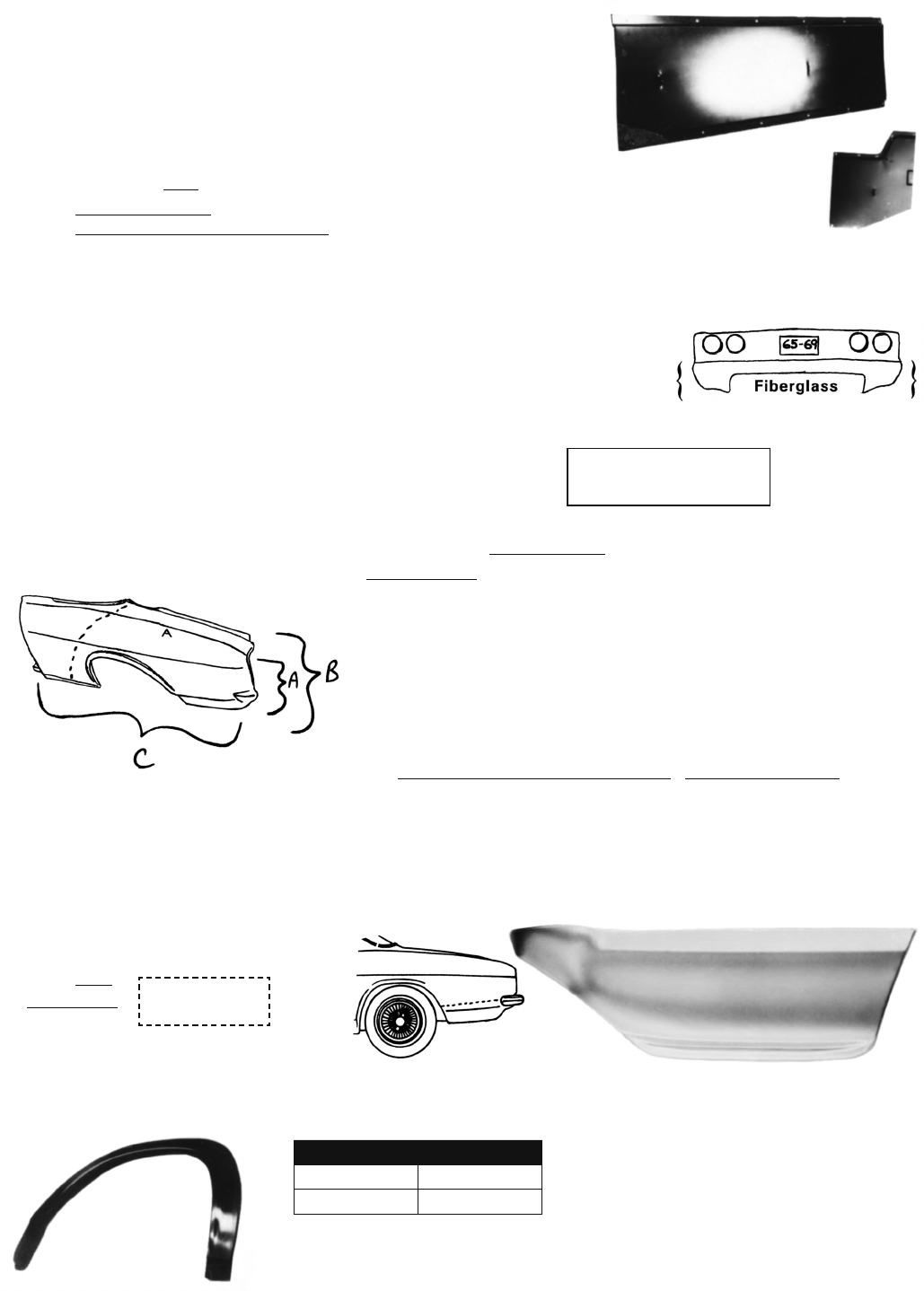 i
WARNING:
Products on this page can expose you to a chemical, which is known to the St

ate of California to cause cancer or reproductive harm. **For more information go to www.P65Warnings.ca.gov**
194
'65-69 CAR BODY PANELS
TUNNEL PANS –
1965-69 Cars
FRONT "PAN":
The long steel pan. Exact reproduction
except no creases between holes on the side.
A flat piece of "tin" won't do because cables, etc. hit it. STEEL
REAR "PAN":
The smaller pan. Exact reproduction except for lack of creases between holes.
TUNNEL PAN SCREWS: See

page 176
ORIGINAL TUNNEL PAN INSULATION PADS: Glue to tunnel pan to prevent vibration of clutch cable, accelerator
cable, shifter. 3 originally used per car. 1960-69
C718
4 oz.
REAR BODY PANEL – '65-69
Includes weatherstrip gutter. (Area from bumper down also available in fiberglass – bracketed area).
Truck collect shipping suggested on whole panel as UPS will not insure.
WHOLE PANEL – FIBERGLASS:
Shipped UPS order

C2O3OX-U

95 lbs.

u
LOWER SECTION –
(bracketed)
– FIBERGLASS:
C4791

7 lbs.
TRUNK & ENGINE COVERS – Fiberglass
Discontinued – Check "NOS" on website
REAR FENDERS –
(1/4 PANELS)

1965-69

FIBERGLASS
REAR 1/4 PANELS (Or Fenders) – Cut side marker lights as needed. In stock.
must be prepaid
(No COD – Credit Card OK)
A –
From dotted line to top fender crease and back to original rear seam behind bumper.
Left
C4266

UPS 78 lbs. (due to size)
FIBERGLASS
Right
C4267
UPS 78 lbs. (due to size)
B –
From dotted line up to engine lid gutter and back to rear seam. Panel includes engine
compartment gutter. (Includes everything except from dotted Iine forward.)
FIBERGLASS
C –
WHOLE 1/4 PANEL FROM DOOR PILLAR BACK – 2 Door & Convertible Only
Will vary some at the top near rear window. Panel includes engine compartment gutter.
FIBERGLASS
Right
C4271
Truck Collect
REAR FENDER BOTTOMS – 1965-69
Goes up about 8" on side, from wheel opening to
behind bumper approximately below dotted line in sketch.
WHEEL OPENINGS –
1965-69 FIBERGLASS
Approximately 3" wide for full opening of 1965-69 front and rear fenders. No joining notch.
BODY TOOLS –
See TOOLS page 331
C4791
u
(plus UPS LPS due to size
See page 204 for shipping info)
PANEL DISCOUNT
page 186
C9007