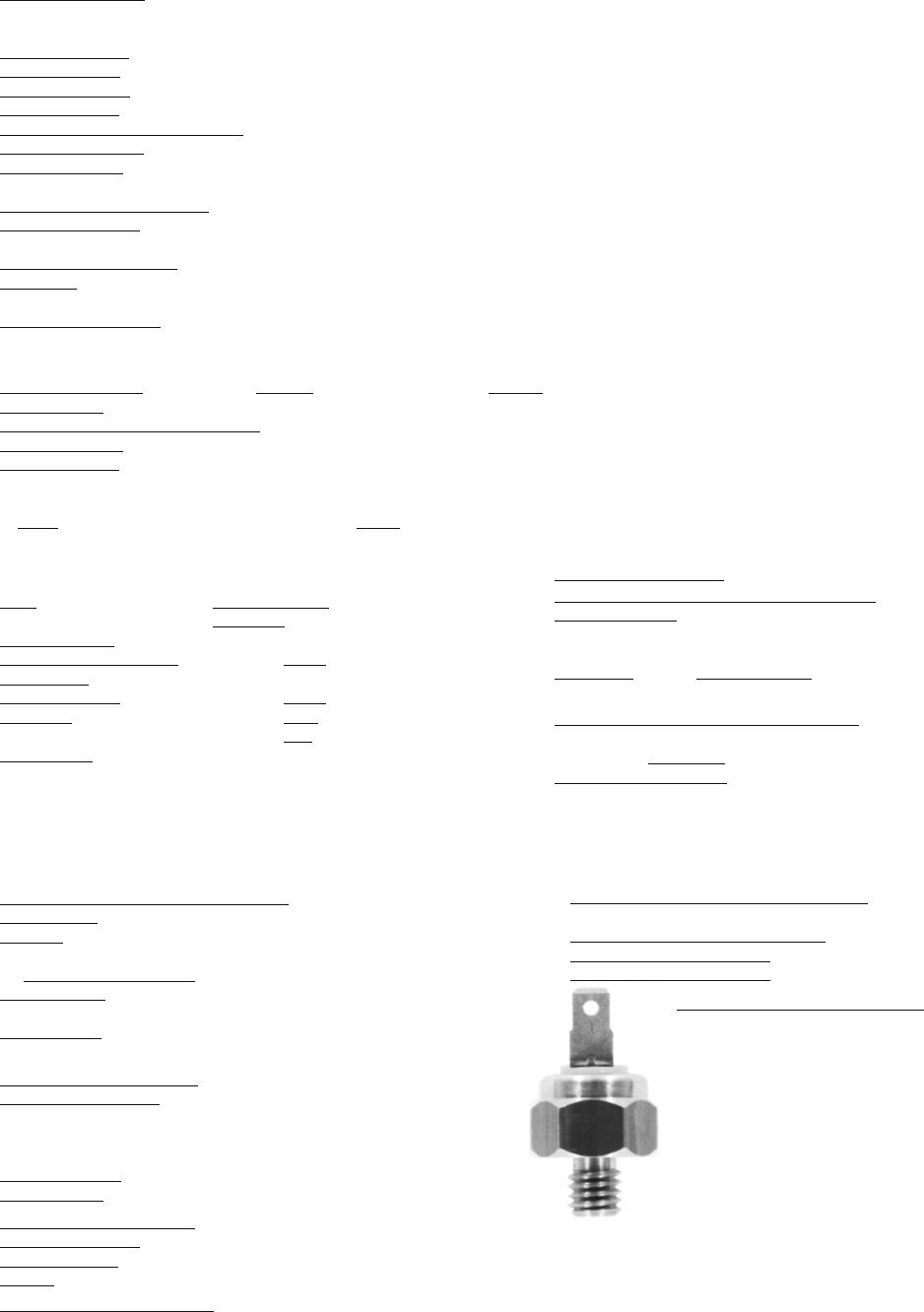 i
WARNING:
Products on this page can expose you to a chemical, which is known to the St

ate of California to cause cancer or reproductive harm. **For more information go to www.P65Warnings.ca.gov**
183
CARBURETOR & AIR CLEANER HARDWARE
CARBURETOR INLET NUT: Brass replacement. The threaded part is 3/16" longer to thread further into the carburetor if it is stripped. Can also be used if the stock one leaks
where the line screws in. Some carbs are threaded less and it may be necessary to file or grind 1/32" off of the threaded end of the nut. Comes with copper gasket.
CHOKE PLATE SCREW: 1960 and 1962-69
C1835
½ oz.ea.
CHOKE ROD SCREW: End of choke rod. 1962-69
C1838
1 oz. ea.
IDLE MIXTURE SCREW: 1960-69, often gets grooved.
C1839
2 oz. ea.
IDLE SPEED SCREW: 1960-69
C1841A
2 oz. ea.
PUMP LEVER TO THROTTLE SHAFT SCREW: 1960-69
C2761
1 oz. ea.
THROTTLE PLATE SCREW: Must be replaced & peened over (file off peened end of old screw to remove).
C1835
½ oz. ea.
TOP COVER SCREWS: 1960-69 (exc Turbo). Original style for most years (6 slotted & 2 phillips w/ LW). Includes the screws that hold cross shaft to carburetor.
Enough for 1 carb (9 screws & 9 LW total).
C5021
4 oz./set
AIR FILTER BRACKET TO HEAD BOLT: 1961-63. Set of 2.
C6821
2 oz./set
AIR CLEANER WINGNUT: 1961-63 More original style –
C3757
1 oz.
Smaller style –
C1215
1 oz.
1964-69 Chrome plated (nearly original) –
C9924
2 oz.
Smaller style –
C1215
1 oz.
AIR CLEANER TO CARB J-BOLT: Holds air cleaner to carb. 2 needed for 95 & 110 hp; 4 needed for 140 hp. Sold each.
C327
2 oz. ea.
J-BOLT NUTS: Self locking nuts for J-bolts. Sold set of 2 (140 hp requires 2 sets).
C1018
1 oz./set
(2) wing nuts w/ built in nylon lock nut. Allows removal of 1964-69 air cleaner tubes without a wrench or socket.
C9406
2 oz./set
VENT TUBE TO BLOCK BOLT:
C4916
2 oz.
TURBO BOLTS –
See pages 39-54 for MORE TURBO HARDWARE
TURBO INTAKE TO HEAD: 1962-66
"Gr 5" Short Bolt:
C2113
2 oz.
"Gr 5" Long Bolt:
C2114
2 oz.
THERMISTER NUT: C1592 ½ oz.
TURBO ASBESTOS COLLAR RETAINER BOLTS: Holds retainers into the shrouding. Sold as a full set.
1962-66
C5630
2 oz./set
SELF LOCKING NUTS: Holds Turbo to inlet pipe bracket. Sold Set of 4. 1962-66 Turbo
C3756

2 oz./set
TURBO STUD BOLTS: For the Turbo exhaust housing. Holds outlet pipe on.
Note: 1962-63 The exhaust housing outlet on these is a flat, triangular surface and used bolts (not studs).
1964-66 The exhaust housing outlet was triangular but has a recess for a round "donut gasket". These used studs.
BOLTS: 1962-63 Set of 3
C3161
4 oz./set
STUDS: (stainless studs & brass nuts) 1964-66 Set of 3
C999
4 oz./set
ELECTRICAL HARDWARE
BATTERY BOLTS
1960: 2 different ones needed
LONG HOOKED ONE
C5096
6 oz.
1961-62 WAGONS: 2 needed
C6825
6 oz. ea.
1961-64 CARS (exc. Wagons): 2 needed
HOOKS
C3031
5 oz. ea.
1961-64 CARS (w/
1960 style hold down
, use 1 C3031 & 1 C3031A)
C3031A
5 oz.
1961-65 FC (VANS): 2 needed
HOOKS
C4673
6 oz. ea.
1965 CARS: 2 different ones needed
HOOK
C514
6 oz.
1966-69 CARS: For metal "pusher"
C3700
2 oz.
WINGNUT:
For all hooked battery bolts.

C4321A

2 oz. ea.
DISTRIBUTOR HARDWARE – See page 77
DISTRIBUTOR POINT SCREW: C1029 1 oz.
COPPER GROUND STRAPS SCREWS
SCREWS & LW SETS: Set 6 screws & LW. 1960-66
(Note: 1967-69 – the Assembly Manual shows that
they did not use LW; otherwise they are identical)
Screws & LW
(60-66)
Screws with NO LW
(67-69)
C9685
2 oz./set
C9686
2 oz./set
1965-69 ELECTRICAL CONNECTOR & SCREW
Goes on frame by battery. Small positive cable joins here.
Often broken. CONNECTOR: C6802 2 oz.
Screw for Center of Connector
C6827
1 oz.
FC BATTERY –
ALSO SEE DIAGRAM – page 80 for location of these parts & additional related items
D. FC BATTERY CABLE
rubber coated
RETAINER:
rubber coated metal retainer holds the battery cable & the cable going to the voltage regulator. It's near the battery box &
is usually rusty or rubber is peeling.
C13052
2 oz.
E.
Battery box & rubber coated retainer
BOLTS:
bolts to attach battery box & retainer. Set of 5.
C13053
4 oz.
GENERATOR MOUNTING (60-64)
Also see photo – page 83
BRACKET BOLTS: Set of 2 with LW
C4349
2 oz./set
BOLT UNIT: bolt, all washers, rubber grommets, steel sleeves & nut.
Same Less Rubber Grommets
C4350A
3 oz.
OUTER BOLT UNIT: Complete (bolts, washers & nut). NOT used on all years.
BOLT & WASHER: Inner one (no nut needed). Head is often rounded. Note: many 60-64 also
used this style for the outer bolt-check yours!)
C4352
2 oz.
60-64 CARS & FC SCREWS (1960, wagons & FC use 3, all others use 5). Exact head.
Mounts voltage regulator& brackets
Set of 3 Screws
C3462
2 oz.
Set of 5 Screws
C3462L
4 oz.
1965-69 GROMMET: has built in nut – (3) needed
C859
1 oz. ea.
1965-69 SCREW: Hold regulator to grommet.
C859A
1 oz. ea.
STARTER HARDWARE
BOLTS – THRU STARTER: Often rusty; broken or poor head. 2 needed.
C1221
4 oz. ea.
SOLENOID SCREWS: Usually ruined. Set of 2 screws & LW.
C2262
1 oz./set
STARTER: Bolts up starter – 1960-69 "Gr 8'
C3158
4 oz./set
Repro Fuse Box to Body Screws
Fit all Cars & FC's. The repro fuse boxes are ½" deeper & require longer screws with small hex
head. Sold set of 2.
C3456A
1 oz.
ALTERNATOR MOUNTING (65-69)
Also see DIAGRAM – page 84
BATTERY CABLE & BRACKET BOLT/WASHER:
C4362
2 oz.
TOP BRACKET BOLTS & WASHERS:
C4363
2 oz.
BOTTOM MOUNT BOLT & WASHER:
C4364
2 oz.
HEAD TEMP SENDER UNITS
Will yours FAIL at too low OR too
high of a temp?
The only difference is that the body is BRASS rather
than STEEL. Now you can replace those old units that
can give you
FALSE READINGS and POSSIBLY
RUIN YOUR ENGINE!
We tried for years and finally
found a Supplier in the USA that could do a
LIMITED
RUN
! The small bimetallic strip can
FAIL 3 WAYS
.
Constant heating and cooling can cause them to either
get weak so they come on too soon or get brittle
and come on too late. Over the years, moisture can
also cause corrosion and possibly
NO CONTACT.
Even though the
originals and our repros were silver-plated, switches that are 10-15 years
old
CAN EASILY HAVE OVER A 50% FAILURE RATE.
61-69 ALL
(exc. Turbo & 140)
Coarse Thread
C438R
1 oz.
62-66 TURBO & 140 - Fine Thread
C437R
1 oz.
Copper Gasket
for either sender unit (not included)
C644
1 oz.