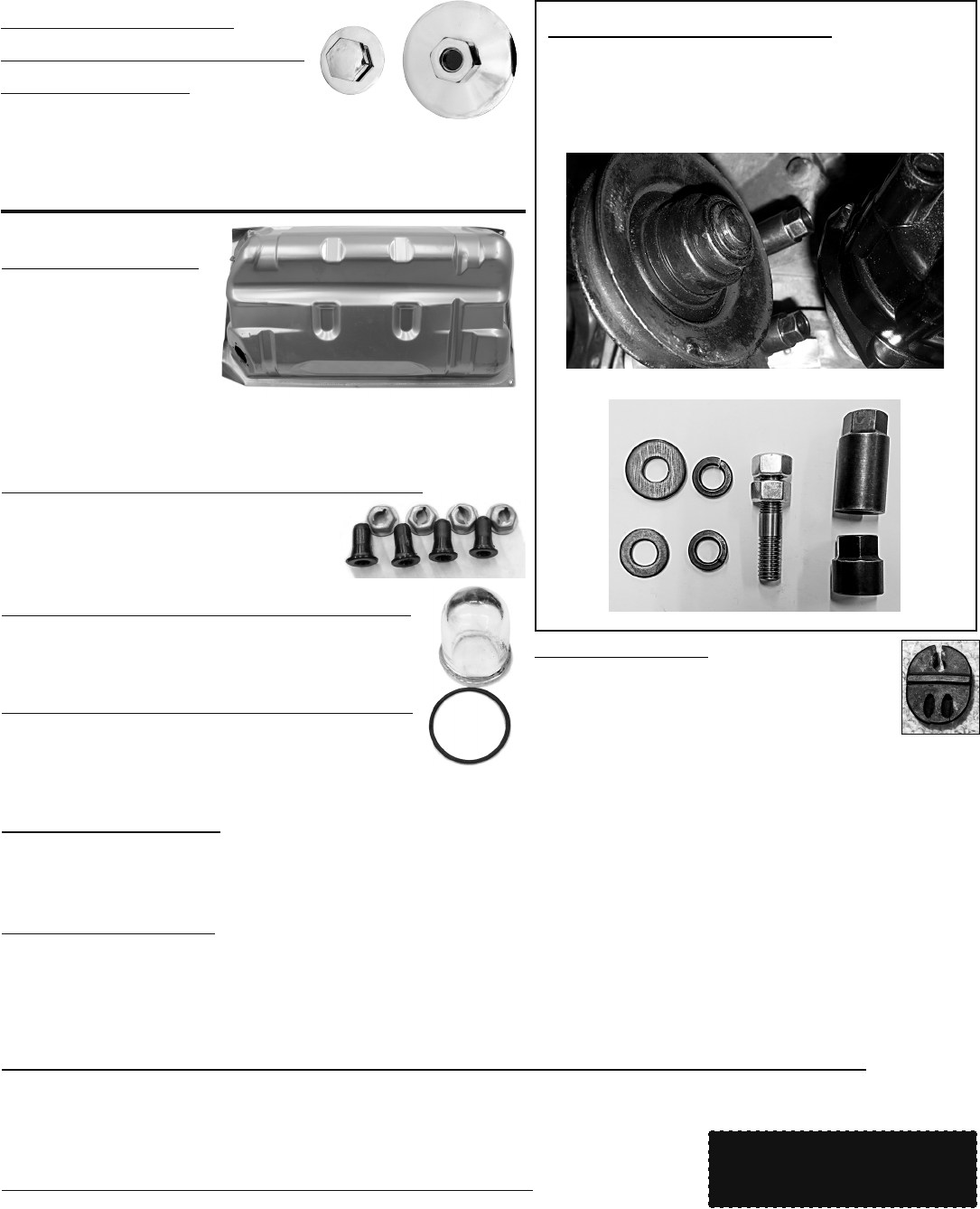 3
i
WARNING:
Product

s on this page can expose you to a chemical, which is known to the State of California to cause cancer or reproductive harm. **For more information go to w

ww.P65Warnings.ca.gov**
& Washer/Nut
One bolt/washer & the large washer/nut attach
to the front of the door to hold the vent window
chrome. The other bolt/washer is on the rear of the front door.
Sold as a set of 4 bolt/washers and 2 washer/nuts. Beautiful chrome plating.
C5793C
Full Set
FAN BELT IDLER NUT KIT
This kit uses longer nuts to tighten the idler pulley such that a regular
wrench can be used. A stud is threaded in to replace the bolt and the
other special nut is used on the stud already on car. All year Corvairs.
Idler nuts below pulley, next to distributor
IDLER NUT KIT
1960 Gas Tank
---- IN STOCK ----
After the initial production we
may or may not be able to re-run,
depending on demand and size
of the re-order. You can add a
1960 gas tank to our multikits by
adding X to the end of the part number. If also getting sealer add the A after the X.
Example: C10407XA
C12804
$349.00 40 lbs.
EXCELLENT REPRO
1960 Front Emblem Nuts & Protectors
Attach front emblem & protect end inside trunk,
exact as from factory. Set of 4.
Rear License Plate Glass Rubber Gasket
Also see other 60 license gaskets – Catalog page 96.
1960 Front Fender Emblem Retaining Palnuts
Some used these from factory – Set of 6 for both sides.
C4735
C4737
Gasket only
1960 Speedo Grommet:
This is a very low volume part
so they are handmade in low volume tooling, don't look
"great" but don't show under the carpet & are very close
to the originals.
C13410
$14.75
C13410
1960 Door Sills –
finally the correct door sills

– COUPES & 4-DOOR
We are sorry it took so long to realize we could supply the 1960 CP door sills very original. We were using the 1961-64 CPs
which have the rectangular "cut out" for the heater (which the 1960 did not have). We are now modifying 1962-64 Convertible
door sills which did not have the "cut out" – so they now look exact for the 1960 CPs and very close for the 4-door.
PLEASE NOTE – 4 DOOR:
Because we are using front door sills to make these 4-door sills, the "Body by Fisher" emblems
will not be where they should be, the ends are cut & die stamped so they look quite nice, but not exact repros. Exact 4-door
will never be produced.
1960 Coupe Door Sills – Sold as a pair
C7709E
5 lbs.
IN STOCK
1960 4-Door Door Sills – Set of 4
C13136E
5 lbs.
IN STOCK
WAGON WINDSHIELD – NEW REPRO – Took 4 years to get!
We should have new wagon windshields by March 2023. We already have notifies for 1/3 of the order so don't wait too long to
order yours. We may not be able to reorder. Windshields are foamed in a special box and shipped via Fedex for 180 lbs. (due
to size).
Clear
C4365
Tinted

C4366T
WHY CONSIDER A STEERING STABILIZER?
Cars & FCs
I've used the stabilizer for Corvair cars (less steering wheel movement, especially at
speed and in the wind).
BUT FOR AN FC?
When I rebuilt my Rampside, I replaced every single front-end steering component
and all bushings. So I figured that was as good as it could get. But I still noticed I was nearly constantly moving the steering
wheel slightly back and forth so I installed our steering stabilizer. WOW – what an improvement – steering wheel is now rock
steady with almost no movement even in high winds and at high speeds.
C1460
Catalog
page 138
NEW Steering Boxes
Back IN STOCK