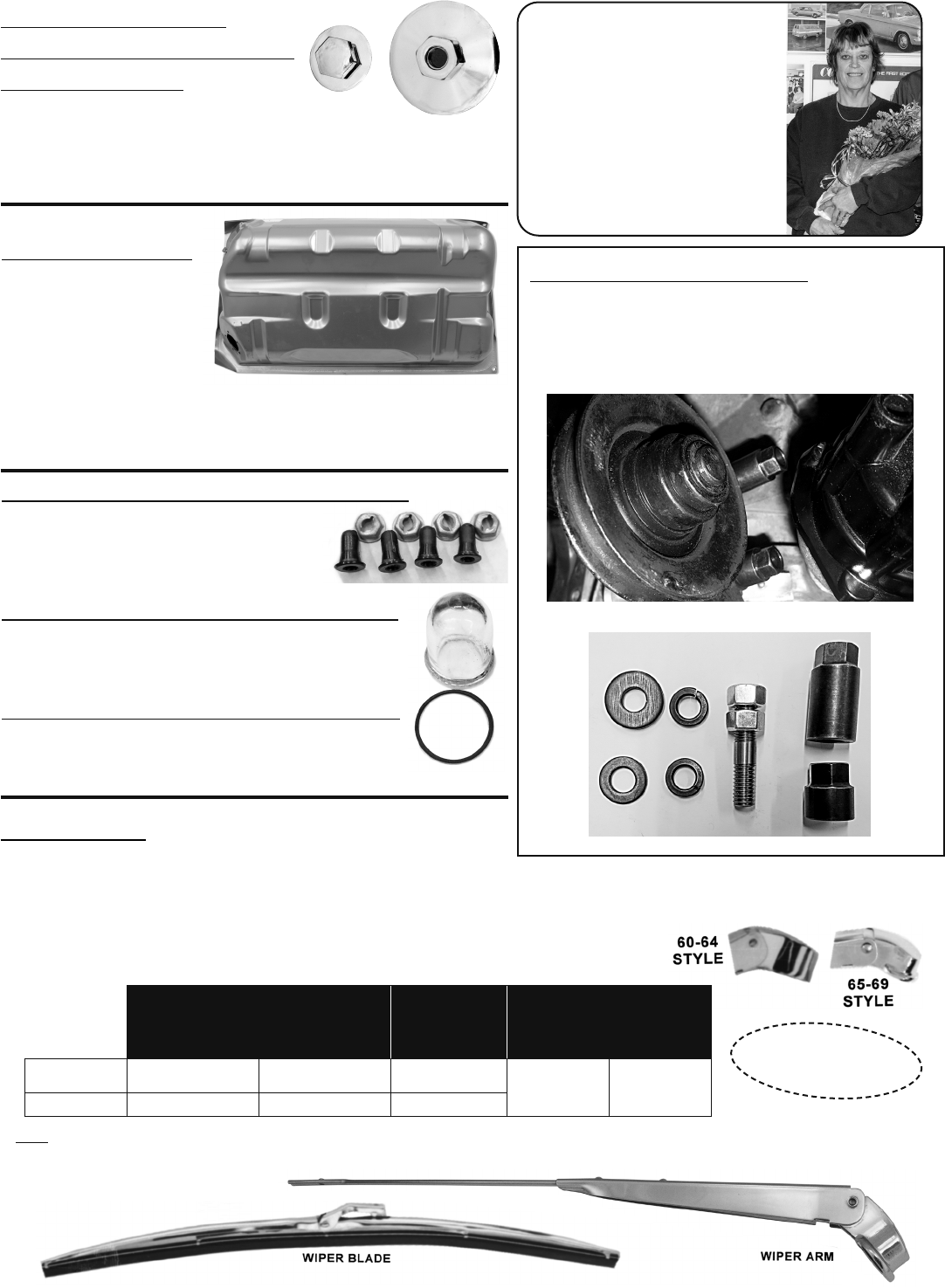 3
i
WARNING:
Product

s on this page can expose you to a chemical, which is known to the State of California to cause cancer or reproductive harm. **For more information go to w

ww.P65Warnings.ca.gov**
& Washer/Nut
One bolt/washer & the large washer/nut attach
to the front of the door to hold the vent window
chrome. The other bolt/washer is on the rear of the front door. Order plastic
washers below. Sold as a set of 4 bolt/washers and 2 washer/nuts. Beautiful
chrome plating.
C5793C
$17.25

4 oz

.
C5793C
Full Set
FAN BELT IDLER NUT KIT
This kit uses longer nuts to tighten the idler pulley such that a regular
wrench can be used. A stud is threaded in to replace the bolt and the
other special nut is used on the stud already on car. All year Corvairs.
Idler nuts below pulley, next to distributor
IDLER NUT KIT
NOTICE!
ADDITIONS TO WIPER ARMS AND BLADES
REPRO WIPER ARMS and BLADES
– All Cars & FC
These are excellent stainless
REPROS
. The wiper arms are virtually identical to the originals with beautiful chrome on the attaching pivots and the tension of the new
springs will help them wipe better. Arms work with original Trico & Anco blades. The blades are available as polished stainless or satin finish, non-original rounded
top design (include rubber insert). You may still use your original blade with any arms.
●
1960-64 Cars & FC

REPRO

– polished stainless with excellent "straight" chrome "pivot"
●
1965-69 REPRO

– polished stainless with correct flared chrome "pivot"
REPRO
COMPLETE KIT: 2 Wiper Arms, 2 Wiper
Blades (with rubber inserts) – 3
lbs.
WIPER ARMS
Sold each
WIPER BLADES
(WITH rubber inserts)
with Polished blades
with Satin blades

Polished

Satin
1960-64 Cars
1961-65 FC
1965-69
Q

C10949

C10949A

C10947
Note:
1960-64 arms are 3/8" longer than the original car & 3/8" shorter than the FC – works great on either.

65-69

all had the same flared pivot but

66-68
some were
polished chrome
and some were
satin
finished (
not available
).
1969's
were painted a "gray" paint (
not available
).
ALL IN STOCK
1960 Gas Tank
reproducing the 1960 gas tank
and we hope to have them in
stock by Summer. After the initial
production we may or may not
be able to re-run, depending
on demand and size of the re-order. You can add a 1960 gas tank to our multikits by
adding X to the end of the part number. If also getting sealer add the A after the X.
Example: C10407XA.
Donna has retired after 33
years with Clark's Corvair Parts.
She started in order entry and
later transferred to the upholstery
dept where she worked most of
her years. She will be missed
and we wish her great times
gardening and the other activities
she enjoys.
1960 Front Emblem Nuts & Protectors
Attach front emblem & protect end inside trunk,
exact as from factory. Set of 4.
Rear License Plate Glass Rubber Gasket
Also see other 60 license gaskets – Catalog page 96.
1960 Front Fender Emblem Retaining Palnuts
Some used these from factory – Set of 6 for both sides.
C4735
C4737