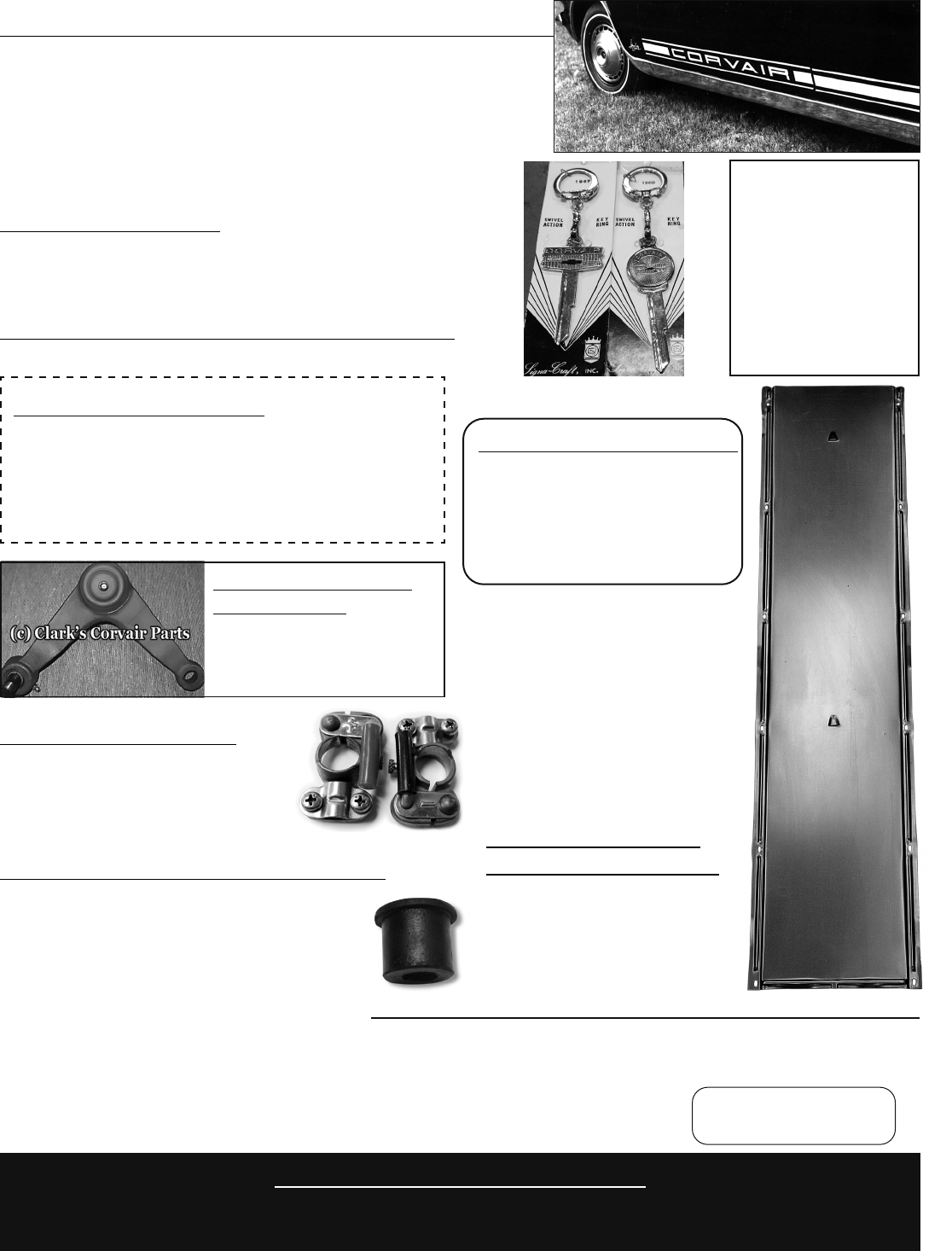 Boomerangs
Now back in stock!
These are rebuilt relay arms ready
to install.
C

1615

R
$
401
.
00
10

lbs.
VAN FUZZIE SETS
These are also included in some of the Multi-Kits on page MK-16.
Pickups,
Panel Vans –

Full set for both front doors.
Greenbrier 6 Dr. & 8 Dr. –
Full set for both front doors
& 4 roll down side windows.
C599X
$276.70 5 lbs.
Cast Bronze Battery Ends
Ends will fit most cables including braided – adjust
them for a tight fit on any terminal and the black &
red levers give a quick, no tool, release.
Sold as a set of 2.
C13419
$5.95 8 oz.
Original A/C Compressor Mount Bushings
These bushings go into the brackets that bolt to the original
compressor and cushion the compressor. Not for repro
compressors and brackets. 3 needed, sold each. 61-67
C13419
C3146B
i
WARNING:
Product

s on this page can expose you to a chemical, which is known to the State of California to cause cancer or reproductive harm. **For more information go to w

ww.P65Warnings.ca.gov**
4
NAME STRIPES
Back after 20 years!
"CORVAIR" Name stripes decal in black or white vinyl. 0.006" clear PVC film with exterior grade
adhesive. 3.5" x 94" with even stripes on either side of CORVAIR to allow for easy centering.
Both are the same, no left or right side. Use on your car, trailer, in your garage or show decoration.
Can be used at the top of windshield but does not curve.
PAIRS
White

C2817

$36.25

10 oz./pair
Black
C2818

$36.25

10 oz./pair
INDIVIDUAL
White

C6705

$19.00

6 oz.
GOLD KEY BLANKS
And key chain – can be cut on key machine
1967 ignition
CX9332
$29.00 2 oz.
1969 ignition
CX9333
$29.00 2 oz.
FREE 2019-2025 CATALOG
Between 2019-2025, you may order 1 free catalog with a parts order,
be sure to request yours – it is free but you do pay for shipping along with the parts.
C133N
THANKS TO
YOUR ORDERS
- - - - - - - - - - - - -
THE REPROS
KEEP
COMING!!
UNSAFE AT ANY SPEED – 40th EDITION, SIGNED!
Only a few left.
C13280
$40.00
4 -WAY
FLASHER KITS
We expect to have
original style 4 way
flasher kits for all
Corvairs sometime
during 2024.
The C10062 61-63 FC shifter boot has been
reworked and the new molds give a better
finish. Used on 61-63 FC's with a manual
transmission to seal around the shifter lever
under the seat.
C10062
$72.45 1 lb. 8 oz.
IMPROVED 65-69
We now have pans that are very similar to
the originals. They have reinforcement ribs,
oval holes, 2 drain depressions, as close
to original as possible. 2-3 can ship for the
cost of one. 22 lbs.
2+=$74.55
CX9332 and CX9333
Rebuilt Torque Converters
Our previous rebuilder could no longer rebuild Corvair converters. We have found a new shop with even better quality. Torque converters are cleaned, cut in
half, thoroughly inspected, all available wear parts are replaced, the halves and NEW ring gear are welded together on an automated welding machine for
perfect alignment, the unit is pressure tested to check for leaks and painted to prevent rusting. Old converters can build up sludge which throws off balance
and steel internal parts can rust and stick. Don't trust old torque converters.
SAVE YOUR "CLIP NUTS"
C9216
$618.85 incl. $290.00 core

25 lbs.
C9216HP High Stall
$654.65 incl. $290.00 core

25 lbs.
SEE CLARK REBUILDS
on website
for more info and photos