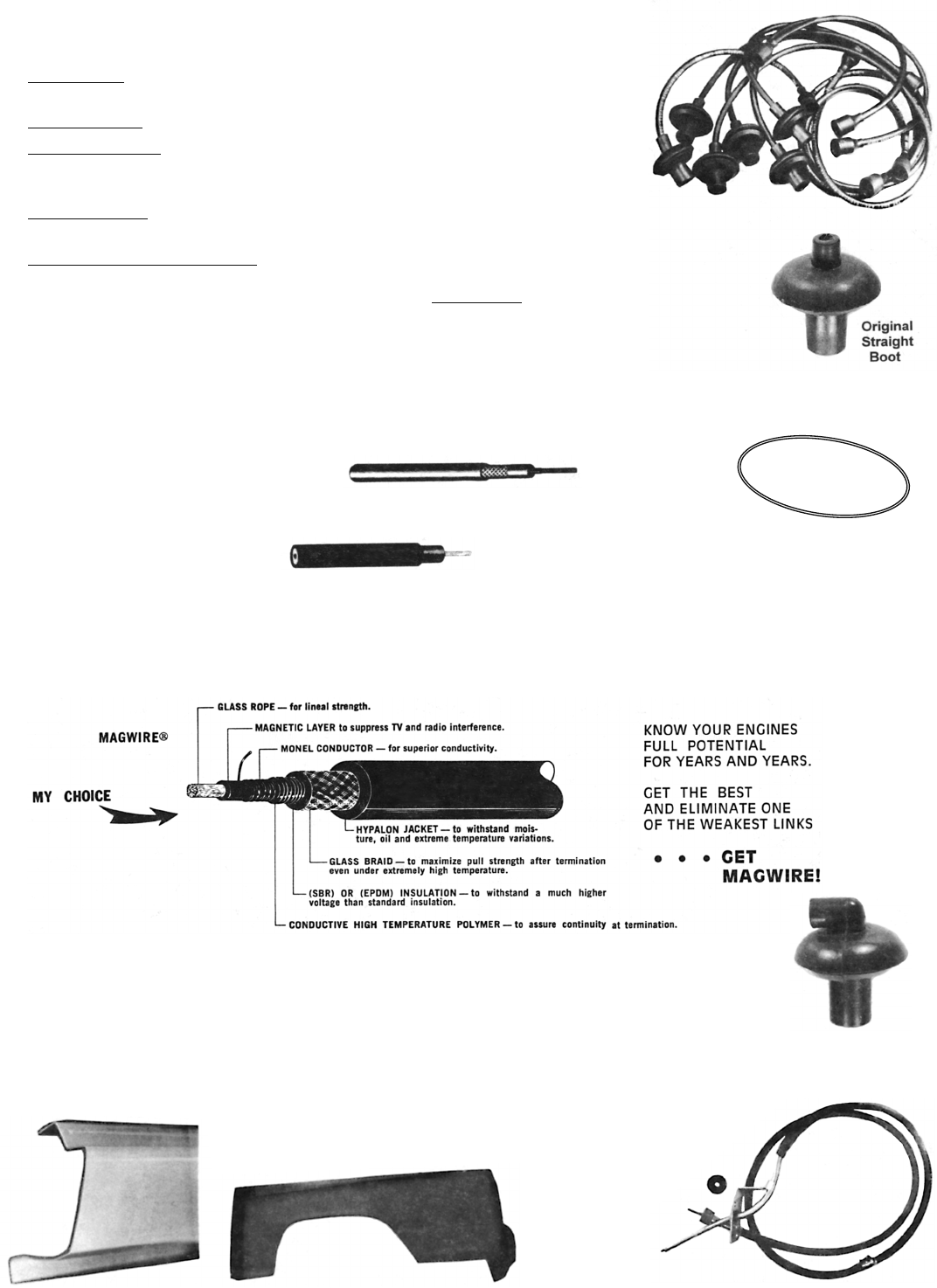 i
WARNING:
Products on this page can expose you to a chemical, which is known to the St

ate of California to cause cancer or reproductive harm. **For more information go to www.P65Warnings.ca.gov**
Rocker Panels & Body Panels
See Page 186-198
75B
Spark Plug Cables
OLD WIRES!
Old wires can cause cross firing, radio interference, hesitation, hard starting and
are affected by moisture.
RADIO NOISE?
All CLARK wires are suppressor type and will NOT cause radio noise.
EXPECTED LIFE?
These are estimates but all insulation will eventually start to break down.
Connectors will slowly corrode and result in a loss of electrical conduction at the ends. You may get
several additional years use.
INSTALLATION:
Be sure to

PUSH PLUG WIRE

onto the end of the

SPARK PLUG

and

NOT JUST THE BOOT.
Sometimes, the wire is up in the boot and you do not get a good connection. Also push wire firmly into the distributor cap.
CORRECT PLUG BOOTS!
ALL CLARK plug wires have the correct straight style boot (made with hi-temp silicone rubber).
DO NOT
use the ones
on the market that just have a "flap of rubber" around the spark plug. It will NOT seal!
For 90 Degree Boots See Bottom of Page.
NOTE: A slight (almost static type spark) is common even with new wires. Energy is transferred capacitively to the wire surface
in enough voltage to appear visible. If a bright blue-white spark is observed going from a wire to the engine shroud, then there
may be a true insulation break down.
WE OFFER 4 TYPES OF CABLES
These are arranged approximately by QUALITY & PRICE
(starting with the

LEAST

expensive)
.
1 – RESISTOR: CARBON CORE
Gives good performance for 3-4 years, then "carbon string" starts to break down.
BLACK 7mm
These were improved in 2001 with highest quality wire and better brass ends – more secure and better spark transfer.
2 – SILICONE RESISTOR
Gives good performance for 3-4 years. High temperature BLACK silicone jacket with standard carbon core.
7mm
3 – MAGWIRE:
Best all round choice!
Monel wire, a copper and nickel base material, is used as the conductor. This wire results in performance equal to steel or copper core ignition wire yet
unlike steel or copper ignition wires.
MAGWIRE
has excellent radio suppression.
BLACK MAGWIRES
give excellent performance for 4-6 years.
7mm & 8mm
(more insulation)
4 – DELUXE SILICONE RESISTOR
These are of the highest quality carbon core constructions with 8mm silicone jacket in the color of your choice!
Produced by "Silicone Wire Systems". These should give excellent performance for 4-5 years.
90 Degree Boots
We are also offering our
MAGWIRES
with original style straight boots and 90 degree boots installed. Research and talking with Larry Claypool leads us
to believe the
1961
only have
(2)
90's and
62-69
had
(3)
on the left side.
SEE MAGWIRES – NEXT PAGE
(cannot be installed on 8mm wires)
SEPARATE PLUG BOOTS:
Hi-temp black silicone

Straight

C58AB

2 oz.
MULTI-KITS
see Blue pg. MK-5,6
For Speedometer Cables
& Related Items
See Page 132