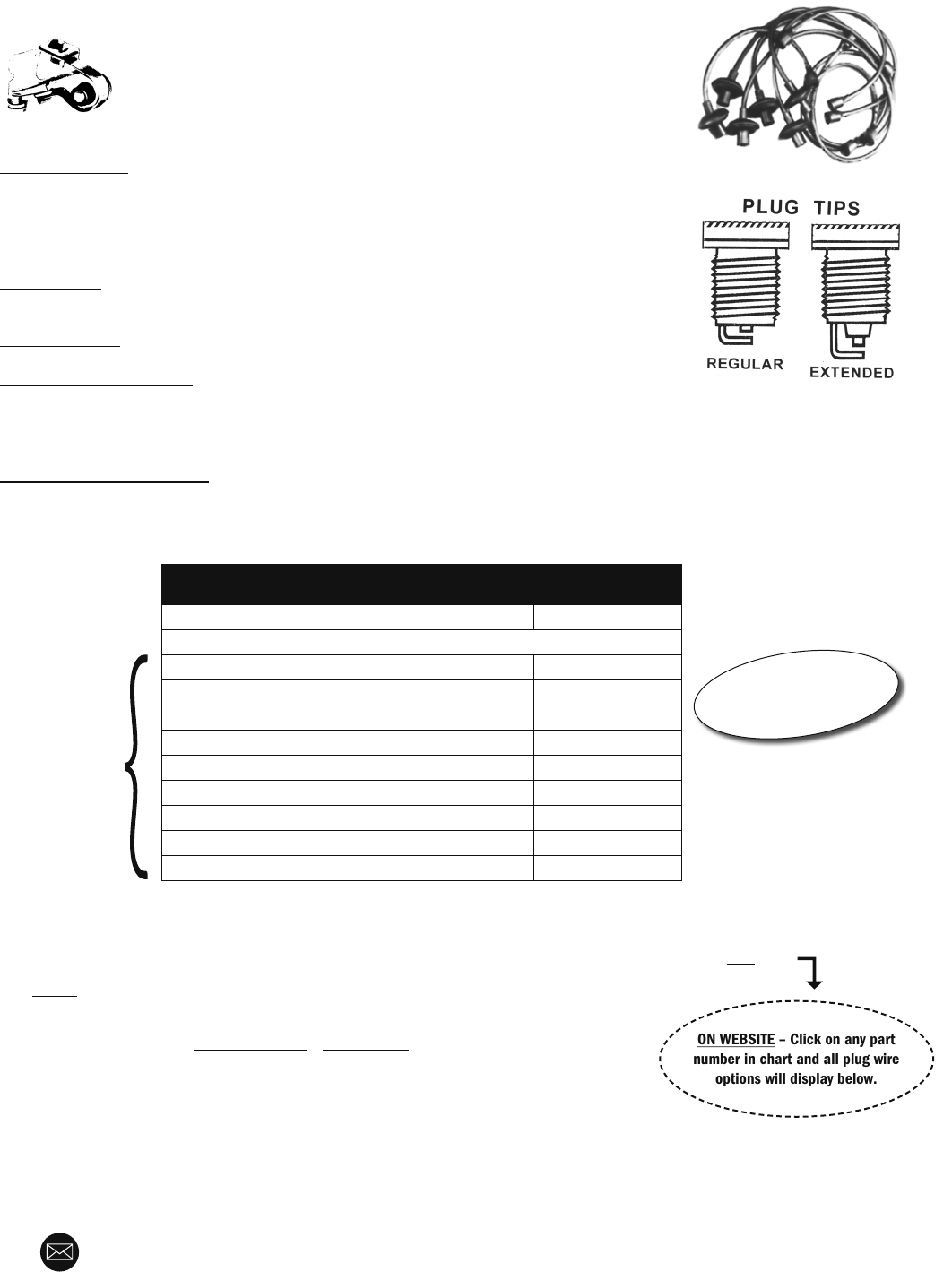 i
WARNING:
Products on this page can expose you to a chemical, which is known to the St

ate of California to cause cancer or reproductive harm. **For more information go to www.P65Warnings.ca.gov**
MK-5
Clark Multi-Kits
TUNE UP KITS
REGULAR TUNE UP PARTS – Pages 75-76
Also consider:
electronic ignitions

(page 74)
coils
(page 75)

, heavy duty point plate

(page 77, #9)
SPARK PLUGS
The original spark plugs were "REGULAR tip". AC did offer "EXTENDED tips". The "EXTENDED tip" supposedly run
cooler and cleaner as they are "EXTENDED" into the greater air flow/turbulence. Resistor plugs decrease engine
static on your radio or communication devices. Original AC plugs were threaded the full 1/2" of reach. We no
longer have these so all plug threads end 1 thread short of the full 1/2".
HEAT RANGES:
AC designed these as "46" (hotter plug) for 80 - 95 hp., "44" (cooler plug) for all other engines
and "42" as competition. "45" is between "46" & "44"! All spark plugs listed are
"copper core"
.
PLUG WIRES:
can be

ADDED

to

KITS

. See info. at

bottom

of chart.
BASIC TUNE UP KIT – 1960-61 ONLY
(distributor cap held on by clips)
A.
non-vented points
D.

rotor
B.
point screws (2)
E.

distributor cap (aluminum contacts)
DELUXE TUNE UP KIT – 1962-69
A. vented points with brass

C.

condenser
nut and copper strap
D.
rotor
B.
point screw
E.
distributor cap (with brass contacts)
SPARK PLUG CHOICES
(Set of 6)
BASIC TUNE UP KIT
1960-61
DELUX TUNE UP KIT
1962-69
NO SPARK PLUGS
in these kits
f
C11050
1 lb.
C11065
1 lb.
Part numbers below add 6 spark plugs to the kits above.
"46" Champion (extended tip)
"45" NGK (regular tip)
AC R44F (regular tip resistor)
"44" Champion (regular tip)
"44" Champion (extended tip)
"44" Champion (ext. tip resistor)
"44" Bosch (regular tip)
"44" NGK (extended tip)
"44" NGK (regular tip)
SPARK PLUG WIRE CHOICES –
(See page 75B for FULL PLUG WIRE INFO.)
ADD THESE LETTER CODES to the end OF ANY of the ABOVE BASIC & DELUXE KIT numbers
(with or without spark plugs) &
the plug wires WILL BE
INCLUDED. (example: C11069B)
For other wires - order the above kits and order the plug wires separately from page 76.
WEB – See
NOTES:
1960 – resistor
(F)
is your only choice.
1961-69 A/C & Smog – You'll also have to order a separate coil wire
C8112

12 oz.
PLUG WIRE CODE

TYPE OF WIRE
A

resistor (61-69)

(black)
B

MAGWIRES (61-69)

(black)
C

DELUX SILICONE (61-69)

(black)
F

MAGWIRES 1960 only

(black)
Multi-Kit – "What's In It?"
Phone Order Takers or the Internet Site can give you a list of what parts are in any Multi-Kit.
INDIVIDUAL PARTS
see pgs. 74-76
2 lbs.
EMAIL ADDRESS?!?
If we have your email address, you get order confirmation and tracking information the day we ship your order.
Please keep your email address up to date so that we can send you this info.
ON WEBSITE – Click on any part
number in chart and all plug wire
options will display below.