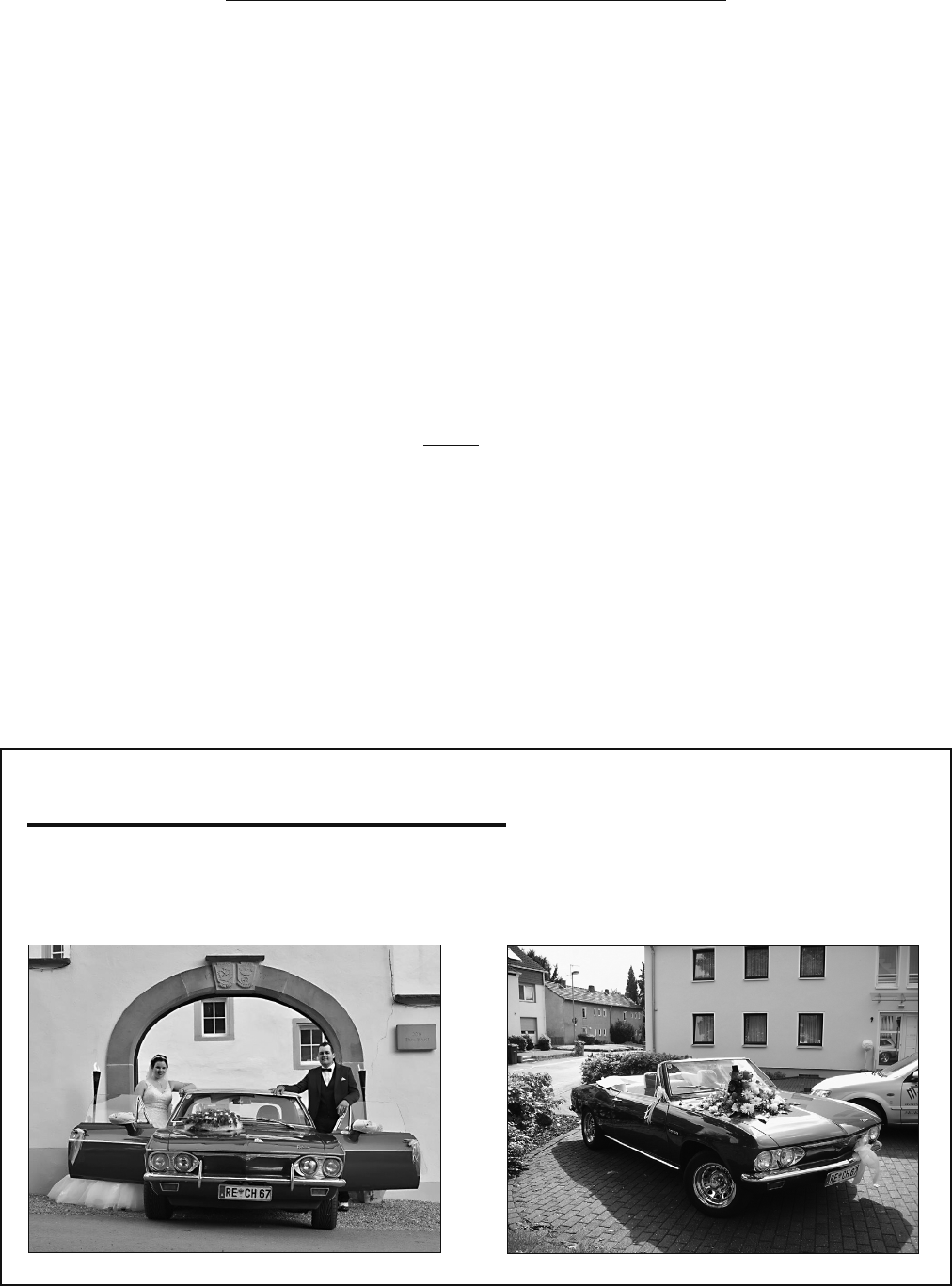 409
TECHNICAL SECTION
MOST ASKED GENERAL TECH QUESTIONS
Gas Tank Capacities
1960 – 11 gallons
FC – approximately 18 gallons
Gas Octane –
102, 110, 140 & turbo – 92-93 octane gas must be used, unleaded is OK, no need for lead additives.
Installing a new gas tank gauge –
Ground it and attach sending wire. Move float through the range and note how dash gauge is reading.
Engine Oil Capacity –
4 1/2 - 5 quarts
Engine Oil Type –
High detergent (HD) 10-30, 10-40, or even 20-50 in a hot climate are all OK.
Differential Oil –
80-90 gear oil and is shared with standard transmission oil for a total of about 7 pints.

Read note on page 121.
Powerglide Transmission –
Uses Dextron II transmission fluid. 6 pints for a refill; 13 pints if the torque convertor was drained too.
Silicone brake fluid –
Good upgrade for all cars & FC's.
Factory Metallic Brakes –
Very rare, very unlikely that they have them. The only way to tell for sure is to measure the wheel cylinder bore and
master cylinder bore.
Early Convertible Top Pump –
Uses automatic transmission fluid for our new pumps; the original pumps used brake fluid.
Corvair Engines are referred to as "Turbo Air".
This

does not

mean that they have a turbo. Turbo Engines have a turbo charger on them
and are 150 or 180 hp.
140 Engine?
– 1960 engines were 140 cubic inches, not to be confused with 1965-69 140 hp engines with 4 carburetors.
Tire Size –
Standard tire size for all cars is 185 R 80 13". See page 120. Engine "kit" questionare – see the home page to fill one out for an accurate
engine rebuilding estimate. Many possibilities, but most rebuilds average between $1,000-2,500 depending on parts used.
Break in Oil –
Non-detergent used to be suggested for break in oil. Now a quality detergent oil is recommended such as 10w30 or 10w40.
Factories are now putting synthetic in new engines but we suggest changing your Corvair break in oil at 300-500 miles so I would wait to use the
synthetic mainly due to the added cost.
Installing Outside Mirrors –
We suggest you have a low tack masking tape and cover the area where the mirror may be installed. Now sit in the
car and have a helper hold the mirror on the masking tape. When it is in a good location, accurately trace around the mirror (make sure it will not be hit
when you open the vent window and move the head of the mirror around). Use the same method for the right side.
CORVAIRS IN EUROPE
There are more Corvairs in Europe than you might expect with some very strong clubs. This 1965 was purchased
from Portland, Oregon, and shipped to Bremerhaven, Germany. It is owned by Ferdinand H. and these were some
of his best friends (Marco & Seraina) and the celebration of their marriage at an old castle in Switzerland.