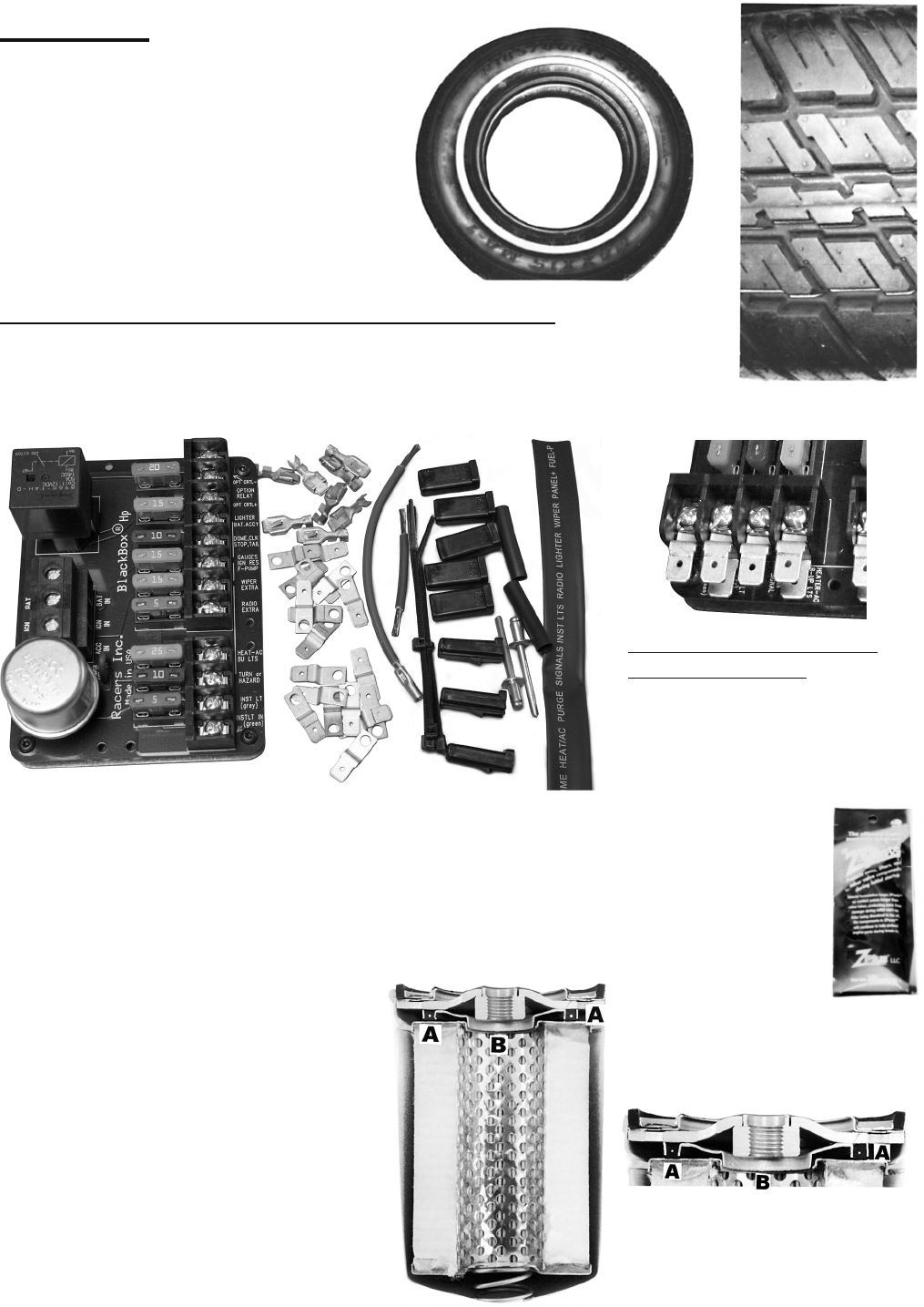 i
WARNING:
Products on this page can expose you to a chemical, which is known to the St

ate of California to cause cancer or reproductive harm. **For more information go to www.P65Warnings.ca.gov**
120
ZPASTE –
ULTIMATE CAM ASSEMBLY LUBRICANT
From the producers of ZDDPlus comes ZPaste (ZDDP & Molybdenum Disulfide in a paste). Made specially for assembly of flat tappets
& camshafts. It should be used with a bottle of ZDDPlus for breaking in new engines. The paste stays on critical parts longer & then
dissolves into the oil for added ZDDP during break in. ZDDPlus & ZPaste are both endorsed by "Big Daddy" Don Garlits.
Packet of ZPaste

(enough for one engine)

C806

2 oz.
Also use on crankshaft bearings, rocker balls, push rod ends, etc. Add a bottle of ZDDPlus to insure that your new engine has
maximum protection. See page 122.
REPLACEMENT FOR CORVAIR FUSE PANEL (block) – Blackbox HP
We suggest you replace your complete original corvair wiring harness as they are now very old!! However, if you don't
want to replace the expensive harness with the fuse panel, you can now get a modern replacement fuse panel to
replace that damaged or corroded original. It includes current ATO fuses, has 9 fused & 16 labeled circuits, new
flasher, easily connects to the original harness & fits in the original fuse panel location. Includes spade connectors to attach to screws & push on black
connectors. Comes in a complete kit with very detailed instructions and quality photos.
TIRES
Maxxis brand P185 / 80R13 narrow white wall.
A great radial tire for '60-'69 Corvair Cars.
We can strap up to 4 tires together for shipping. All shipments
require UPS dimensional weight charges plus a UPS additional
handling (AH) charge.
5 Tires ship as bundles of 2 & 3
C12601
Custom Blackbox HP
Fuse Panel Kits
1961-65 FC Vans, etc.
C13382
CLARK OIL FILTER
We feel our generation II Clark Oil Filter is the best Corvair
oil filter ever. The steel shell is thicker; the quality element is
physically centered by the turned-down centering lip (B) and is
sealed to the steel element top by a rubber seal (A). We drew
white lines either side of "A" & put a white dot in the center to
make it easier to see. The perforated center core is production;
we did not plate it for this photo! For more info, see page 27B.
Clark Oil Filter