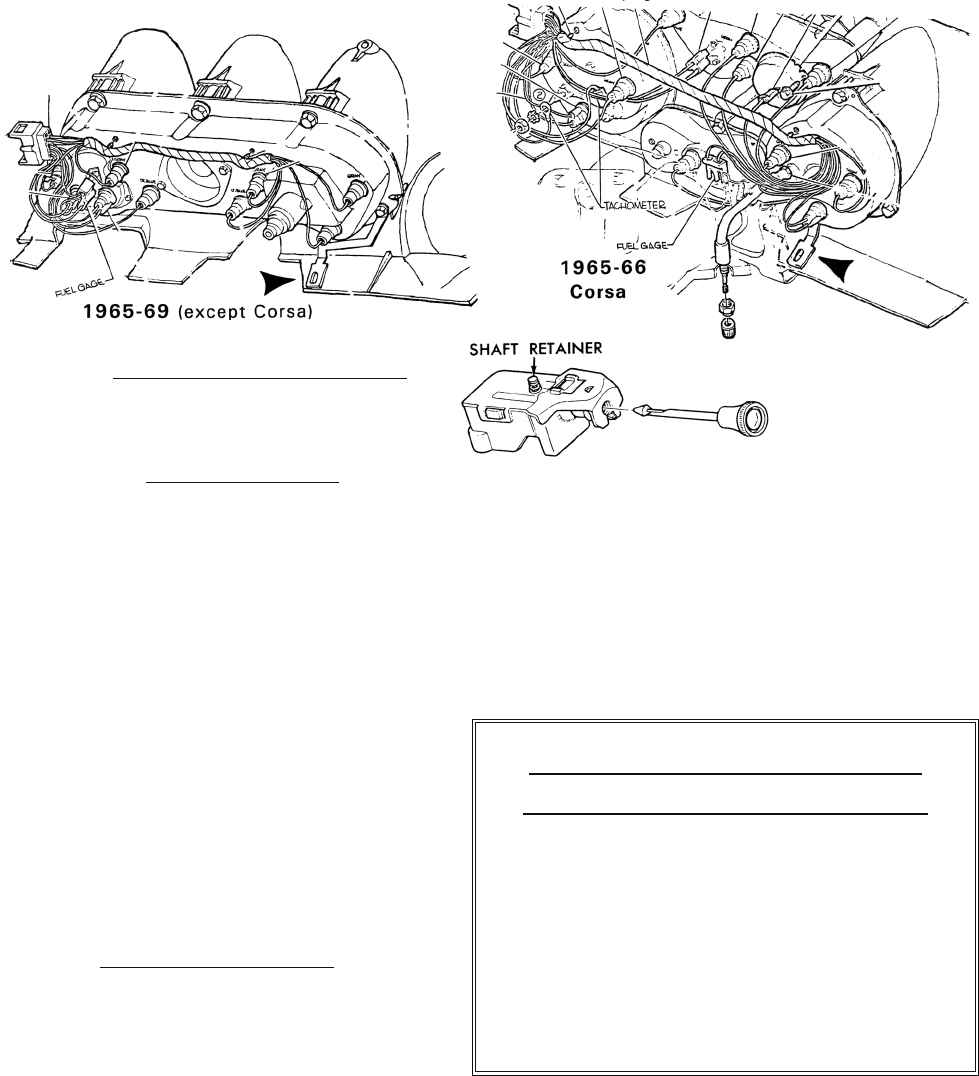 407
TECHNICAL SECTION
Disconnect battery before working on:
DIRECTIONALS & STOP LIGHTS
The first thing of course is to check the bulbs. If they are okay the problem is usually a poor ground of the unit to the body or a bulb that has gotten
corroded in the socket. Also see dash ground.
1965-69 Dash Ground –
The dash ground system on the 1965-69 is poor. It is done by a strip of metal that connects the various things
to be grounded and is then grounded to the dash by one of the bottom dash retaining screws on the left side. The screw goes through the dash and
holds it against the strip which is held against the steel part of the dash body. Even if the screw is in place it can also be a matter of the strip or the part
of the dash that it presses against being rusty. This can cause lights that don't light, dim lights, high beam indicator staying on when on low beam and
directional indicators that stay on all the time.
ELECTRICAL PROBLEMS
Removing HEADLIGHT SWITCH KNOB
You have to reach behind the dash and on the side of the switch
is a small spring loaded button. Push this in and pull out the knob.
It should come out.
Removing an IGNITION SWITCH –
This is easiest if you have the key. With the key in the switch (and the battery disconnected) turn
the switch all the way one direction or the other. Hold it there and insert a strong wire straight into the small hole you'll see. This should push a small pin
in enough so you can turn the switch a little farther and it will then pull right out.
1960-64 GENERATOR WARNING LIGHT GLOW
Generators do not charge as well as alternators, especially at low RPM or under heavy electrical load. If your warning light glows lightly all the time then
you may have a problem. If you find it only glows when you are using a lot of electricity (lights on with radio, wipers, heater fan, etc.) and if the following
checks out you are probably O.K.
CHECK THE FOLLOWING: Also see "Smarter Idiot Light" – Page 92
A. Battery in good condition and terminals clean?
E. Belt not slipping?
B. Battery cables in good condition?
F. All lights, fan motor, radio and wiper motor grounded correctly?
C. Voltage regulator operating correctly?
G. Engine harness to main body harness connections not corroded?
D. Generator O.K.?
POLARIZING THE GENERATOR
After reconnecting leads, momentarily connect a jumper lead
between the GEN and BAT terminals of the regulator. This allows
a momentary surge of current to flow through the generator
which correctly polarizes it. Failure to do this may result in
severe damage to the equipment since reversed polarity causes
vibration, arcing, and burning of the relay contact points.
Tested Under Load
All our generators, alternators, starters are completely rebuilt with
premium parts and are now tested on a machine that simulates
actual operating load conditions.
We want it right!
Do your part and check your wiring and battery.
Shop Manuals & Assembly Manuals
give more information –

See page 243B-244
Replacing GEN or ALT?
Replace that REGULATOR!
It is extremely important to replace that voltage regula tor when you
replace your generator or alternator. We're told that even if a voltage
regulator is only a year old it can be "worn in" to a particular voltage
and may not respond to a new generator or alternator. It is also
extremely important that your battery and all cables and wiring
are in excellent condition
. Any condition that is not perfect could
burn out that rebuilt unit imme diately or in a few days.
DO NOT remove your battery cables while the engine
is running with an alternator!