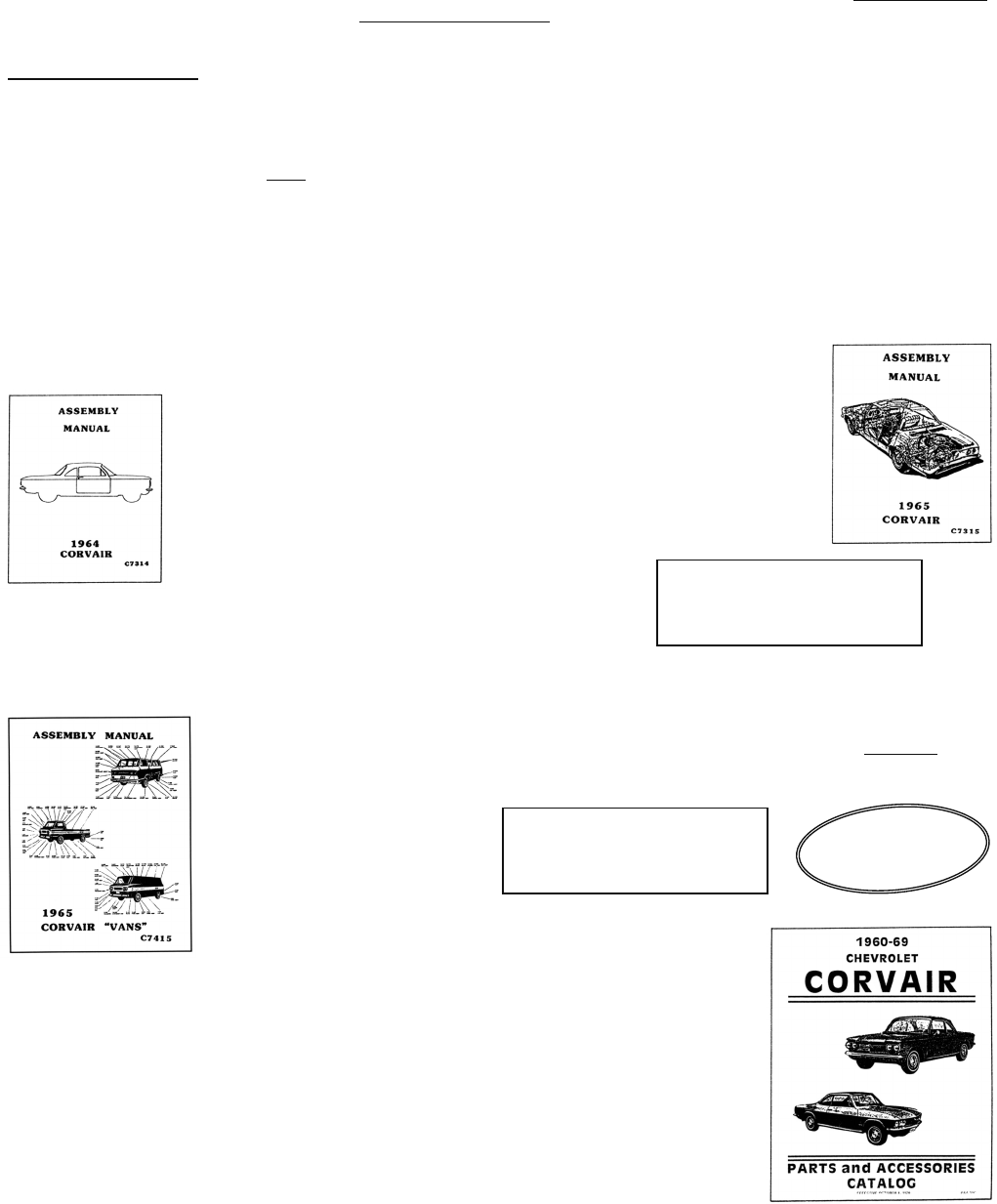 i
WARNING:
Products on this page can expose you to a chemical, which is known to the St

ate of California to cause cancer or reproductive harm. **For more information go to www.P65Warnings.ca.gov**
243B
CORVAIR ASSEMBLY MANUALS
On the previous page you see several sections from an Assembly Manual – invaluable! The Shop Manuals are terrific for telling you HOW to rebuild parts
of your Corvair. The Assembly Manuals tell you exactly HOW Chevrolet put it together. If you could only afford 2 books – make it the Shop Manual and
these Assembly Manuals.
WHAT THEY TELL:
ALSO BUY SHOP MANUAL.
A. Part numbers
B. Where and how much glue to use
C. Exactly where every wire was supposed to go
D. Exactly where every cable and brake or gas line went
E. Torques for things you would be sure they NEVER
would bother torquing at the factory
F. Which way to position brackets
G. Options that were cancelled
H. How to attach options offered
I.
Which way to position the slit in certain grommets!
J.
Critical sequences of assembly
K.
Location and assembly of trim, emblems
L.
Linkage assembly and positioning.
M. Exact location of wiper arm sweep, within 1 degree
N. Location of windshield washer stream hitting
0. Production changes during the year
P. Some even list how much glue, oil, grease, etc.
The Assembly Manuals assume that the body is together, so it does not cover hoods, doors, glass. It does tell how to attach everything else to the body. Most parts to be
attached are "completely together", for example the dash, engine, transmission, front crossmember, just as they would be coming down the assembly line to be finally
attached to the finished car. Some manuals even tell the assembly line person to drive the car at least 10 feet and then when on the rollers, SLOWLY AND CAREFULLY
ACCELER ATE TO JUST 60 mph – SURE! These are top quality reprints that we have done ourselves. Due to our "connections" most of these were excellent copies to start with
but we then put in literally 100s of hours so that the final product looks as good as a new Shop Manual.
WHAT YOU GET
Each Assembly Manual has a nice front and back cover. The manual is 3 hole punched so you can easily
put it in a 3 hole binder. They are printed on quality 60 lb. white paper, and the finished product is shrink
wrapped in clear plastic. Most of the manuals have about 200-270 pages. I have seen the same type of
manual for 1957 Chevy going for $25.00 and up (and rather poorly printed at that).
I CANNOT STRESS ENOUGH HOW VALUABLE THESE MANUALS ARE.
1960 CORVAIR CARS (missing 1 section)
C7310
2 lbs.
1961 CORVAIR CARS
C7311
2 lbs.
1962 CORVAIR CARS
C7312
2 lbs.
1963 CORVAIR CARS
C7313
2 lbs.
1964 CORVAIR CARS
C7314
2 lbs.
1965 CORVAIR CARS
C7315
2 lbs.
1966 CORVAIR CARS
C7316
2 lbs.
1967 CORVAIR CARS
C7317
2 lbs.
1968 CORVAIR CARS
C7318
2 lbs.
1969 CORVAIR CARS
C7319
2 lbs.
"VAN"
ASSEMBLY
MANUALS
COLLECTORS SET
1 of each year (1960-69)
C7319A 12 lbs.
A MUST FOR
EVERY OWNER!
Same idea as the Car Assembly Manuals.
GET YOURS!
All models are included in any given year. These are even larger and
more detailed than for the cars. Also quite a lot on bodies and doors.
COLLECTORS SET
1 of each year VAN (1961-65)
C7416A 11 lbs.
MULTI-KITS
see Blue pg. MK-18
The Best! GM PARTS BOOK?
1969/70 –
Over 270 pages.
Probably never reprint again. One of the most complete, Corvair only Parts Book. Although it
DOES
NOT
list everything for 1960-64, it is much more complete than any Parts Book from later years and it is also better for 1965-69.
A great reference book with GM part numbers and diagrams. We've added
14 pages
at the end that list nearly all Corvair part
numbers and the group number.
C9327
3 lbs.
THE YENKO STINGER – TECH MANUAL
Like an "owners manual" for a Yenko buyer.
4 pages
cover basic difference in the 5 stages. Rest of the manual covers
maintenance, engine specs., useful racing information and owner questions.
FREE COLOR SAMPLES!
We gladly send samples of carpets, cardboard, upholstery, headliners, padded dashes, etc. Please Note: For carpets and cardboard dye lots vary even if made the same
day. Don't wait 6 months or even 2 months and expect to match the sample sent several months ago.
See printed color samples at beginning of catalog.
Color match due to dye lot is not usually a problem when ordering our upholstery, top boots, door panels or headliners. Whether you order your complete interior at one time
(or one piece at a time), you can be sure all colors will match as long as it is not many years in between. If you have any question about color match, please request a new
sample. Also remember that if you ordered interior pieces & in stalled, UV damage & wear will affect color.