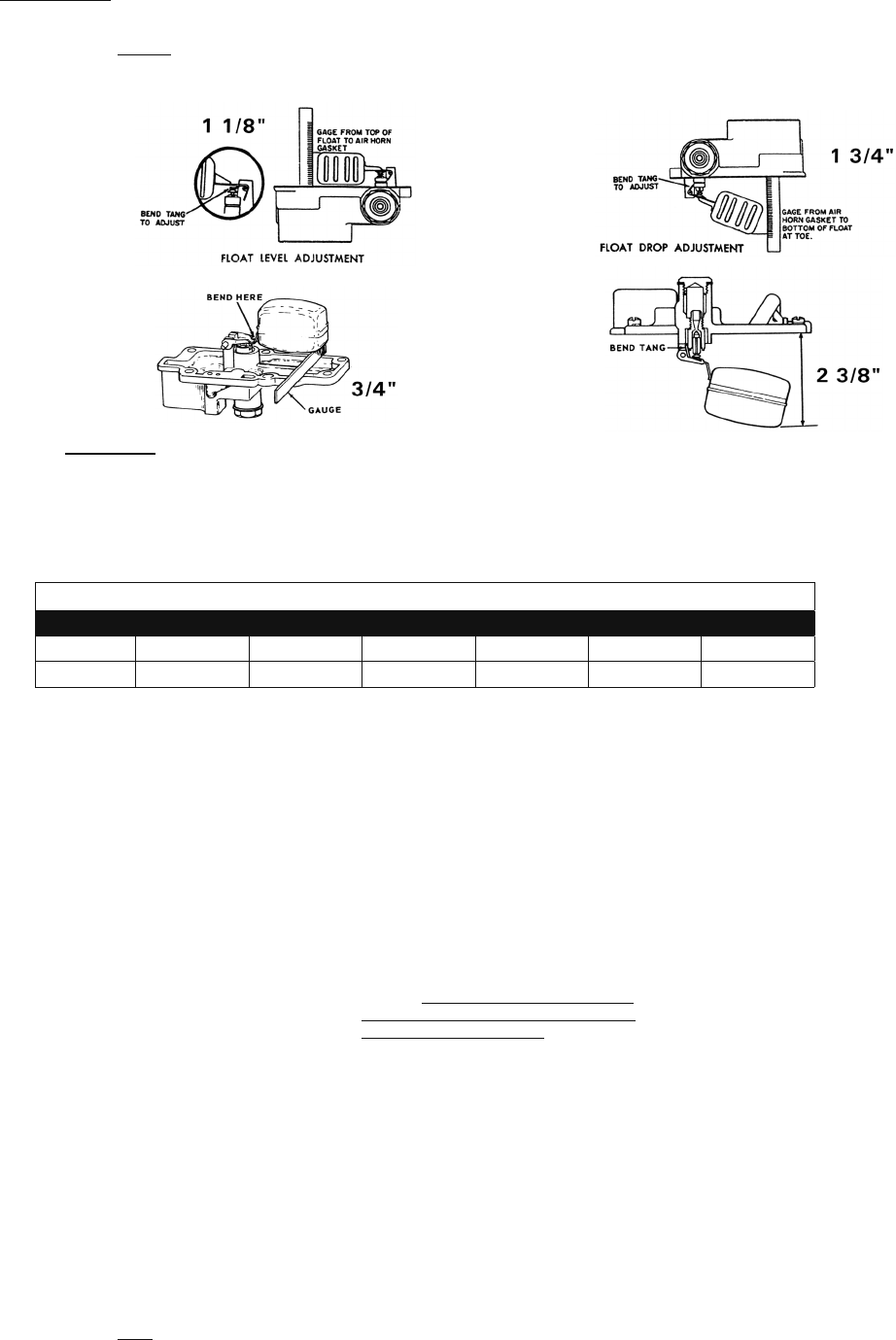 406
TECHNICAL SECTION
Carburetor Settings –
Our rebuilt carbs. come with the following new jets. Change as needed.
All
except

secondary carbs =

51

All secondary = 48
Suggested Float Settings –
Our experience has shown that the float level (amount float comes up) should be slightly greater than the
factory suggestions. This means the highest level of gas in carb. is slightly less and is less apt to flood due to "hot soak" conditions (cold gas comes into
carb. and you turn off engine and gas heats up and expands).
Basic TUNE-Up Specs –
These are just general specs.

See Shop Manual for EXACT specs.
Spark Plug Gap
(torque 15-20 ft. lbs.)

80-95 hp. (low hp.) =

. 035"

98-110 hp. =

.030"
Point Gap
New =

.019"

Used =

.016"
Dwell Meter =
31-34

degrees (aim for 32-33)
Timing –
See Shop Manual –

The following will give you a general starting point. Most Corvair owners "

time by ear

". Put in the best gas you plan
on running (all 98 hp. & higher require highest octane) and advance timing a little at a time until it just "
pings
" during the hardest driving and then
decrease it by 1-2 degrees.
These are just VERY GENERAL starting points
(degrees)
– see your manual
80-95 hp.
110 hp.
110 smog
140 hp.
140 smog
TURBO
Standard
4 - 6

12 - 14

4

18

4

24
Powerglide
10 - 14

12 - 14

12

18

4

- - - - - -
Losing FAN BELTS?
This can be due to several things.
1. Fan belt too wide so it does not fit down into the groove. The widest part of the belt should be about
3/8"
and the narrowest about
3/16"
.
Our Ultimate and Otto belt are correct.

You do not want the belt too loose or too tight.
2. "Raw sided belt" – The original belts (
and our best belts
) are "
wrapped
" with fabric that help keep them from "
walking
" out of the groove.
3. With the belt off check your belt idler, generator or alternator and fan pulleys to see that they turn smoothly and easily and appear to "
run
true
". Also check pulleys for any notches; even a small notch can chew up your belt.
4. If you have a harmonic balancer check to see that the outer part hasn't shifted so it is not "
running true
".
5. If your car has belt guides by the idler & fan pulley, they should be adjusted within about
3/16"
of the edge of the pulley.
6. Try a different fan belt. Some Corvairs just don't like certain belts. Even if 99% of others do!
7. Maybe you're over revving. (No…not Corvair owners!)
8. If you have a 1960-63 with a steel fan, try the lighter 1964 magnesium fan.
Steering Box Adjusting
This is from the 1965 Shop Manual
and is easier than the 1961.
Before attempting steering gear adjustments in an
attempt to correct such conditions as shimmy, loose or
hard steering, or road shocks, make a careful check of
front end alignment, shock absorbers, wheel balance
and tire pressure for possible causes.
Correct adjustment of the steering gear is ver
y
impor
tant. Only two adjustments are possible but they
must be made in the following manner, step by step, in
the order given. The lash adjusting screw is accessible
through the trunk compartment floor pan plug.
1.
Remove pitman arm nut and lock washer and,
using Tool J-6627, pull pitman arm from pitman
2.
Loosen pitman shaft lash adjuster screw locknut
(fig. 4) and turn the lash adjuster screw a few
turns counter-clockwise to remove overcenter load
(increase lash).
Gently

turn the wheel in one
direction until stopped by gear and then back off
one turn of the steering wheel.
CAUTION:
Do not turn the wheel hard against the
stops when the pitman arm is disconnected since
this may damage the ball guides.
3.
Pry off the horn button. Using a suitable size
socket and a low reading (in. lbs.) torque wrench
on the steering shaft nut, measure the torque
needed to keep the wheel in motion. This should
be between 3 1/2 and 4 1/2 in. lbs. If the torque
does not fall within these limits, adjustment of the
worm bearing is necessary.
4.
To adjust the worm bearings (See Figure 1): loosen
the worm bearing adjuster locknut and turn worm
bearing adjuster down until there is no perceptible
end play in worm. Check the pull at the torque
wrench, readjusting the adjuster nut as necessar
y
to obtain proper pull. Tighten the locknut and
recheck pull. If the gear feels "lumpy" after worm
bearing adjustment, the bearings are probably
damaged and the gear should be removed and
disassembled for replacement of the damaged
parts. See "Service Operations''.
5.
After proper worm adjustment is obtained, and all
mounting bolts are securely tightened, adjust the
lash adjuster screw (fig. 4). First turn the steering
wheel gently from one stop all the way to the other,
counting the total number of turns. Then turn the
wheel back exactly half way to the center position.
The mark on the steering shaf
t should be at the
2 o'clock position. Turn the lash adjuster screw
clockwise to take out all lash in the gear teeth,
then tighten the locknut. Check the highest torque
needed to turn the wheel through the center
position (fig. 5). Torque should be between 8 and
10 in. lbs. in excess of worm bearing preload,
but not more than a total of 14 in. lbs. Readjust if
necessary to obtain proper pull.
6.
Tighten locknut and recheck. Torque must lie
between the specified limits.
NOTE:
Always make the final lash adjustment in
7.
Reassemble pitman arm to pitman shaft, first
making sure that wheels are straight ahead and
that the steering wheel and gear are centered.
All
except
Turbo
Turbo