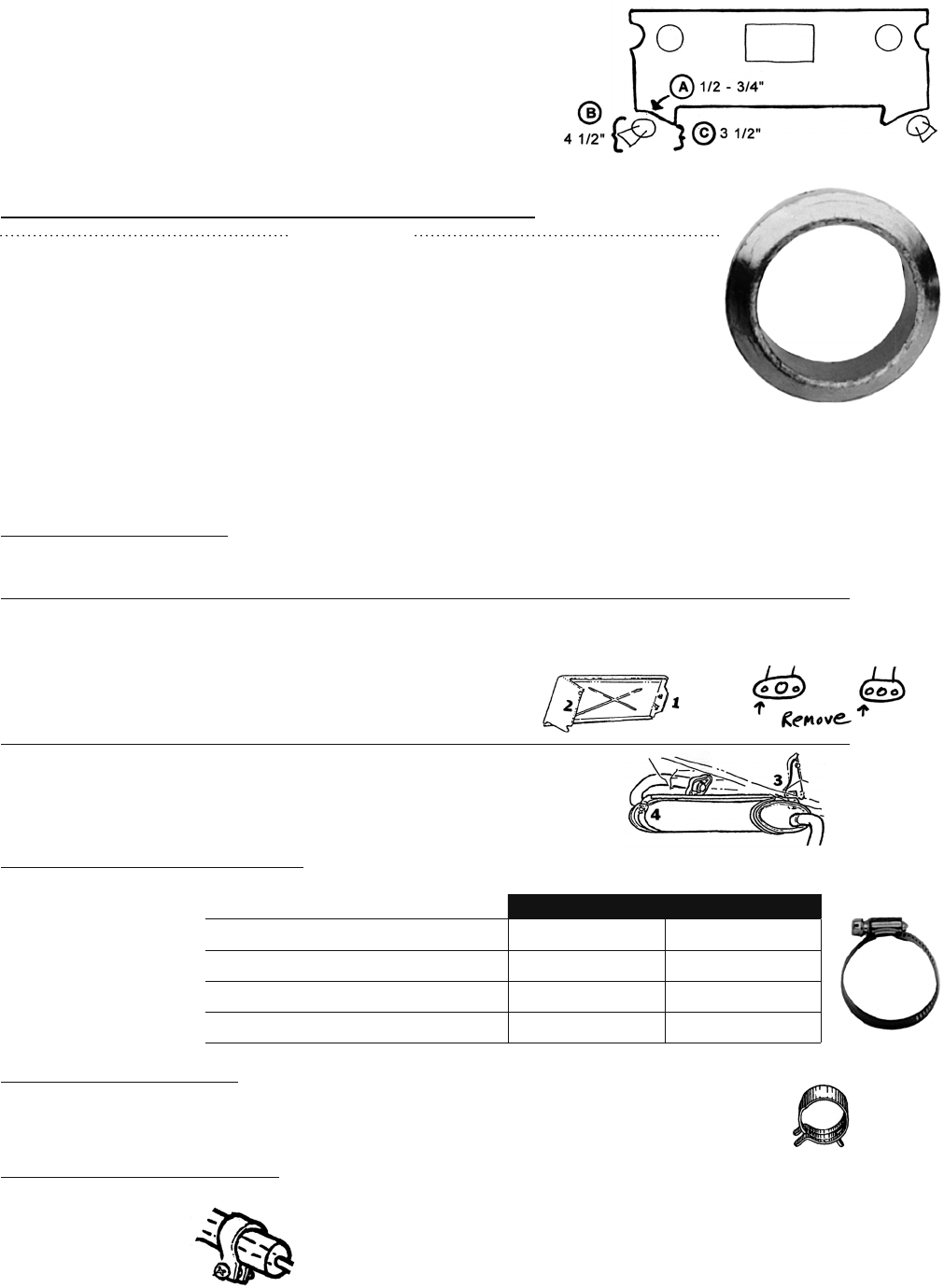 i
WARNING:
Products on this page can expose you to a chemical, which is known to the St

ate of California to cause cancer or reproductive harm. **For more information go to www.P65Warnings.ca.gov**
36B
We've always said that the
"ULTIMATE EXHAUST" HEADERS
only fit 1965-69 Cars. It was designed for the 65-69 CARS and fits them best and looks the
best coming out of the body work. However,
IT WILL FIT 1960-64 CARS
. It just does not look as nice where it comes out of the body. This is a sketch to
try to give you an idea of where it comes out and the dimensions. It does not stick out the back
as far as the bumper.
A.
There is 1/2–3/4" clearance under the body. About 1" of the muffler sticks out past the body work.
B.
The tip of the chrome outlet sticks down about 4 1/2" below the vertical body seam.
C.
The chrome tip sticks down about 3 1/2" below the bottom of the rear air grill.
To order for 1960-64 Cars, use the same part numbers on page 38.
GRAPHITE Exhaust Packings
ALL CLARK EXHAUST PACKINGS
– individually or in KITS –
ARE GRAPHITE!
These packings are produced to CLARK specifications and are the BEST packings that have ever been available.
GRAPHITE PACKINGS are BETTER because:
•
NO bad odor

the first 4-5 times you start your engine.
• STRONGER!

Steel reinforced graphite is much less apt to crumble or break apart.
• GRAPHITE

is much less affected by heat, moisture, oil.
• GRAPHITE

packings can be made to more exact dimensions and compress for a tight, leak proof fit.
•
SAFER

– less apt to leak.
• NO ASBESTOS

or other "MYSTERY" material.
Turbo Crossover Pipe Hints
62–64
If you have a leak where the crossover fits into the inlet pipe, install the first clamp 1/8" from the
end of the crossover pipe end. Install a second clamp close to the first clamp and rotate 45–90 degrees.
65–66
Installation onto the inlet pipe is much easier if you can remove the manifold stud that is closest to the passenger side from
Muffler Shield Installation
Right Side
= #1:

This end attaches to the muffler hanger with 2 small bolts.
#2: This end attaches to two small bolts on the front end of the head.
Left Side – 140 DUAL EXHAUSTS
#3: This end attaches to the muffler hanger with 2 small bolts.
#4: This end is held to the muffler with a muffler strap that attaches to the shield,
wraps around the muffler and then bolts to the other edge of the shield.
All Stainless Steel Clamps
All stainless steel including the screw.
All our regular gear clamps in
the catalog are stainless
but
with a steel screw.
(This is
the case with most stainless
clamps.)
See the chart for
ALL STAINLESS CLAMPS
I suggest ALL STAINLESS for clamps under the car.
All Stainless
Stainless with Steel Screw
Turbo & Smog Gas Return Clamp (smallest)
C8206
1 oz.
C1043
1 oz.
Gas Hose, Turbo Return "T"
C8207
2 oz.
C1042
2 oz.
Gas Tank Filler (inlet)
C8208

2 oz.

C1044

2 oz.
4" Heater Hose
C8209

4 oz.

C593

4 oz.
Spring Type Fuel Line Clamp
These were original for many years of Corvairs for fuel hose out of gas tank and fuel hose to engine fuel line. Not included in any
of our kits; kits will still include gear clamps.
NOTE: These must be used with steel lines that have the flare near the ends;
clamps go just past the flare.
C5472

1 oz.
62-66 Turbo & 68-69 Fuel Return
Original style clamps that fit better than most "small" gear clamps that are usually too large. Keep a few extra for other uses.
C2564C
1 oz.

62–66 Pressure Retard Hose: 2 Needed
62–65 Fuel Return Line: 5 Needed
65–66 with Return Line as part of Tank: 2 Needed
68-69 Return Line: 4 - 6 Needed
Since August 2000