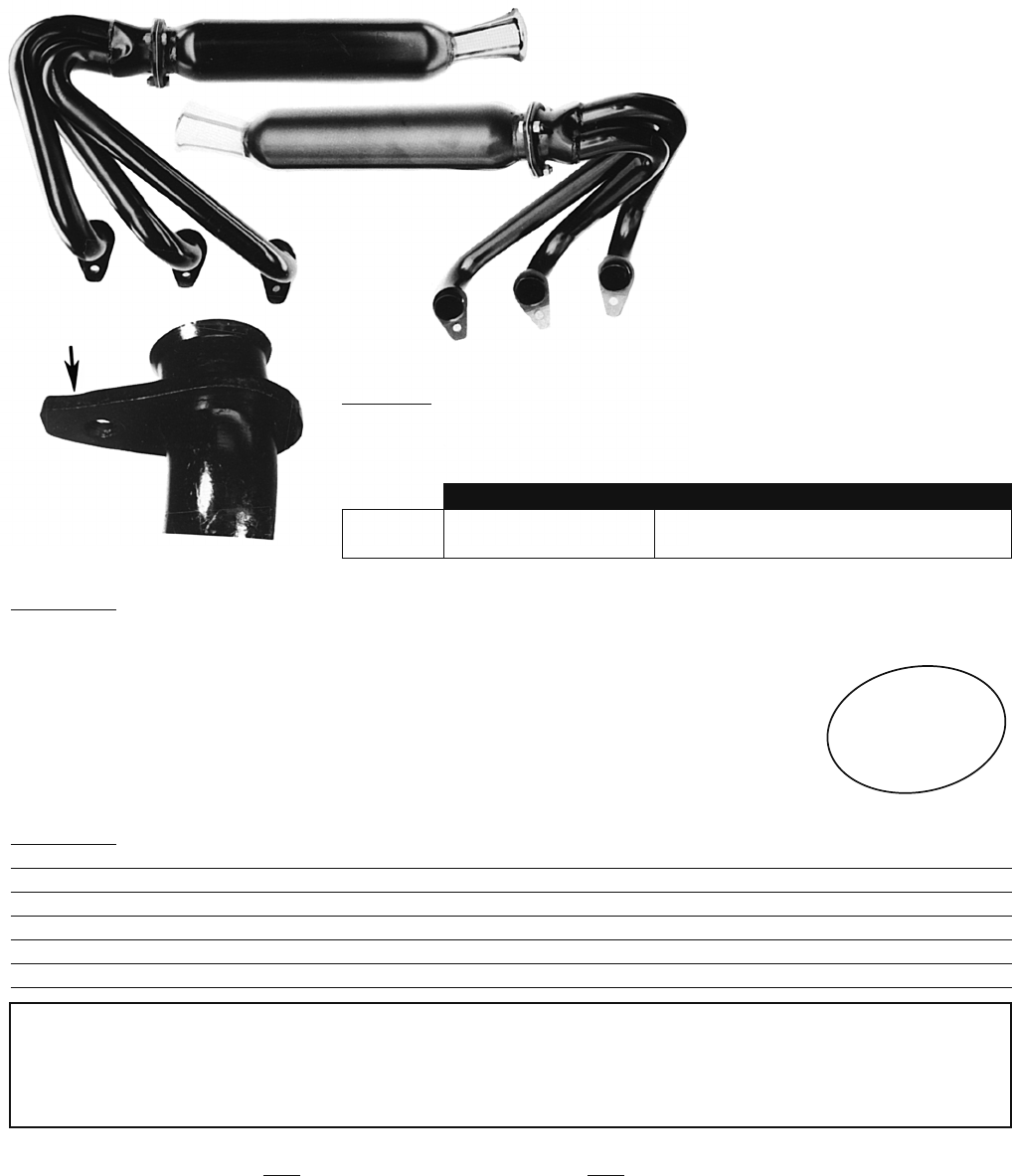 i
WARNING:
Products on this page can expose you to a chemical, which is known to the St

ate of California to cause cancer or reproductive harm. **For more information go to www.P65Warnings.ca.gov**
38
— Custom Exhausts —
You may want a special exhaust system so we offer
nothing but the BEST & "tell it like it is"!
THE ULTIMATE EXHAUST: '65–'69 and IT SEALS!!
Designed for 140 HP but great for all other engines
(exc. Turbo)
.

FOR 1960–64 cars, see page 37.
Does not fit FC.
This system is LOUDER than a stock system and it
does require that you cut the lower heater shrouds but
we include a template so you can keep cutting to a
minimum.
This basic exhaust has been around for years and it
had always one major draw back – it wouldn't seal to
the exhaust tubesl
Ours does seal!
THE "SECRET"
Each header pipe seals individually to each exhaust
port and has a flare to hold the packing. Notlce the
clamp bracket extends past the stud hole and has a
bend so that it exer
ts an upward pressure like a stock
manifold.
SPECIAL NOTE:
Systems come with an easily installed removable baffle (at no ex

tra charge) that goes into the muf

fler
inlets. I have tried to rate the systems roughly as follows. In my performance testing, I could not "feel" any difference,
although I think a stop watch would show that the non-baffled is faster. If you must have it even quieter, you can order
2 more baffles, insert into the chrome tailpipe 3" and weld.
WITHOUT BAFFLES
WITH BAFFLES
3½" Muffler
Just barely OK for street

NICE
:
Sounds great, but you can still live with it for
hours and sneak home at 1:00AM!
UNPAINTED Ultimate Exhausts:
The manufacturer (located in Calif.) was forced to go to a water-based paint. It is worthless, will rub right off! New units will
arrive with
NO PAINT
and we will supply you with enough quality high temperature black paint to paint them yourself. Rub them slightly with fine sandpaper or steel wool and
paint. This seems to be the best solution to give a good paint job.
Ultimate Exhaust – Complete System for Street
1965–69 CARS
(exc. Turbo): Left and right headers, 2 Mufflers, 2 Baffles, all mounting hardware and paint.
You must use new head packings when installing. Not included with the Kits.
140 HP Engines order packings for 140 HP. All other engines use regular packings.
SYSTEM with 3½
" MUFFLERS – C5965Q

29 lbs.
Individual Parts:
All parts are interchangeable.
NOTE: If your system was purchased before 1/1/92, see below.
Header:
Left Side
C5967N

6 lbs.
Header:
Right Side
C5968N

6 lbs.
3½" Muffler:
Left or right
C5969QN

8 lbs.
Replacement Baffles
C5965B

6 oz. each
Replacement
Gasket: Between headers & muffler

C248

2 oz. each
NO HANDLING FEES* NO BOX FEES
You only pay the actual shipping costs
*Post office & UPS shipping charges may include any of the following fees if they apply: COD, oversize, insurance, etc.
"Top" & "Bottom'"
view of left side
HEADER
Have you tried
our GRAPHITE
packings?
See page 33
Systems Ordered Before 1/1/92
As of January 1992, the headers were redesigned to take the same muffler for left or right side.
THE MUFFLERS ABOVE WILL NOT FIT.
You can tell if you
have a system from before January 1992 as the mufflers are
NOT
the same length. Also, the distance from the triangular flange back to where the 3 pipes
are welded on the right header is about 5" (new style only about 3¼").
The "Secret"