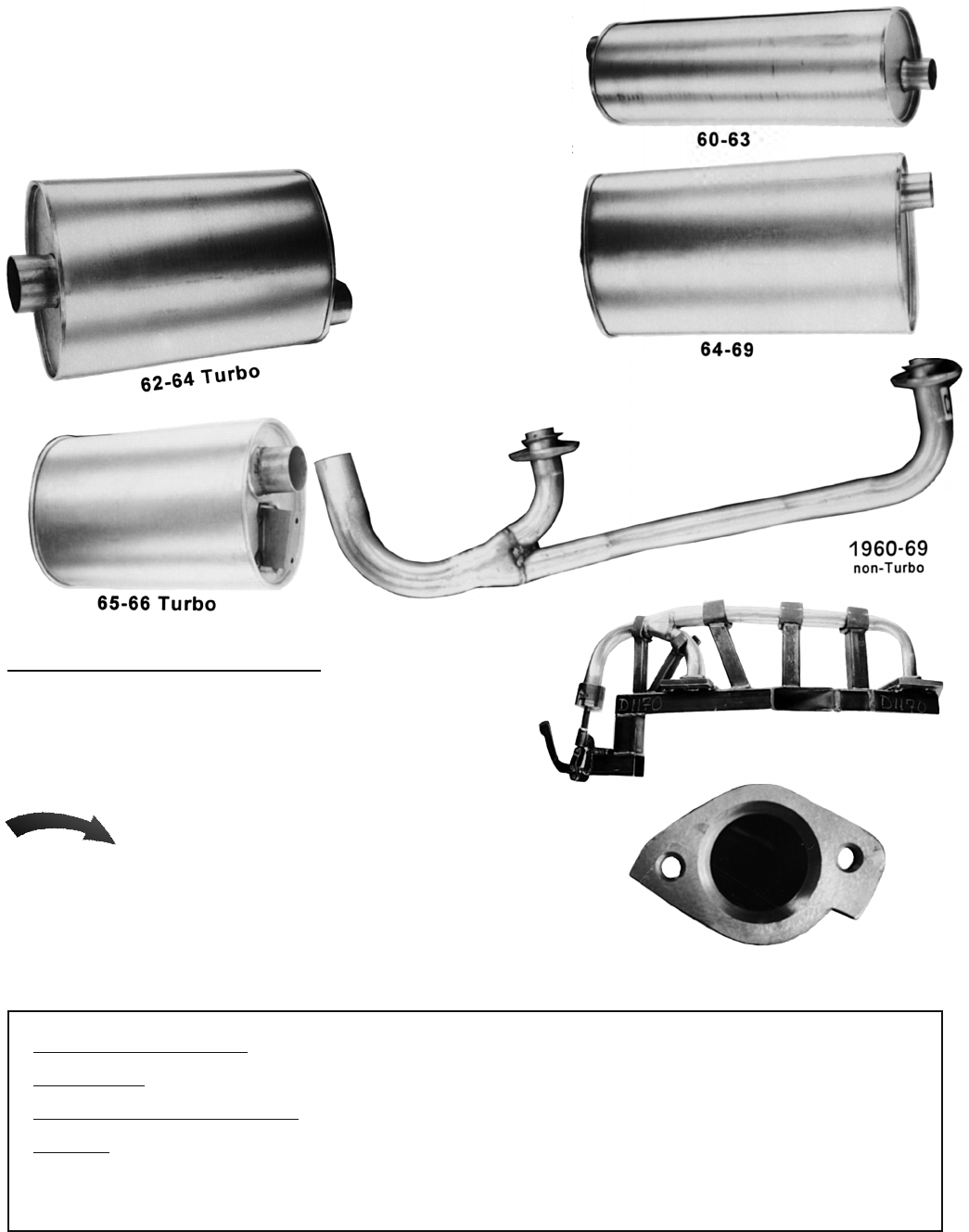 i
WARNING:
Products on this page can expose you to a chemical, which is known to the St

ate of California to cause cancer or reproductive harm. **For more information go to www.P65Warnings.ca.gov**
36A
Clark –
The BEST Mufflers & Crossover Pipes
Our exact replacement mufflers (including the inlet & outlet) are aluminized for longer life. These mufflers
are custom made for us. We have even installed "NOS" mufflers on our Corvairs and driven them and then
installed our repros and driven those to be sure the replacement mufflers "sound" like the stock ones!
(3 of us stood by the road and the cars were driven past at different speeds and loads. Maybe not very
scientific, but we did make a few changes so the replacements sound very original.) Moisture is a mufflers
worst enemy. In an unheated building moist air is constantly going into a muffler and condensing. The very
worst is starting a car for just a few minutes since the muffler does not get hot enough to evaporate all
water and acids produced by combustion.
Stock EXHAUST SUPPLIER
In 2002 we lost our exhaust supplier of 20 years. All tooling and many samples were gone overnight
due to bankruptcy. It took two years and sending samples to 20 dif
ferent pipe manufacturers to
finally find one that can make the pipes as good (if not better) than the NOS. Cal double-checked
each NOS sample on his Corvairs to insure that they were per
fect. Several GM turbo pipes had the
same GM stickers and looked identical, but one would be perfect and one wouldn't fit at all! It's a
good thing we actually tried them! All of the new pipes are aluminized for extended life. Each one is
trial fitted on the new "fit/no fit" jigs. Every pipe is made just as close to the NOS as possible.
Our repro MANIFOLDS have more material around the stud hole
so they are less apt to break off OR rust away.
Over 600 Special Instructions:
You'll get special installation or use instructions with over 600 of our parts.
Be sure to check your order for any special instructions.
Engine Books & Manuals:
Pages 244-250
Engine Tools:
See

pages 333-336
High Performance Engine Parts:
See pages 27, 27C, 29-31
Tech ?'s:
Whether by phone, fax, email or regular mail, we're here to help you with any technical questions.
CLARK'S – More than Parts, Service too!
VW / CORVAIR / BUGGY EXHAUST: See page 327
All PIPES ALUMINIZED.
Quality crossovers for every application.
Custom manufactured to our specifications.
1960–69
original style tailpipe
& clamp.
Repro Crossover has Better Flow
than "NOS" and old repros. Over
$20,000 in new tooling.