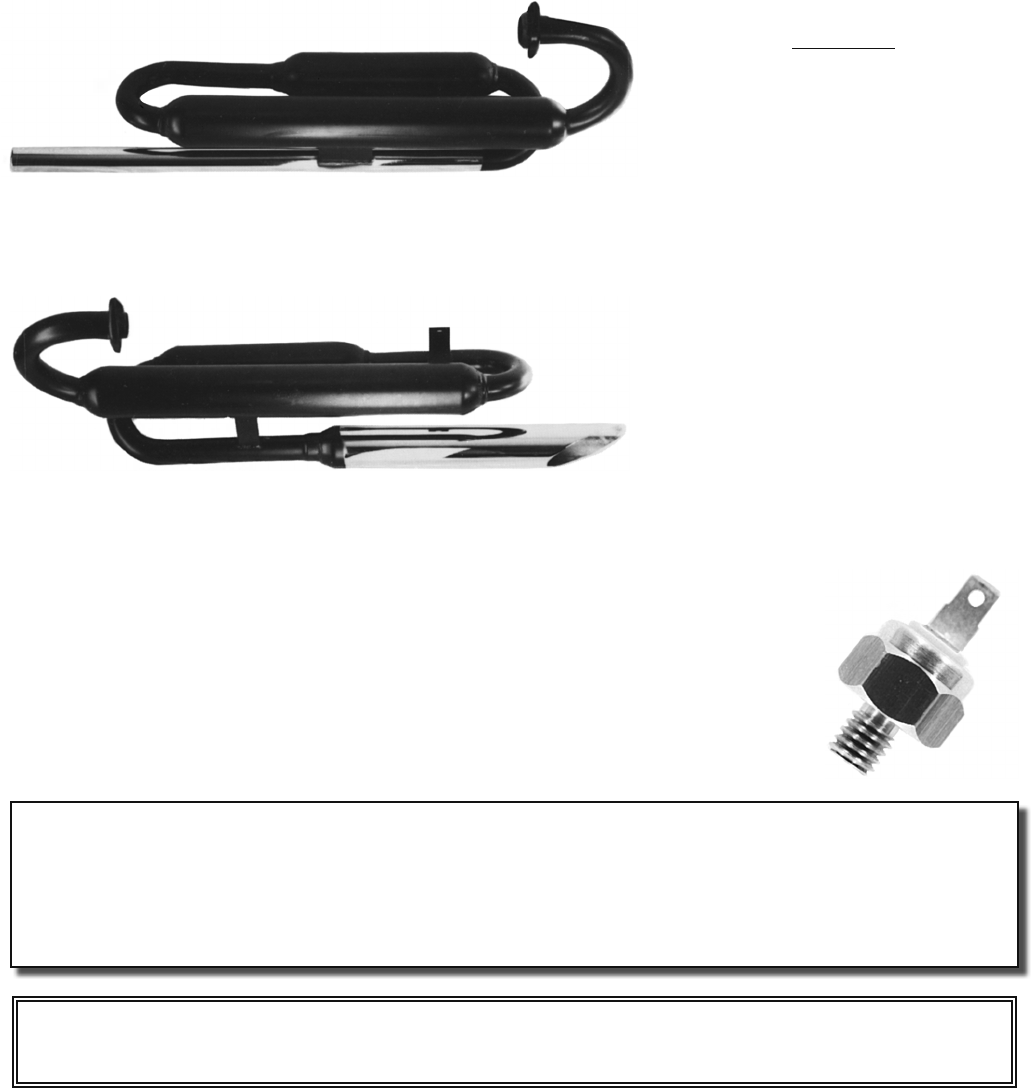 i
WARNING:
Products on this page can expose you to a chemical, which is known to the St

ate of California to cause cancer or reproductive harm. **For more information go to www.P65Warnings.ca.gov**
37
— Custom Exhausts —
Exhaust Extractors – Dual Exhaust
For All Corvairs except Turbos and vans.
1961-62 Wagons
may have to bend a body seam 1/4" out of the way.
These are the way to go if you don't want the stock system. A free breathing dual exhaust system that doesn't leak, isn't too loud, and still lets you
have full heat in the Winter! Top Quality, fully welded, custom fit system with a fiberglass packed muffler and resonator on both sides. Bolts to your
original manifolds.
2 Styles
Straight Chrome Tips
Gives your Corvair that "foreign sports car sound". This is the system often used on Fitch Sprints. Slightly louder than stock.
Sold set of 2 with full instructions. Includes all packings and hangers. Some convertible owners say that after 3-4 hours, they seem a little loud.
1960-69 All (exc. 140, Turbo & Vans)
C5037
32 lbs.
1965-69 All 140hp.
C5038
32 lbs.
Large Angle Cut
Chrome Tips
VERY LOUD. Gives much better breathing but is LOUD (no returns because you feel it is too loud). Legal in most states. Sold Set of 2 with
full instructions. Includes all packings and hangers.
1960-69 All (exc. 140, Turbo & Vans)
C5039
34 lbs.
1965-69 All 140hp.
C5040
34 lbs.
Head Temperature Switch
The head temp. switch is just an
"open"
switch until your engine reaches approx. 475-500 degrees
(at the switch location)
then the
internal contact is made
(if the switch is good)
and your idiot light comes on. Order your new switch now and be sure it will come on
when it should.
1961-69 All
(exc. Turbo & 140) (
COARSE
thread)
C438R
4 oz.
1962-69 TURBO & 140
(
FINE
thread)
C437R
4 oz.
GASKET:
Copper – for C437R & C438R
C644
1/2 oz.
SHOP MANUALS – A MUST!!
Our original Corvair shop manuals could pay for themselves many times over with just one use – See page 244
ASSEMBLY MANUALS A MUST TOO!
Loud!
Still buying "NOS" parts.
Tired of moving those "NOS" parts from room to room or show to show?
Just send us a list of GM part numbers and quantities. We'll send you back a total that we'll pay. I'd guess nearly 80-90% of the time our bid is accepted.
(Once you send the list, please give me a couple weeks before you start selling parts off a few at a time. Some lists take hours to figure and then you get back
and say "GREAT", but I've sold A, B, & F! Please refigure the total.)
Please return cores. We need your cores.
Many items with a core value come packed in special boxes; please use them to return your core(s).
CORES: