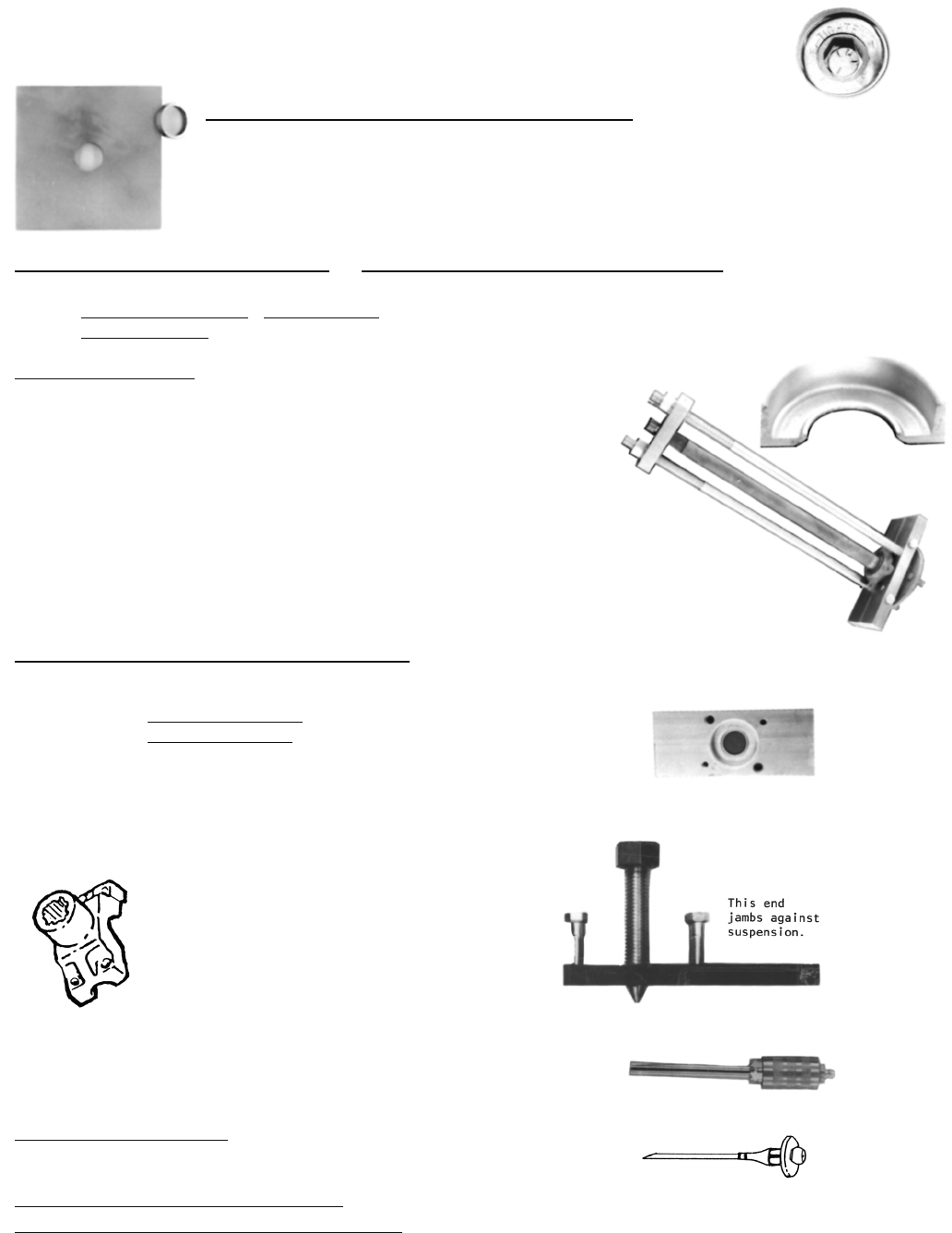 i
WARNING:
Products on this page can expose you to a chemical, which is known to the St

ate of California to cause cancer or reproductive harm. **For more information go to www.P65Warnings.ca.gov**
339
DIFFERENTIAL & AXLE TOOLS
PINION BEARING TORQUE ADAPTOR –
This tool allows you to measure the inch Lb. turning torque
as suggested in Shop Manual for pinion bearing adjustment. 1960-69 Std. & P. G.
(You'll need an inch Lb. torque wrench).
C9780
8 oz.
AXLE BEARING PRESSING TOOL
This plate and spacer allow
60-64 Car & 61-65 FC
bearings to be pressed on easily using any large press. The plate is
placed on supports with the bearing, the axle shaft is placed through and lined up then pressed on the center. The spacer
is used with all original bearings but
NOT
needed with our aluminum bearings.
Includes illustrated instructions.
AXLE BEARING TOOL –
60-64 Cars
C11517
5 lbs.
AXLE BEARING PULLER – NO Hydraulic Press Needed
This device, designed by Russell Davis, makes it incredibly easy to remove and install 60-64 car axle bearings without the need for a 20+ ton press.
KIT TO PULL THE BEARING – 60-64 CARS ONLY
(order tube to reinstall below)
C8504
19 lb.
INSTALLATION TUBE
for use with C8504 above
C8505
3 lb.
SEEING IS BELIEVING:
We had to try this tool ourselves before we could believe how easy it is to pull an axle bearing off.
We have always used a large press for pulling these bearings off from old rusty Corvair axles. The
secret is in the special design and cut pulling plates that allow the plates to fit up to the bearing
inner sleeve/pulling ring perfectly so that all of the pulling power is where it needs to be. If you
already have a press, you may want to consider buying the special puller block assembly to make
this job easier. Once the puller block is assembled under the bearing and the pulling rods installed,
it is a simple matter of tightening each of the puller nuts equally until the bearing is released. A
large crescent wrench will actually do the job quite nicely. You will also want the installation tube
to install your new bearing. The tube can be used with the tool or on your press for installing the
bearing onto the axle. The prototype tool pulled over 20 bearings and was still perfect.
We can also perform this service for you if you do not want to invest in the tools. See page 166.
ALREADY HAVE A HYDRAULIC PRESS?
This is the best pulling plate ever available to pull 60-64 car & 61-65 FC axle bearings.
It pulls under the pulling ring so the ring is usually reusable and because it pulls straight up, less pressure is required. This plate cannot be used with the
kit above; it can only be used on a press. The tube above can be used on a press for installing bearings or see our tool above (C11517 or C11518.)
60-64 CAR Pulling Plate
(similar to photo)
C8506
10 lbs.
61-65 FC Pulling Plate
C12673
11 lbs.
YOKE PULLERS – 1960-64 CARS & VANS
These make it much easier to pull off the "yoke" that the universal joints bolt to.
(In some cases heat is also needed.) Instructions included.
Pulls yoke off axles so axle can be removed (similar to picture).
UNIVERSAL JOINT GREASING TOOL
Greaseable universal joints are no good if you can't get grease in them! Narrow extension on this
will easily grease universal joints.
C3592
10 oz.
NEEDLE GREASER –
Attach to grease gun, slip needle past seal and insert grease.
Not for universal joints. Needle 1 1/2", 1/16" diameter.
C9692
4 oz.
TOOL to INSTALL CAR & FC
VENT WINDOW CHANNEL RIVETS
This is simply a piece of 1/4 x 1 x 2 1/2 steel bar that fits into a vise and then into
the channel to push against the head of the rivet. If you have a similar piece, you don't