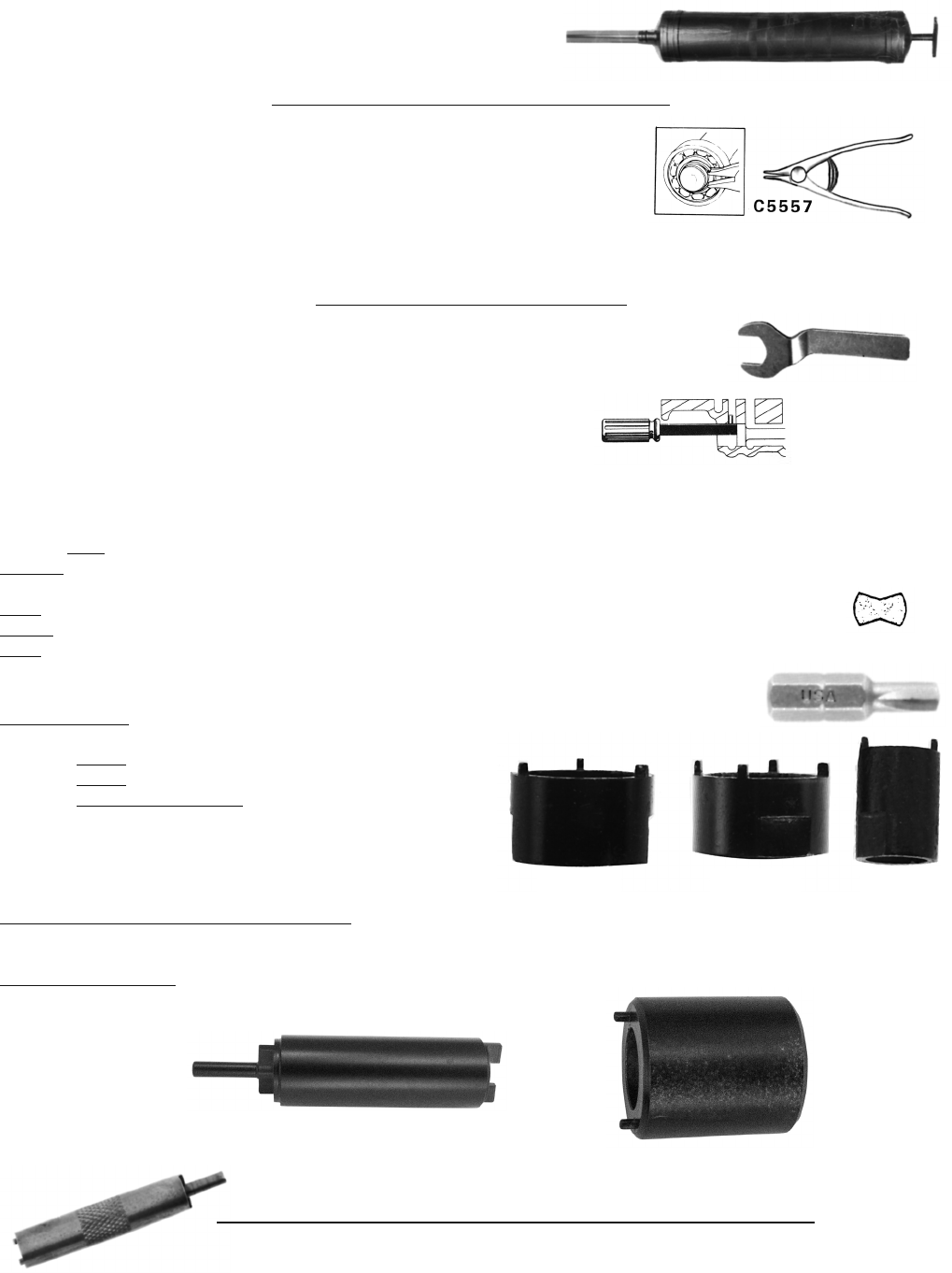 i
WARNING:
Products on this page can expose you to a chemical, which is known to the St

ate of California to cause cancer or reproductive harm. **For more information go to www.P65Warnings.ca.gov**
340
GEAR OIL PUMP – SUCTION "GUN"
Steel body with flexible spout for emptying and filling transmission or differentials.
TOP QUALITY GUN –
Large capacity
STANDARD TRANS. TOOLS
SPECIAL PLIERS
These special heavy duty transmission pliers remove external snap rings
that locate bearings and gears on shafts.
PLIERS –
8" long, maximum spread of 1 3/16". The ends of these pliers are 1/4" wide.
POWERGLIDE TOOLS
Modulator Valve Wrench –
Allows you to easily remove and install modulator.

C5294

6 oz.
P.G. LINKAGE ADJUSTMENT TOOL
Shown in the Shop Manual. Very essential for general rebuilds and replacement of shift cable.
A reproduction with instructions. Not exactly as pictured.
"BUTTERFLY – CLUTCH HEAD" SCREWDRIVER BITS
Inexpensive 1/4"
"BITS"
. Use with driver handles, sockets or a wrench. Now you can have the correct tool!
NOTE: C7361
will be a real screwdriver until stock is gone.
SMALLEST HEAD –
1960-69 PG transmission
– The 4 screws that hold the 1/8" steel plate to the valve body.
C7743
2 oz.
FC –
Some headlight units to body screws & horn.
C7743
2 oz.
SMALL
HEAD –
1960-64 DASH
– Removing clip that holds wiring harness.
C7093
2 oz.
MEDIUM
HEAD –
1960-64 Car & 1961-65 FC DASH
– Removing PG control unit.
C7361
12 oz.
LARGE
HEAD –
FC BODY
clutch head bolts. Large clutch head holding heater/differential cover panel, etc.
C12649
4 oz.
Dash Tools
These tools allow you to remove the bezel nuts without damaging the nut or dash.
60-65 Ignition Nut Tool

(3 projections)
C6679A
4 oz.
66-67 Ignition Nut Tool

(4 projections)
C6679E
4 oz.
65-69 Headlight & Wiper Switch Nut Tool

C6679F
4 oz.
button retainer
65-69 Headlight & Wiper Switch Nut Tool:
Extension goes into headlight switch to prevent from sliding & scratching chrome, the other end
has a hole to go over the wiper washer button and help center the tool.
C1712B
6 oz.
65-69 Headlight Nut:
Under the chrome bezel, has 1/4" ratchet hole to help removal it can also be used with C1712B to help in removal.
C1711A
C1712B
HEADLIGHT & WIPER SWITCH RETAINER "RING" TOOL
1960-64 Cars & FC. Remove these without damage to the retainer or your dash.
C12603
8 oz.