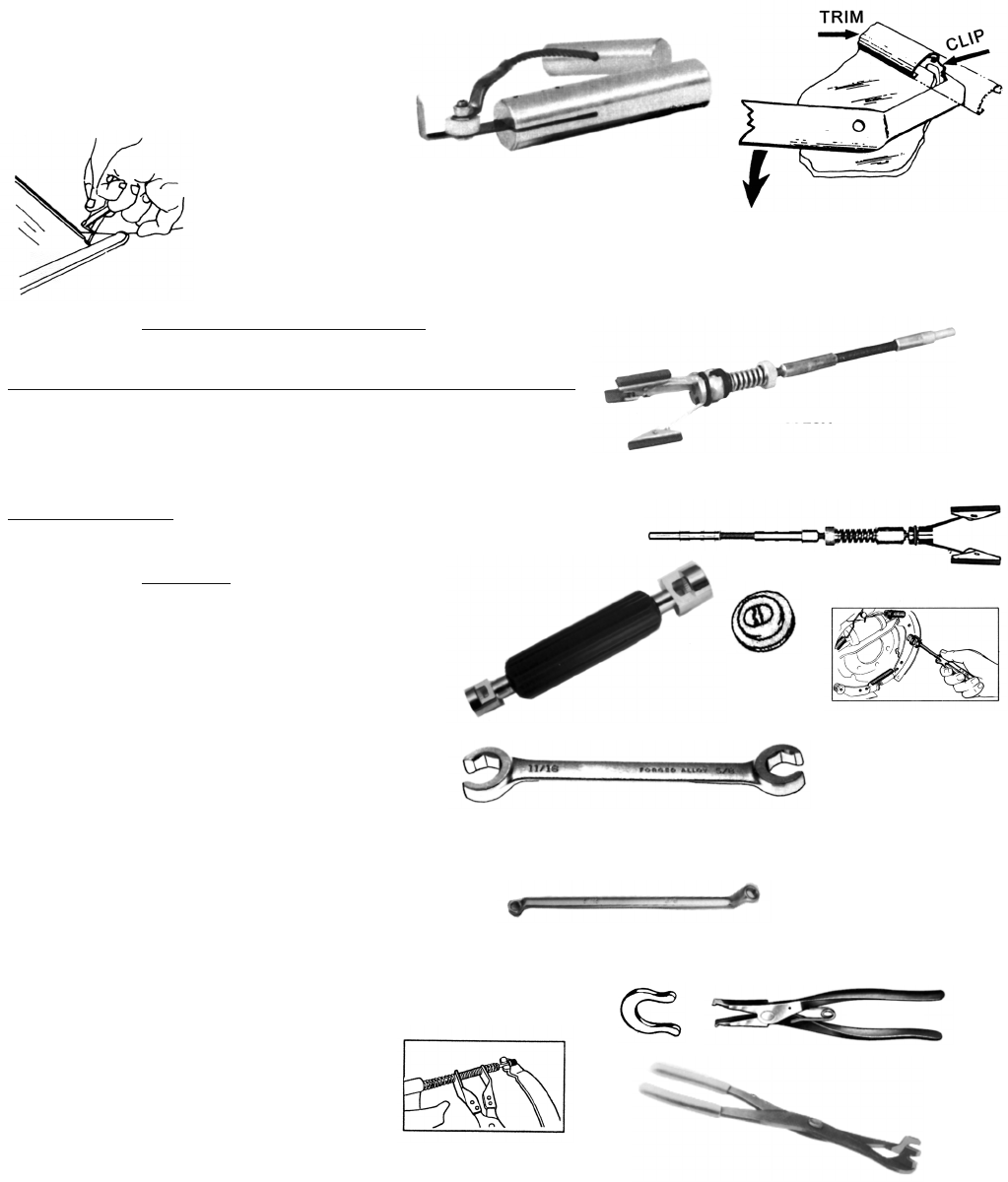 i
WARNING:
Products on this page can expose you to a chemical, which is known to the St

ate of California to cause cancer or reproductive harm. **For more information go to www.P65Warnings.ca.gov**
332
WINDSHIELD REMOVAL TOOLS – 1965-69
TRIM REMOVER –
Removes front or rear windshield molding trim from clips with no dents!
ALSO SEE CLIPS –
Page 209
WINDSHIELD KNIFE
Suggested model C1444X
10 oz.
Well designed knife for easy cutting of old windshield seals.
One person operation, no need for broken wires, (2) people, etc.
REPLACEMENT
BLADE

FOR C1444X

C1444XA

1 oz.
BRAKE TOOLS
HONES –
BRAKE CYLINDER & MASTER CYLINDER
Have a perfect surface for your rebuild. Anyone can do it – all you need is a 1/4" or larger electric drill.
3-Stone Brake Cylinder/Master Cylinder Hone
This 3-Stone hone gives a smoother, faster hone than a 2-Stone. Fits all Corvairs.
240 Grit stones; 1 1/8" long.
Set of 3 Replacement Stones
C725HR

2 oz.
2-Stone Style
1/2" – 2 1/4" range. All Corvairs (including 1967-69 dual master cylinder).
Pair – Extra Stones
C896X
4 oz.
SHOE RETAINING SPRING REMOVER
The round hold down spring with slotted cap. Worth twice the price!
FLARE NUT WRENCH
Best way to remove and protect brake and gas line nuts.
BRAKE BLEEDER WRENCH
Makes it easier to get to the wheel cylinder bleeder valves.
Fits All Corvairs (3/8" & 5/16")
C5894
4 oz.
HORSESHOE LOCK RING PLIERS & LARGE TRANS SNAP RINGS (Clips)
Rugged plier to spread horseshoe lock rings on emergency brakes, etc.
8" long 1 3/8" maximum spread. Also large trans snap rings.
C5557
1 lb.
EMERGENCY CABLE
INSTALLER
These pliers press the emergency cable spring back so
the cable can easily be installed into the lever.
TIPS, INSTRUCTIONS, HINTS!
We sell more than just parts – 100's of our parts also come with instructions, hints, or just generally helpful information.
All prices, pictures, specifications subject to change without notice.
(3/8 – 7/16 and 1/2 – 9/16 most important)
C1444X
C767A
C725H
C5557