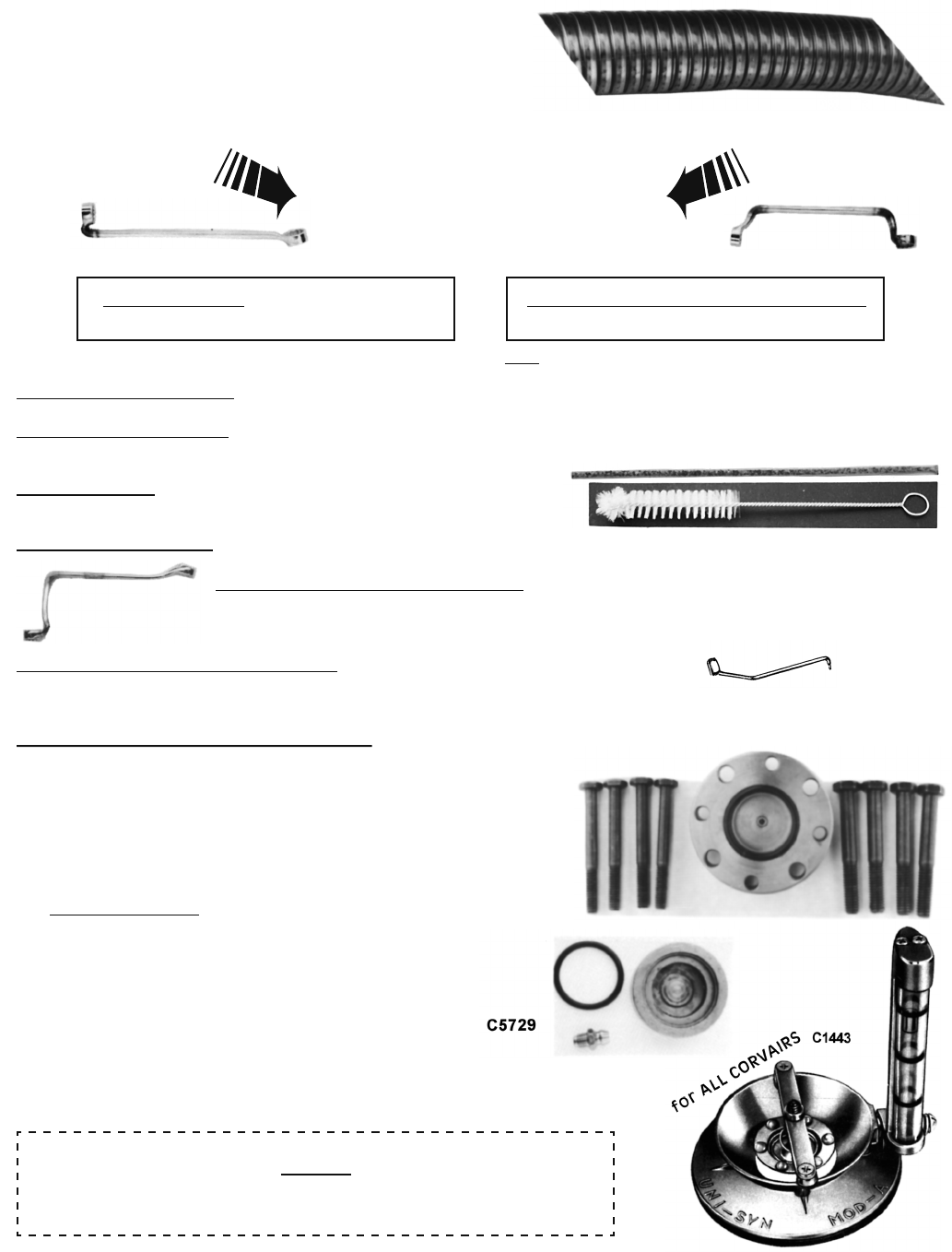 i
WARNING:
Products on this page can expose you to a chemical, which is known to the St

ate of California to cause cancer or reproductive harm. **For more information go to www.P65Warnings.ca.gov**
334
ENGINE TOOLS
VALVE ADJUSTING EXHAUST TUBE
Adjust valves with engine running and muffler mufflering so you can hear what you are doing!
1. Remove muffler.

2.

Set on ground.
3.

Hook up with flexible steel tubing (pipe) to muffler (we supply enough
so car can be jacked up too!)
140's
you can just unhook your hanger, loosen manifold nuts, swivel your dual muffler
out of the way.
1960-69 All (
exc. Turbo & 140
)
C3491
2 lbs.
1962-66
Turbo

C3492

3 lbs.
SPECIAL WRENCHES
CORVAIR ONLY
Make those hard jobs easy! These top quality wrenches are custom bent for those difficult nuts and bolts.
Note:

C3773

is

NOT

too helpful for A/C & Smog idler pulley.
SPECIAL TURBO WRENCH –
Allows access to the 2 bottom nuts for removing Turbo carb. "easily"

C8285

8 oz.
TRANS. MOUNT WRENCH –
We've discovered that our "bellhousing wrench" also works great for holding the top transmission mount bolt
on all years. About the only way to hold them!
C3772
6 oz.
Fin Cleaner:
Insert this grit impregnated wire into a drill and quickly remove
all flashing between fins of your head. Best way I've seen yet.
Test Tube Brush:
Great for cleaning inside push rod tubes, 10" long. C3957A

2 oz.
STEERING BOX ADJUSTING WRENCH
Allows screwdriver to insert into adjuster while tightening the lock nut with this wrench.
1960 GAS HEATER SPARK PLUG TOOL –
For setting gap and position as shown in Shop Manual.
Special Socket oil pressure SWITCH
Yes, it's special and it works! Use with 3/8" ratchet. All Corvairs must usually remove generator or alternator.
FAN BEARING GREASING TOOL
Fits Early & Late Models. Remove pulley and grease bearing in the car.
Comes with instructions. Forces grease past top seal and into bearing.
REPLACEMENT "O"-RING
C5728R
1 oz.
IDLER BEARING GREASING TOOL
All 1960-69
Includes
instructions.
C5729
8 oz.
REPLACEMENT "O"–RING
C5729R
1 oz.
UNI-SYN CARBURETOR BALANCER
A
MUST
for exactly balancing your carburetors so your car runs smoother and cheaper.
ONLY 1 NEEDED.
C1443
1 lb.
BELL HOUSING BOLTS –
Those 2 you can never get to!
BOTTOM CARBURETOR NUT & FAN BELT IDLE PULLEY
NTF
You can order this part number. If not in stock, we will refund you and/or notify
you via a postcard when the part is in stock. May be 1-2 months or a year.