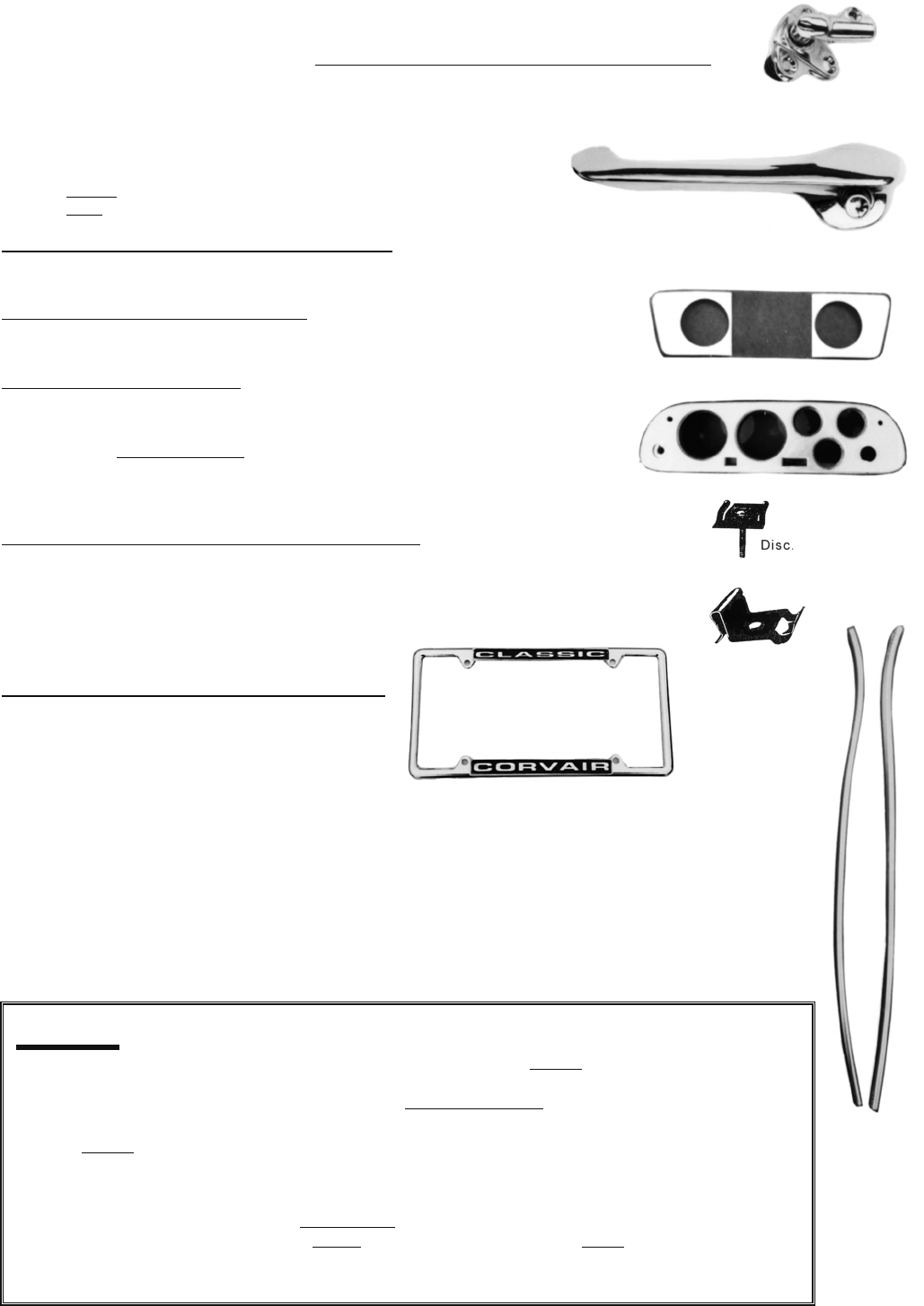 i
WARNING:
Products on this page can expose you to a chemical, which is known to the St

ate of California to cause cancer or reproductive harm. **For more information go to www.P65Warnings.ca.gov**
299
TRIM – 1960-64 CARS
1962-64 COUPE REPRO CHROME SUNVISOR SWIVELS
Sold as a pair. Does not include screws. (Also fit 61 w/ removable swivels)
C12623
2 lbs.
Screws – see page 184
OUTSIDE DOOR HANDLES –
Beautiful Reproduction
Complete with new push buttons installed. Now you can replace those scratched or pitted handles.
Gaskets & Bolts sold separately.
Coupe and Convertible order one pair. 4-door order 2 pair.
1960-64 All Cars –
C9808
4 lbs./pair
GASKETS –
Set for 2 handles (2 large & 2 small). 4 door – order 2 sets.
C2849
2 oz./set
BOLTS –
1960-69 Cars. Sold set for one handle (either side). Not exact.
C7151
2 oz./set
CT TOP BOOT MOLDING "Fix" – 1962-64
For 1962-64 Convertible top boot stainless molding that the ends fall off! This isn't pretty but it works and keeps the end from getting lost. It is a pair of stainless sleeves
that snap over the molding and a reinforcement piece for behind.
SOLD AS A PAIR.
C8257
4 oz./
pair
SPYDER RADIO BEZEL KIT –
Self-adhesive. lnstall in 3 minutes.
Brushed aluminum insert to give an almost original look. Make any original 1963-64 radio bezel look like a Spyder.
Use on your old Spyder bezel too.
Also see page 171A.
C4967B
4 oz.
SPYDER DASH FACE –
We have a quick fix for an ugly Spyder dash or glovebox. We supply
a large piece of "brushed" aluminum self-adhesive decal. You place it over the dash and use a razor blade to cut
around edge and gauge holes. Sand off any "raised pits" first or they will show. Looks nice but not perfect. Fits either
dash or glovebox. Covers any letters on dash.
C8279
10 oz.
SAMPLE OF MATERIAL
C8280
Free 1 oz.
TRIM CLIPS '60-64
60-64 CP & 4 Door Rear Window Trim Clips
Hold stainless trim to body on all coupes & some 4 Dr with stainless window trim. They are often rusty or bent during removal.
Usage: C3691 – 1 per side, C3691T – 1 per side, C3692 – 8 per top & 8 per bottom (16 total).
C3692
(Slightly shorter than C3691)
½
oz. ea.
C3691T
(with threaded stud)

Discontinued
C3691TA
– Nuts for C3691T clip. Sold set of 2.
½ oz./set
LICENSE PLATE FRAME
Fits all Corvairs front or rear. (
exc.
61-63 FC rear) Chrome plated, die cast.
"Classic"
across the top.
"Corvair"
across the bottom.
CHROME BUMPERS – see page 302
ORIGINAL DOOR EDGE GUARDS – '60-64
Stainless steel door edge guards reproduced by the original manufacturer.
1960-64 2-DOOR CARS
Left
C576
1 lb.
1960-64 4-DOOR Cars – "NOS" with clips. Set of 4
CX806
1 lb.
1960-64 2-DOOR CARS
Right
C577
1 lb.
Door Edge Guard Clips & Instructions –
Included with original GM door edge guard sets. Although not really necessary they do really hold
the guards on tight! Fit originals and our repros. Not included with repros. Usually
3-5 needed per guard
.
Sold Set of 10.

CX5864

2 oz. /set
C3691
than C3691)
C3691T
2nds
These are the old, very soft repros.
1st QUALITY – See pages 297 & 298
1964 DOG LEGS
These are
very soft
. The front ones look quite good;
The rear ones may have a "frosted" &/or slightly
pitted surface. 1st QUALITY – See page 297
SET OF 4 1964 DOG LEGS
Includes
attaching screws.
INDIVIDUAL DOG LEGS
FRONTS
REARS
OLD Early Door Sill Repros
These look nice but are
very soft
. Includes attached "Body
by Fisher" emblem. Order screws separately.
1960-64 COUPE ONLY
Coupe Left
C7709L
2 lbs. 8 oz.
Coupe Right
C7709R
2 lbs. 8 oz.
Screws – Set of 10
C1218AE
2 oz.
C9808
C12623