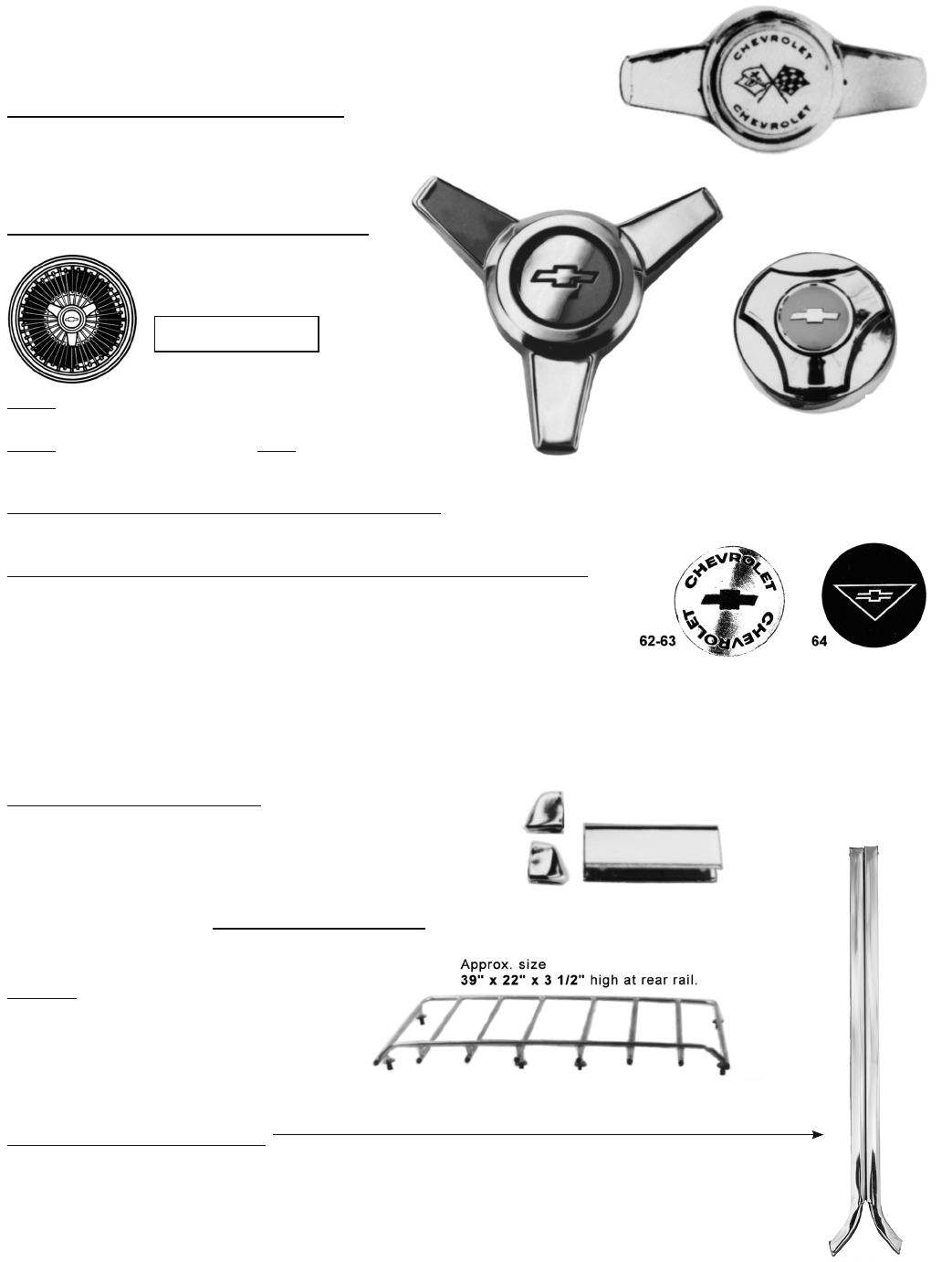 i
WARNING:
Products on this page can expose you to a chemical, which is known to the St

ate of California to cause cancer or reproductive harm. **For more information go to www.P65Warnings.ca.gov**
Separate hardware see page 309A
300
TRIM – 1960-64 CARS & VANS
FULL WHEEL COVERS – 1960-64
Wheel covers, inserts and hub caps –
see "NOS" on website
2 PRONG SPINNER
Just like the originals, cast centers (
not
a decal) and
Show Quality
chrome.
Set of 4

C9532

10 lbs./set

Come with screws.
Individual

C9532A

2 lbs. 8 oz.
3 PRONG SPINNERS
For 1964-69 style wire covers.
Beautiful reproductions, better than originals.
SCREWS –
Hold spinner on original covers. Sold Set for (1) spinner. Not original style.
SCREWS –
These hold the covers together but are not long enough to hold the spinner on.
Original style.
C1358

1 oz. ea.
1964-65 FC CHROME HUB CAPS
Exact repro. Will only fit 1961-65 FC wheels. Sold set of 4 only. Chrome with orange/red center.
C10932
12 lbs.
INSERTS – 62-63 & 64 Wire Wheel Knock Off Spinners
This is a one time, limited run. Order yours while available.
NOTE:

C12001 were originally stainless. Ours are stamped
in aluminum & painted black (look nearly identical to originals). The C12002 look just like the originals & should
last longer.
Either style will fit any year knock off.
Original Wire Wheel Lead Hammer & Spare Tire Mounts – see page 310
TAIL & BACKUP HOUSINGS –
see page 94
SUNVISOR END CLIPS
Very good reproduction. Replace those rusted, missing ones.
INCLUDED
on our new visors.
Triangular
C7891
1 oz./
pair
Rectangular

C9063

2 oz./pair
Stainless Steel LUGGAGE RACK
This quality rack is quite similar to the original accessory offered for Corvairs. Will fit
all Corvairs 1960-69 but
requires drilling
(4 - 6) 1/2" holes in the engine lid.
Comes with all hardware and can be completely mounted from the outside.
Please note:
(4) holes are the minimum safe number. On the 1960-64,
the (2) inner supports cannot be used unless you mount the rack within
4 inches of the rear edge of the lid, otherwise the mounts will be in
the lid vent louvers. Weight is due to size.
C10066
14 lbs.
SHOW QUALITY
C2586
1965-69 Coupes & Convertibles –
excellent Clark repro of the chrome trim that goes on the front edge of the 1/4 window & holds
the weatherstrip.
Chrome finish is better than most NOS. Now you can replace those scratched, pitted or rusted trim. Usually can be
replaced without removing the window; instructions included. (Do not fit 4 door) Sold as a pair.
C2586
2 lbs.
C10932