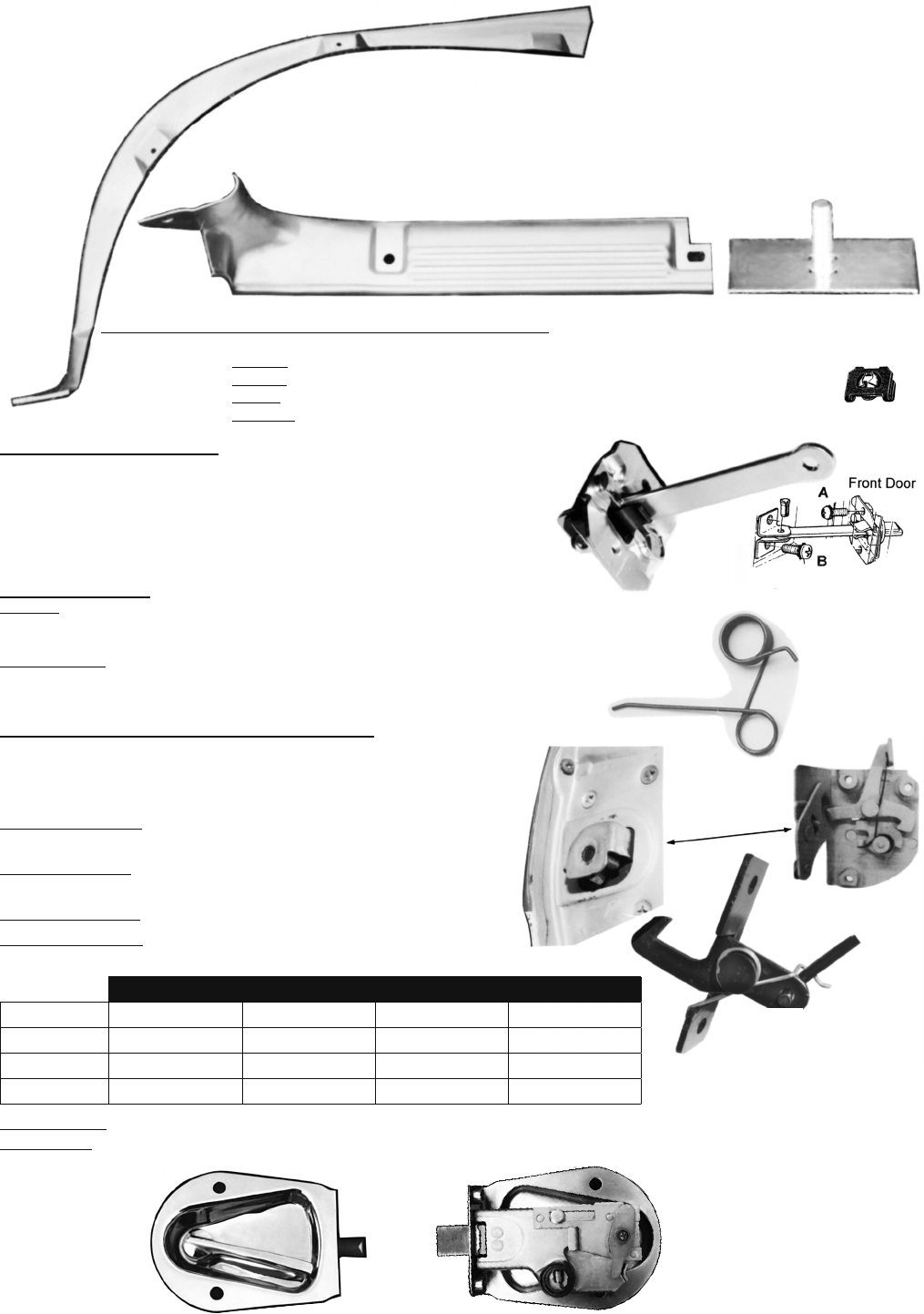 i
WARNING:
Products on this page can expose you to a chemical, which is known to the St

ate of California to cause cancer or reproductive harm. **For more information go to www.P65Warnings.ca.gov**
298B
TRIM – VANS
FC DOOR SILLS
These are an excellent reproduction; as good as any NOS I've seen. Sold as a full set of 4 for all FC's. Order full sets
of screws separately. My guess is that these will never be rerun so get your set now. Another Clark repro.
NOTE: The
door sill areas seem to vary some so it may be necessary (usually on driver's side) to bend the large door sill slightly
to form it over the weatherstrip. We include instructions.
FC Door Sills – Set/4
C12540
5 lbs./set
FC Door Sill Screws
C4871A
4 oz./full set
Set of 4 for left & right
front FC doors
"Close up" photo to show detail
FC Front Grill "Emblem" Trim Retainers –
The long center emblem was held on by 4 retainers to the mesh
grill. The threads of spring wire often break due to rust. These are not exact original but work great. Epoxy in place with JB Weld or similar product until you
have the nuts on.
RETAINER –
Sold each (4 needed)
C3457A
1 oz.
PAL NUTS –
Hold the "bar" to the center of the front "mesh grill".
Sold set/4
C7304
1 oz.
SCREWS –
Chrome, hold "mesh grill" to body.
Sold set/7
C7303
1 oz.
RETAINERS –
On body behind "mesh grill"
Sold set/7
C7303R
1 oz.
FC Front Door Stop
Replace that rusty, corroded stop with a new repro.
Fits left or right.
Order pin.
Do you also need screws?
FC FRONT DOOR STOP

C13083
1 lb.
A – SCREWS:
Stop to door pillar (1) =
Set of 4
screws & 4 LW
C4715X
4 oz.
B – SCREWS:
Stop bracket to door (1) =
Set/4
screws & 4 LW
C3758
6 oz.
C – PIN:
Sold each
C3249
1 oz.
C
FC Springs –
FRONT DOOR & RAMP LATCH
Front Door –
These springs help the latch to return so you can close the door & it stays closed.
Excellent, exact fit repro. Easy to replace. Sold as a set of left & right with photo instructions.
Ramp Safety Latch –
This spring helps the ramp safety latch return to the correct location when
you close the ramp. Even if yours isn't broken, you may want to replace that 50 year old one. This
is probably a one time run of under 300 parts.
C12702
2 oz.
Rampside & Loadside Latches
–
Tailgate & Ramp
These repro latches are stronger & look better than any NOS I've ever seen.
We are offering 4 finishes. They can be taken apart to rebuild if ever necessary.
Left & right are as you face the ramp or tailgate.
NOS Style Chrome:
Better than NOS but, as with the NOS, no polishing done
before plating.
Buy these if you must have NOS look! I'd call it "frosted chrome".
Polished Chrome:
The latch is polished before chrome. Wow – these look sharp!
You'd pay more to have old, worn ones restored.
Brushed Stainless:
Looks like a brushed stainless appliance.
Polished Stainless:
These are Cal's favorite. Just slightly less bright than the
polished chrome, but they will never deteriorate and you can always re-polish if scratched.
All 3 lbs ea.
NOS Style Chrome

Polished Chrome

Brushed Stainless

Polished Stainless
Tailgate Right
C13234

C13238

C13242

C13246
Tailgate Left
C13235

C13239

C13243

C13247
Rampside Right
C13236

C13240

C13244

C13248
Rampside Left
C13237

C13241

C13245

C13249
Latch Screws:
Set of 4 original style screws & LW to hold latches to body.

C3758

2 oz.
Latch Bolts:
Set of 10 bolts that hold latches to body (used in other locations too).
C4720X
8 oz.
C13083
Latch back side
C3457A
C7303R
C12701
C12701
C12702