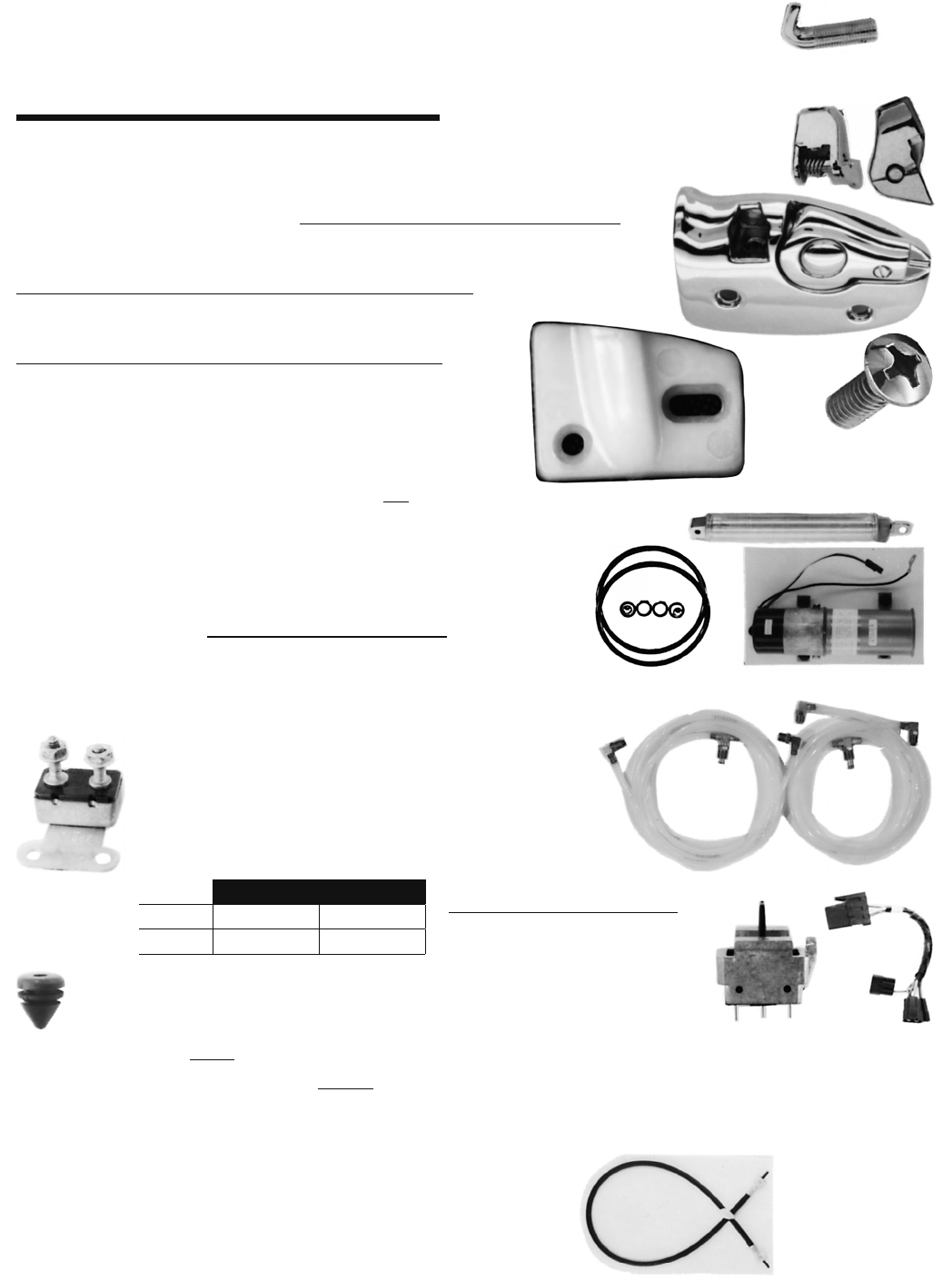 i
WARNING:
Products on this page can expose you to a chemical, which is known to the St

ate of California to cause cancer or reproductive harm. **For more information go to www.P65Warnings.ca.gov**
295
SET OF 2 NUTS, LW & ATTACHING SCREWS
TOP LATCH HANDLES & PARTS
The top latch handles for 1962-69 Convertibles that hold the top to the windshield are discontinued.
Fix yours with these excellent repros.
CHROME HOOK:
1962-69 Convertibles – Either side.
C2075
2 oz.
SPRING:
Moves the hook and casting – Either side.
C5844
1 oz.
CT. TOP LATCHES
Check your latches most are cracking.
These beautiful, strong, chrome latches are an exact replacement for 1965-69 and are quite similar and will work for 1962-64. For all years you
do have to drill the hole in the bracket to 15/64" for the larger pin supplied. Use your old chrome hook or purchase new ones listed above.
1962-64 can be done in the car. For 1965-69 the latch unit must be removed. We include instructions.
Pair of Latches – C8146

10 oz./pair
1965-69 Convertible REPRO Chrome Sunvisor Pivot Assembly
Excellent repro for this hard to rechrome part. Will fit 68-69, but finish is bright chrome (not satin). Includes sunvisor
nylon bushing (C7725), tighten screw as tight as you can!
Sold as a pair.
C12616
3 lbs./pair
62-69 Conv't Top Sunvisor Pivot Screws
Fit all years. Set of 6 polished stainless screws to attach the front catch to the front windshield header.
Replace those rusted, rounded screws. Set of 6 –
C13230
1 oz./set (set does both sides)
65-69 Conv't Front Header Alignment Nylon
These pieces often get worn from moving against the front CT header. They should
be adjusted to be as tight as possible to reduce movement at the windshield.
Sold as a Pair
C5622C
4 oz.
Set of 4 Screws
C5622E
1 oz.
POWER TOP PARTS
HYDRAULIC TOP CYLINDERS:
These are

NEW

cylinders. They fit right in, bolt right up,
and put your top back in motion.
Note:
These are
NEW
units made to fit and work perfectly but are
NOT EXACT REPROS
.
HYDRAULIC MOTOR & PUMP –
NEW UNITS – Not exact reproduction.
Will fit right in except for the following:
2 of the "feet" do not go where original did
.
Requires attaching electrical plug off your original.
1962-64
C5404
12 lbs. ea.
62-64 Convt. TOP PUMP REBUILD KIT
Necessary o-rings and check balls.
C12025
6 oz.
62-64 HYDRAULIC HOSE SET –
Complete ready to install.
Don't risk the mess of an old brittle nylon hose bursting under pressure!
Sold Set for both sides.
C8251
2 lbs./set
62-69 POWER TOP CIRCUIT BREAKER
Available in 30 amp. and 40 amp. We believe 40 amp. was used for
1962-65, 30 amp. for 1966-69, but we aren't positive, as we have conflicting
information, check your car. The 1962-64 is under the dash near the speaker
support. The late model is on the frame near the battery. These breakers do fa-
tigue and rust with age. The "
Usable
" breaker is exact except that the mounting
bracket is not original (but will work).
EX
ACT 4
oz.

"USABLE"
4
oz.
TOP HARNESSES – See page 98B
Rubber Mounting for 1962-69 Electric Top Motor –
C2676

1 oz.
Power Top Electrical Relay:
1965-69 Power Top. Located in rear. Harness & relay not exact, but plugs right in & works.

C9861

1 lb.
Replacement Convertible Power Top Switch:
At the dash. Exact fit and looks original except knob is black.

C12591

8 oz.
65-69 Electric Top Motor & Parts:
Electric motor is nearly identical to original stock but

does not include

gear box and gears.
Transfer yours or order replacement gear box (machined not cast) and/or the gears as needed.
1965-69 Electric Top Motor - Factory rebuilt
C9470
8 lbs.
1965-69 Electric Top Motor Gear Box (empty)
C9471
12 oz.
Electric Top Motor Gears
C9472
1 lb.
POWER TOP DRIVE CABLES
1965-69 Exact repro.
C5669
1 lb. ea.
C5403
C5404
C12025
C8251
C5622C
C13230
C12591
C9861