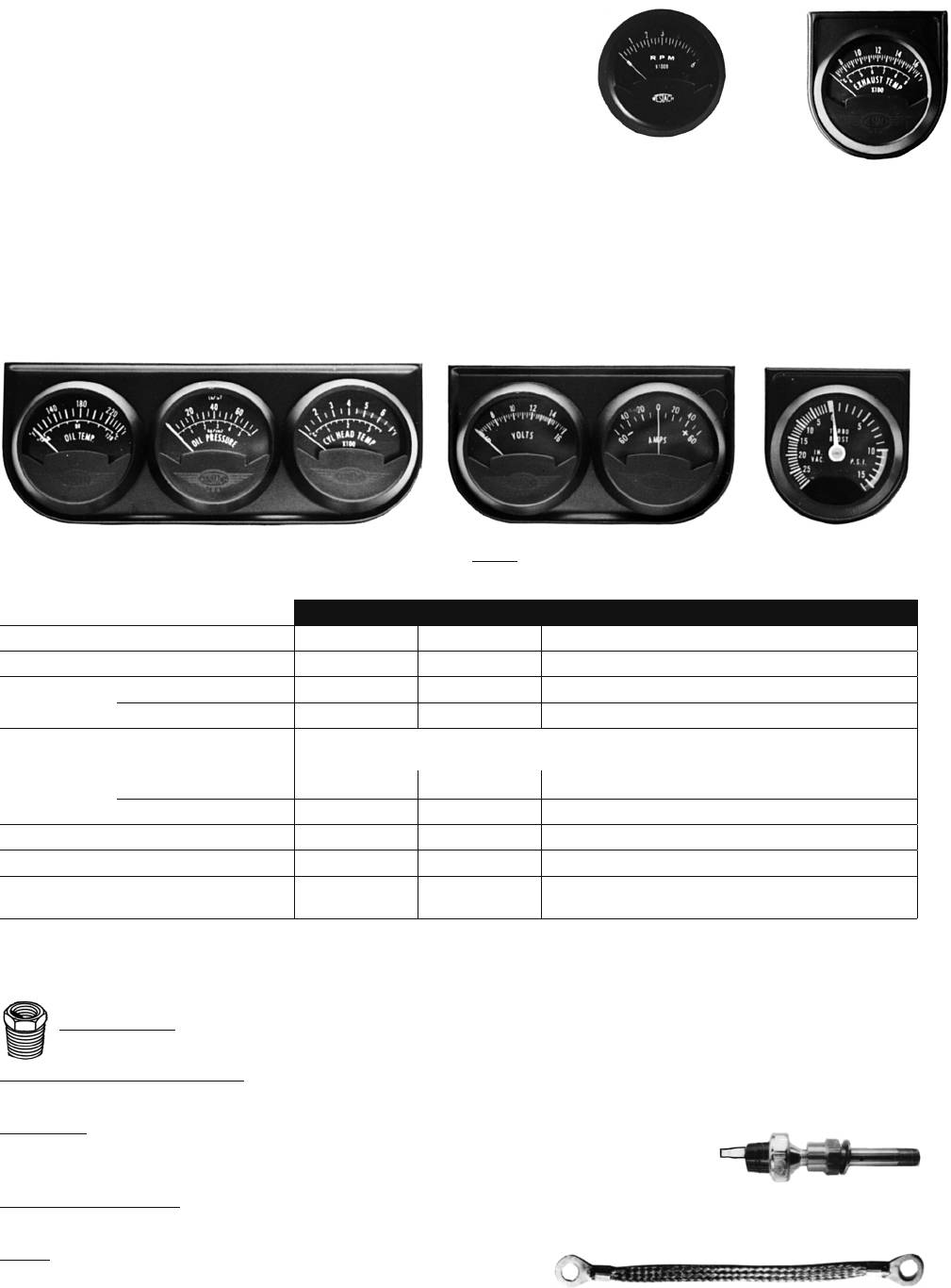 i
WARNING:
Products on this page can expose you to a chemical, which is known to the St

ate of California to cause cancer or reproductive harm. **For more information go to www.P65Warnings.ca.gov**
28
GAUGES
WESTACH
GAUGES
These Westach aircraft quality gauges are especially made and calibrated for Corvair. All units are guaranteed against defects
in material or workmanship for 1 year. Don't waste $$ on a cheap gauge. All gauges are lighted. All are black rimmed. All include
our complete instructions. You must order GAUGE, WIRE and SENDER UNIT.
MOUNTING
–

A. Mount in panels below dash.
B. Custom mount as desired.
STEEL PANELS:
Fit 2" gauges on this page & page 28.
1 Hole
C3075
Discontinued
TACH – 3":
Can be fit into Spyder, Corsa or 1965-69 Monza dash. Small brackets must be fashioned. Can be used with electronic ignition.
TACH - 2"
0-6000 C3080

1 lb.
2" "BULLET CASE":
Can be clamped to steering column.
All tachs can be clamped to column as supplied but don't look as good.
ALL 2" GAUGES:
Complete installation instructions (that anyone can understand).
ORDER: A – gauge B – wiring C – sender
A. 2" Gauge 8 oz.
B. Wiring 8 oz.
C.* Sender Unit 6oz. (Must be used with our gauges)
Cylinder Head Temperature
100-600°

C3081

C3086

C3091

Goes under spark plug
Exhaust Temperature
400-1600°

C3095

C3086

C3097
Oil Temperature
100-260
°

C3082

C3086

C3092

*See Note Below
150-350
°

C6462

C3086

C3092

*See Note Below
Oil Pressure Gauge includes all necessary adaptor connectors and allows
continued use of idiot light ("leg work" done for you!).
1960-69 (exc. Turbo & Smog)
C3083

C3086

C3093
*See Note Below
1962-66 Turbo
C3083

C3086

C3093T
*See Note Below
Amps
60-0-60
C3084

C3086

C3094
Volts
6-16
C3085

Not Needed

Not Needed
Turbo Boost:
Very accurate compared to original
gauge (use on regular cars as vacuum)
C3170
Not Needed

Included with Gauge
*Note:
If you are ordering the oil temperature gauge and do not have an aluminum pan with pre-drilled hole, order this adaptor "T" which allows it to go
in same area as oil pressure switch. If you are also ordering an oil pressure gauge, order the "TX" adaptor.
"T" Adaptor

C3092T
6 oz.
"TX" Adaptor

C3092TX
4 oz.
Oil Temp Adaptor:
Allows you to install our oil temperature heat sender unit into Otto pan.
C5628
1 oz.
Replacement Bulb For Above Gauges:
Note – These are only for the gauges that the bulb is removed through the small hole in the back of the gauge.
Includes adaptor to make
Clear, Green or Red
.
Bulb: All Gauges
C5615
1 oz. ea.
Adapt-A-Bolt:
This bolt replaces the stock oil filter bolt and allows you to screw in an oil pressure switch, oil
temperature, or pressure sender unit. Not supplied with our gauges. We supply alternate fit tings that branch from
stock sender area.
1960-69 (All with stock filter adaptor)
C7521
6 oz.
Reproduced Ground Straps:
Short copper ones from engine shrouds to body. Important for properly grounded engine – 1960-69.
Some 1965-69 Convertibles and 1968-69 Coupes apparently used straps about 2" longer.
Screws:
See page 82

Regular Length

C435R

2 oz.
Longer Length

C435RL

2 oz.
1 Hole Discontinued