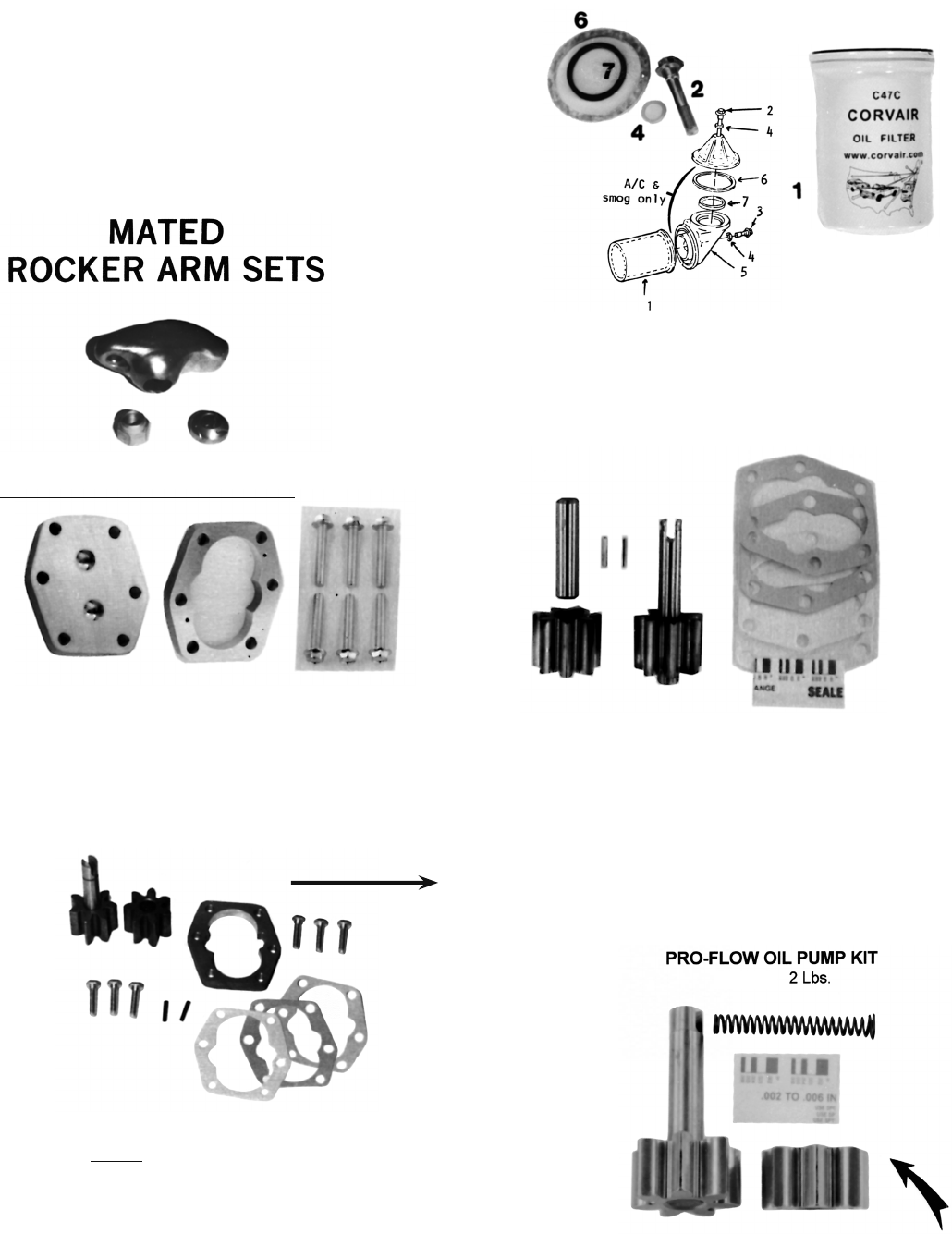 i
WARNING:
Products on this page can expose you to a chemical, which is known to the St

ate of California to cause cancer or reproductive harm. **For more information go to www.P65Warnings.ca.gov**
27C
OIL FILTERS & PARTS
1. CLARK OIL FILTERS: See Pg
27
B for info.
C47C
1
lb.
2. BOLT – Oil Filter:
(also holds adaptor on for A/C or Smog)
REPRO C977A

4

oz.
3. BOLT – Oil Filter on A/C & SMOG:
REPRO
C978A
4
oz.
4. GASKET – Oil Filter Bolt – Stock fiber:
C3017
1
oz.
5. ADAPTOR – Oil Filter – A/C & SMOG: Mounts filter horizontally.
Discontinued
1
lb.
GASKETS –
For A/C & Smog Adaptor: Seals adaptor to generator/oil filter plate.
6. "PAPER"
(outer gasket)
C976

2

oz.
7. RUBBER
(center seal)
C975
2
oz.
Rocker arms should be inspected for valve stem deformation in the toe of the rocker. This condition will cause
excessive valve guide wear and rocker noise. The ball seat should also be inspected for wear, score lines,
cracks, galling evidence or bluing of the metal.
New rockers frequently fail to seat to the ball or dissipate a good deal of metal into the oil during this process.
We premate the ball to the rocker for quick reliable break-in.
These arms are custom made for Clark's to exact original specs.
Keep as sets when you get them!
Includes:
12 rockers, grooved balls, nuts & instructions.
C8641
4 lbs.
PRO-FLOW OIL PUMP KIT
As clearances increase through normal use and more oil is passed at each
lubricating point, the stock pump is unable to keep up with the oil supply required.
The results are reduced lubrication in several critical points in your engine. Even in a
new engine, when at full operating temperatures , the stock pump cannot properly
lubricate the valve gear at engine speeds below about 2,000 RPM.
The Pro-Flow Oil Pump Kit has 50% longer gears which provides 133% of stock
pump output. Special quality features are the gear cover that provides bearing bores
to locate the gear shafts on the outboard end to eliminate side scrub between gear
and housing. The spacer and the bearing cover are machined to exacting tolerances.
$$ Saver HI-VOLUME OIL PUMP
Gives you a good basic Hi-Volume Pump. Better than stock but not as strong
as the Pro-Flow.
Includes:
Oversize Gears, Spacer, Gaskets, Bolts, Plastigage &
Instructions. (Use your old pump cover.)
C5053
1 lb.
Also order rear housing gaskets C482 & C483A when ordering new pumps
above.
The improved oil flow will help keep engine temperatures down and provide
adequate lubrication under all conditions. For extended engine life and reliability,
this Oil Pump should be a top priority for all Corvair engines.
Also order rear
housing gaskets C482 & C483A when ordering new pumps above.
Pro-Flow Kit Contents:
1. (One) gear spacer.
2. (One) gear set with hardened driveshaft.
3. (Six) 1/4-20 x 1 1/2" grade 5 self locking bolts.
4. (One) length of PR-1 Plastigage.
5. (Four) gaskets (.003", 2-.005", .008") thick.
6. (Two) 3/32" x 5/8" "Rol-pins" for doweling the spacer to the accessory housing.
7. New idler gear shaft to match the longer gear.
8. Illustrated instructions.
9. Pump cover.
STOCK OIL PUMP
GEAR KIT
A quality pump for normal driving.
Original factory style pump.
Includes spring, gasket &
Plastigage.
Please check your engine
• • •
BEFORE you order!
Take the time to check your head numbers, block ID#, and piston numbers.
Engines and parts get
"all switched around"
.
It is
NOT
our fault if you order the wrong parts because you didn't check first.
See TECH pages 388 & 389.
C3942