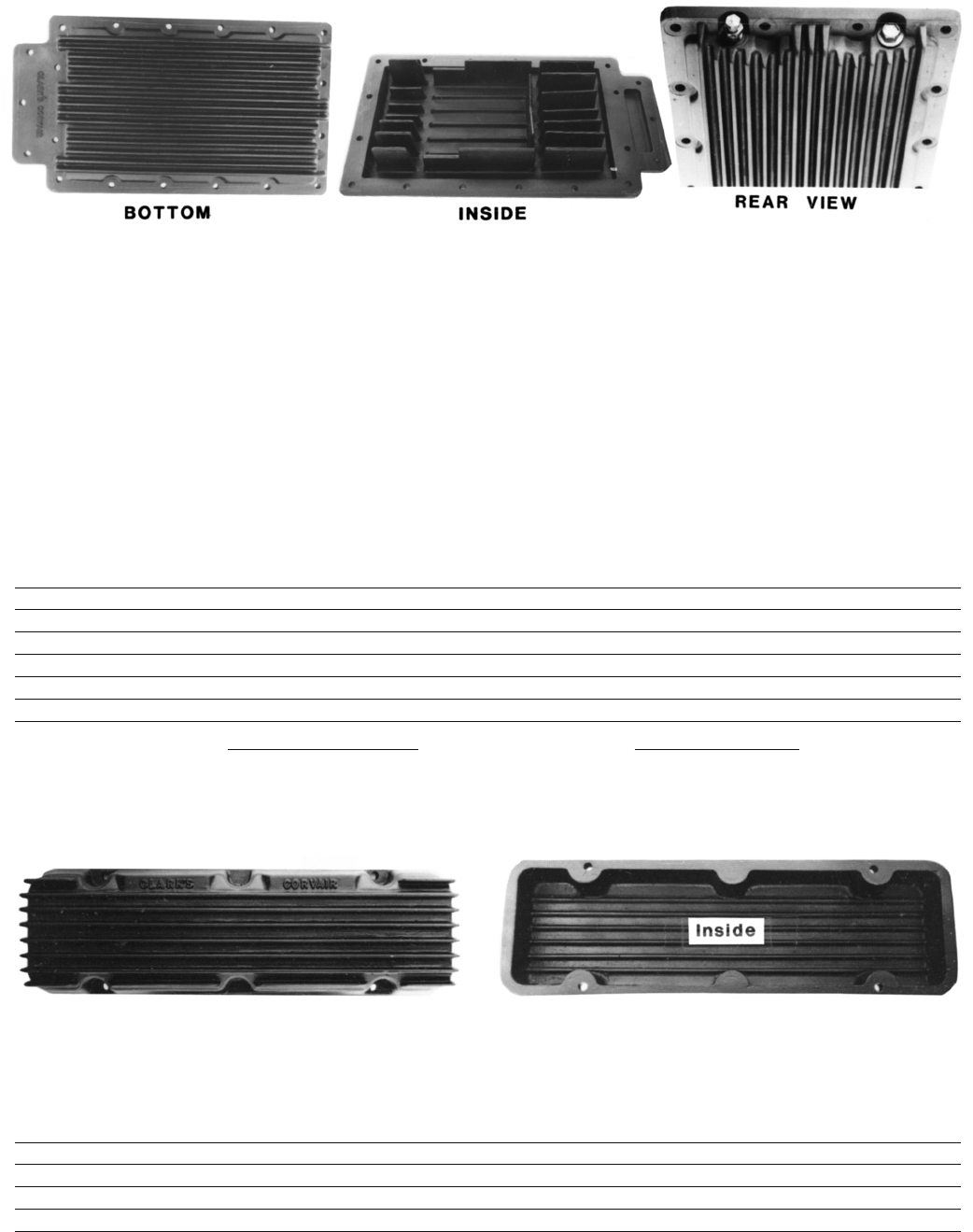 i
WARNING:
Products on this page can expose you to a chemical, which is known to the St

ate of California to cause cancer or reproductive harm. **For more information go to www.P65Warnings.ca.gov**
29
Aluminum Oil Pans & Valve Covers
— We are offering Clark's, OTTO Parts & Econo —
1
Clark's

Ultimate Oil Pans
You'll find that extensive engineering has made these the
VERY BEST
pans available, with many exclusive features.
A. COOLING:
E

xtensive external finning (nearly 2 times the cooling surface of the OT

TO pan) is in direct contact with cooling air. Just as impor

tant is the internal surface area
which actually contacts the hot oil. Our internal finning makes maximum oil contact (over 5 times the area of the OT
TO pan). These internal fins also prevent oil surge both
front to rear and side to side. It is nearly impossible for oil to rush up the push tubes under hard cornering. Black anodized aluminum for added cooling efficiency.
B. STRENGTH:
Quality heat treated aluminum, our pan is very strong and actually helps to strengthen and "tie" the engine block firmly together. Off-road owners can breathe
easier as our fin style simply slides over most obstructions.
C. OIL CAPACITY:
Only increased by about ½ Quart (so an oil change with filter is 5 Quarts). This means the pan extends down only about 1

¼"

more than a stock pan. The overall
cooling surface is really more important than oil capacity for a cooler running engine oil.
D. GASKET RETENTION:
Our pan is about ½" thick where the gasket is. This pan will stay flat and hold your gasket firm! Comes with zinc, self-locking bolts.
E. OIL CHANGING:
We put the magnetic drain plug at the rear of the pan and sloped the inside of the pan to the rear. Just put your drain pan at the rear of the car and drain out!
No need to jack up car or crawl under!
F. OIL TEMPERATURE SENDER:
Hole for the oil temperature sender is on a vertical rear surface where it is protected.
All Clark Ultimate Oil Pans come complete with bolts, magnetic drain plug and oil sender unit plug (will take 1/8" or
1/4
" pipe thread
senders).
ORDER SPECIAL GASKET SEPARATELY. When used on a 1960 block two oil pan baffles need to be ground slightly to fit.
Clark
Oil Pan

C7228

12 lbs.
$$ SAVER
Clark

Oil Pan:
Everything is the same except the drain plug is not magnetic. Pan w/ non-magnetic plug.
C7228N
12 lbs.
"Paper" Gasket
C3937

6 oz.
Optional "Paper" Gasket:
May seal better.

C3033P

6 oz.
Cork & Rubber Gasket:
Special for aluminum pans.
C199T

6 oz.
All Rubber Gasket
(Cal's preference)

C3129

6 oz.
Also Consider:
Special oil Pick-Up & Bafe Spacer on page 30
and matching PG Pan & Axle Cover on page 31
ALUMINUM OIL PAN BOLTS:
Self-locking for Clark & Otto oil pans. Sold as a Set of 10 and as a Full Set of 19.
INCLUDED WITH PANS.
10 Bolt Set:
C7262
4 oz./set
Full set of 19:
C7263
6 oz./set
Not only do these beautiful aluminum covers match our oil pan in style but also in practical efficiency.
A. COOLING:
We have designed the maximum practical external finned surface area AND even slightly increased the internal area by small fins that the hot oil flows over!
As with our oil pan, we have engineered in the maximum cooling fin area.
B. STRENGTH & GASKET RETENTION:
These strong covers will give good oil seal on the thick gasket area and also help muffle valve noise. They come drilled for 4 holes but
you can drill the extra 2 holes and tap the center lugs (if your heads have it) for 6 bolt retention (we include the extra bolts). It is suggested that you use 6 bolts. When using
these valve covers the right heat shield won't fit. All covers are sold as a Set of 2 with special zinc, self-locking bolts.
ORDER GASKETS SEPARATELY.
We suggest Permatex #2
Clark
Valve Covers

(pair)

C7229

10 lbs./set
"Paper" Gaskets
(pair)
C3941
6 oz./set
Optional "Paper" Gasket:
May seal better. Sold each.

C3033V

2 oz./each
Aluminum Valve Cover Bolts:
Fit Clark covers only. Self-locking bolts. Sold set of 4. Order 3 sets for (2) 6 hole covers.
C6909C

4 oz./set