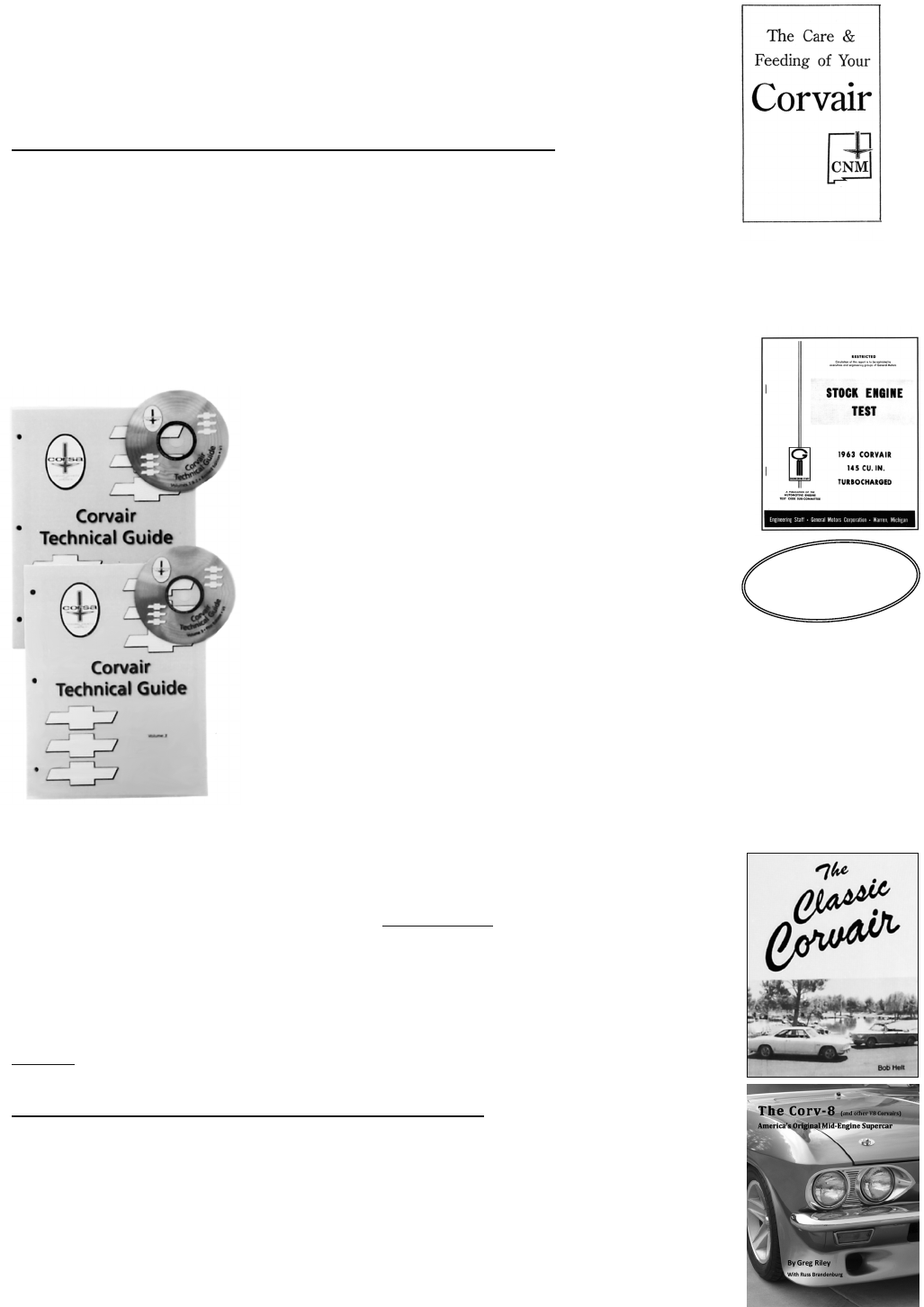 i
WARNING:
Products on this page can expose you to a chemical, which is known to the St

ate of California to cause cancer or reproductive harm. **For more information go to www.P65Warnings.ca.gov**
250
CORVAIR BOOKS
The CARE & FEEDING of YOUR CORVAIR
5 pages on tuning your engine. Additional pages on grease seals, tires, gas, distributor numbers and specs., cylinder
head numbers, body tag info., engine codes, spark plugs. How to do a clutch job and....
more
.
C10962
8 oz.
ANTENNA INSTALLATION INSTRUCTIONS & TEMPLATES
Copies of original instructions and templates (index stock). These come with our exact repro antennas or order
separately.
NOTE:

Originals for some years may vary slightly.
All 8 oz.
1960 Front Antenna
C4470E
1965-69 Front Antenna
C4471F
1961-64 Front Antenna (from '64)
C4470F
1965-69 Rear Antenna
C4471
1961-64 Rear Antenna (from '64)
C4470
CORVAIR SAE PAPERS:
6 SAE papers by Chevrolet Engineers.
Very detailed and interesting reading. Includes origin and development, engine, transaxle, the Corvan 95, Corvairs challenge to the body builder, and the
Corvair Turbocharged engine. Soft cover book, 8 1/2" x 11,
88 pages
, 98 illustrations.
C5477
1 lb.
CHEVY ENGINE TEST REPORTS
Exact reprints of original Chevy Corvair engine tests (originally restricted to executives
and engineering groups. About half of each report is easily understood – the rest is
detailed graphs that will be interesting to only a few. Each test is 36-54 pages and
includes: test set-ups, basic conclusions on different measures of horsepower, heat
dis tribution, fuel economy, details about each engine, photos of test engine set-ups
sum maries and graphs.
(

NOTE:

Chevrolet included blank pages – most of which we
have eliminated.)
1961

80 & 102 hp.

C7955

8 oz.
1963
150 hp. Turbo
C7956
8 oz.
Set of 4: C7959
2 lbs./set
MULTI-KITS
see Blue pg. MK-18
BEST GM PARTS BOOK – see page 243B
CORSA Corvair Tech Guide
Published by CORSA. Includes technical tips from around the country; lots of information you will not find
anywhere else. Divided in sections including: brakes, carburetors, engines, paint, rust, etc. I don't care how long
you have been "into" Corvairs, you are going to learn something from these books. 3-hole punched. Volumes 1 & 2
are now only available in 1 book with CD. Volume 3 was published during 2010 and also comes with a CD.
VOLUME 1 & 2 (1" thick!)

with CD

C7856X

4 lbs.
VOLUME 3 (3/4" thick!)

with CD

C12696C

4 lbs.
SET Vol. 1, 2 & 3 with CD's
C12808 7 lbs.
The Classic Corvair
by Bob Helt
300+ pages, 8 1/2" x 11", over 160 photos and diagrams.
The Classic Corvair is a 300+ page technical manual on
understanding, maintaining & upgrading your Corvair. It covers details & descriptions not found anywhere else. There is
a great deal of general identification info., general tech hints & actual repair procedures. Some of the material has been
covered in other publications, but this is well organized & presented. There are over 40 main topics in the index, such as:
annual changes, engine variances, carbs, bolt on power, cams, cranks, engine tear down, trans., etc. Each main heading
has from 1-20 subdivisions. I'd say this book is a cross between
"Keeping Your Corvair Alive", "The Junkyard Primer"
and "The Corsa Tech Guides."
Your

first books

should still be the original

Shop Manuals, The Assembly Manuals,
THIS book
and then

"Keep Your Corvair Alive"

.
C3601
1 lb. 8 oz.
THE CORV-8 (and other V8 Corvairs)
Fifty years later almost every discussion of Corvairs eventually comes around to Trevor and the Corv-8. It is an incredibly
compelling story of taking left for dead dirt-cheap Corvairs, adding a cheap small-block Chevy resulting in supercar
level performance for a couple of thousand bucks. The Corv-8 America's Original Mid- Engine Supercar tells Trevor's tale,
share construction details and tricks, and show cases numerous examples of owners cars from those to true to Trevor's
original concept to others taking the Corvair to almost unbelievable levels of construction and performance. The book
also explores the cars of Kelmark, Mid-Engineering, ADE, and others in 130 pages with over 140 photos and illustrations
including original artwork by V8 Registry founder Russ Brandenburg.
C887B
1 lb. 6 oz.
C10962