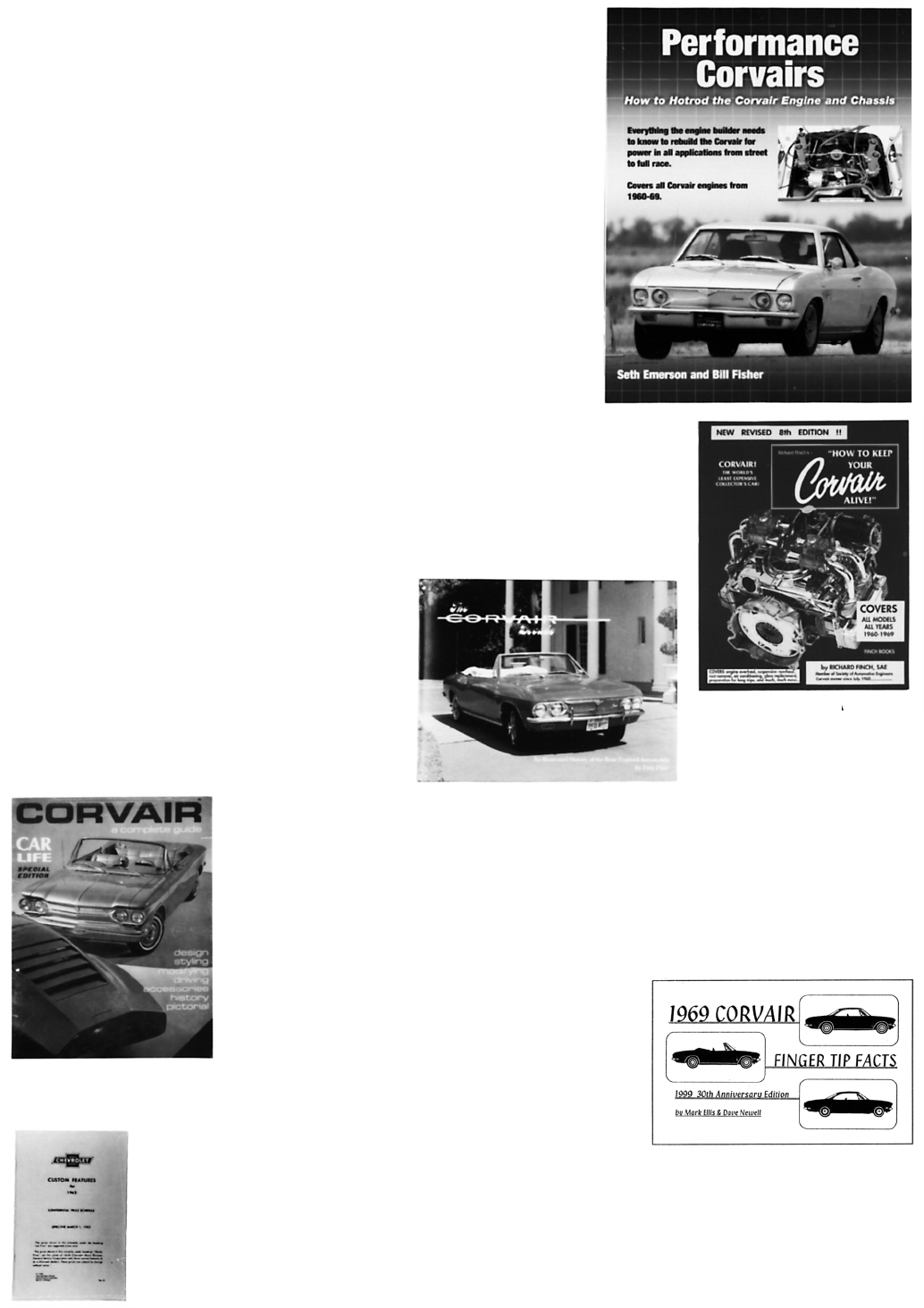 i
WARNING:
Products on this page can expose you to a chemical, which is known to the St

ate of California to cause cancer or reproductive harm. **For more information go to www.P65Warnings.ca.gov**
249
CORVAIR BOOKS
Performance Corvairs
How to Hotrod the Corvair
Engine and Chassis
After 20 years, the updated and re-written version of the Corvair classic "How to Hot Rod Corvair
Engines" is now available. "Performance Corvairs" takes the original book and adds history
and lessons learned from the career of Auto crosser and track racer Seth Emerson. With input
from many in the Corvair racing community, as well as his street car building experience, Seth
adds new material and reviews products & techniques developed and proven since the original
book's publication. Not only is the Corvair now 40 years older, but the performance and racing
community have progressed by 40 years. Many new products are still coming out and new
machining techniques being developed to prepare our favorite cars for performance duty as a
responsive, economical street car or as an autocross threat. The best parts of the original book
are still there with additional material covering the newest techniques and available hardware.
This is a must-buy for your Corvair library or your shop workbench.
C162RV
1 lb.
KEEP YOUR CORVAIR ALIVE
1998 – 8th Edition!
This
1998 Edition
has been completely revised and is 30% larger. Sections have been updated and improved
techniques explained. Aimed at the novice but with enough information to make you an expert. All aspects of
Corvair repair and restoration. Many of the photos have been updated and better quality paper has been used.
The Corvair Decade
Printed with the same high quality as the original and includes
special changes to the cover and title page. This book has been
out of print for some time and might never be reprinted again.
Terrific hard covered book tracing the whole history of the
Corvair from its beginning in the 1950's thru 1969. Over 150
illustrations (many in color), specification charts and production
figures. 8 1/2" X 11".
Probably the best book on Corvairs.
CORVAIR – CAR LIFE REPRINT
Full color cover,
over 96 pages.
1960-63 models but great reading for any Corvair enthusiast.
History of Corvair development
●
●
Styling development photos
Testing on various systems
●
6 pages of 1960's

Corvair ads
●
much info based on

SAE

papers
ROAD TESTS OF:
1960 3-spd, 1960 4-spd., 1961 98hp 4-spd, 1961 Greenbrier, 1962 Spyder.
10 pages
of
specialty models (mostly customs and "one offs").
9 pages
of accessories.
1969 Corvair FINGER TIP FACTS
"30th Anniversary Edition"
This is the 1999 Edition. If you have the 1st Edition you'll want this
one!
220 pages
,
8 pages in full color
, stories about 50 cars, results
of survey on options, explanation of window stickers, restoration
guide (part numbers), features on 2 "big" 1969 collectors and more!
Includes
at no extra charge a separate "roster" of over 800 cars giving
the vin #, body #, interior/exterior colors, powertrain and owner if known. Main book 8 1/2" x 5 1/2" – a labor of
love by Mark Ellis and Dave Newell.
"30th Anniversary Edition"
C10049A
1 lb.
Want to Cry? PRICES – ACCESSORIES – 60-69
Booklets of original costs (Dealer & Retail) for all accessories in the year your car was new! Fun to look back on but also excellent
accessory reference, as it gives the accessory part numbers.
1960-69 SET of 10 BOOKLETS: C7189A
2 lbs./set
C2406A