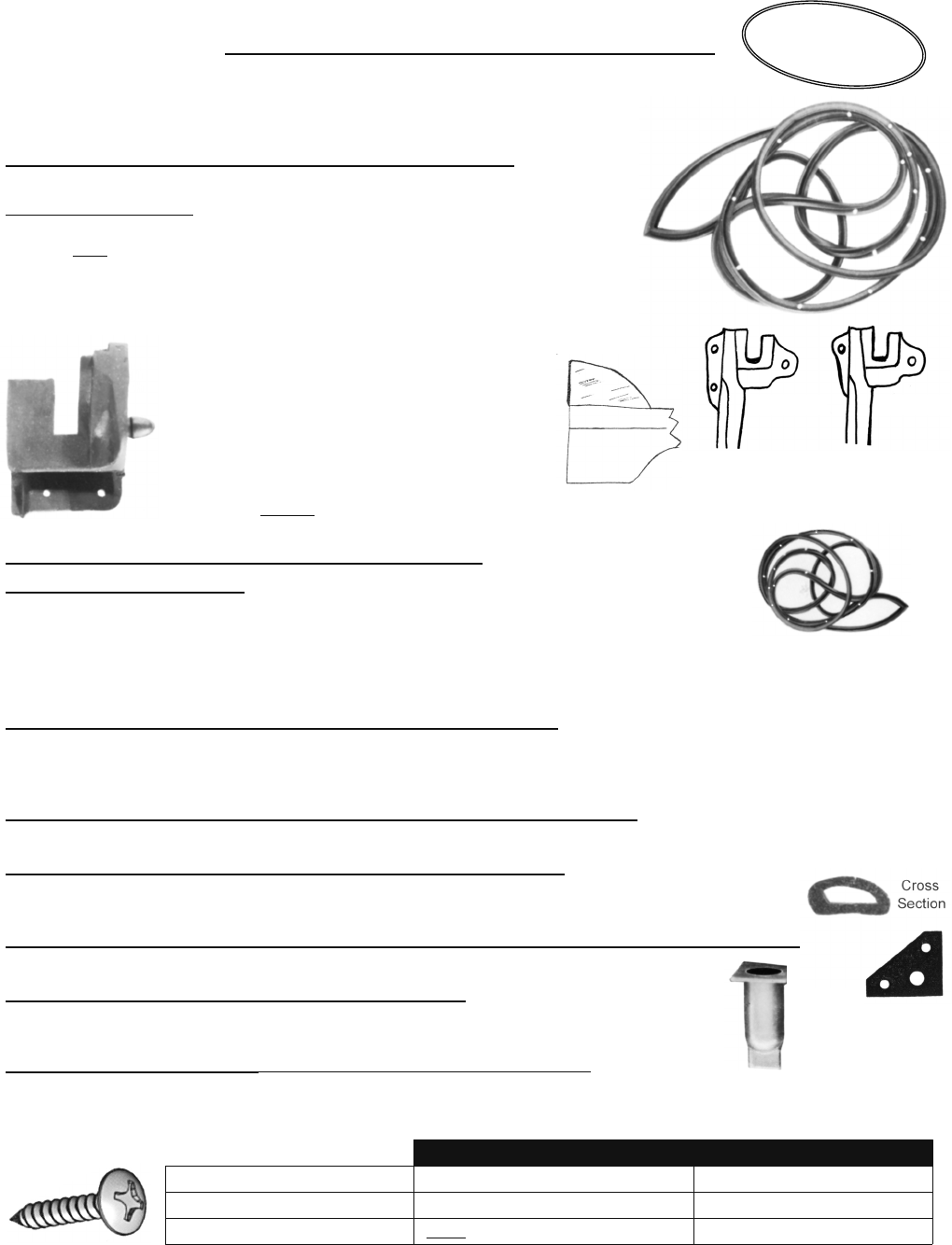 i
WARNING:
Products on this page can expose you to a chemical, which is known to the St

ate of California to cause cancer or reproductive harm. **For more information go to www.P65Warnings.ca.gov**
214
'60-64 CAR WEATHERSTRIPS
Please read page 213 before ordering!
Clark's exclusive!
1960-64 Improved WEATHERSTRIPS
In 1997 we improved the size and originality of the EXACT REPRO door weatherstrips for 1960-64 Coupes,
4-Doors and Station Wagons. You will get a tighter, more original seal with these products.
Insist on CLARK WEATHERSTRIPS
1960-64 Front Door WEATHERSTRIPS – 2-Door
Vent Window – see pages 223 & 224
2-Door EXACT REPRO:
Retainers installed, mitered corners and

MOLDED ENDS on
Convertibles. Sold as a Pair only.
Note:
The retainers are slightly smaller than originals. We supply a plug that goes
in the hole first, then the retainers push right in.
'62 Convertible owners see sketches.
1960-64 Coupes
(Pair) C8007

2 lbs./pair
1962 Convertible
(see sketches)
(Pair)
C8008A
2 lbs./pair
1962-64 Convertible
(Pair) C8008B

2 lbs./pair
62-64 CONVERTIBLE
DOOR PILLAR "FLAP"
This rubber "flap" goes on the rear door pillar where the
quarter window pivots.
EXACT REPRO
(exc. no metal insert.
Fits and works great).
SOLD AS A PAIR ONLY.
Set of
4
SCREWS
C6915
1 oz./
set
4 DOOR WEATHERSTRIPS
4 DOOR EXACT REPRO:
Retainers installed and mitered corners as on the originals.

Sold as a Pair only.
The front doors are exact for 1963-64. To be exact for 1960-62 remove one clip on each side (or drill extra hole).
1961-62 can still use the extra side pushing clip (we can't supply).
Note:
The rear door weatherstrips do not have the slight 2" "crease dimple" the originals had but we can't see that this will matter.
1960-64 4-Door FRONT DOORS
(pair) (exc. Wagon)
C9270F
2 lbs./pair
1960-64 4-Door REAR DOORS
(pair) (exc. Wagon)
C9270R
2 lbs./pair
1961-62 4-Door Wagon Weatherstrips – EXACT REPRO
Front Doors (pair)

C9270W

3

lbs./pair
Rear Doors
(pair)

C9271W

3 lbs./pair
Wagon Rear Door & 1/4 Window Weatherstrips – see page 206
1961-62 Wagon Rear (Lift) Door Weatherstrip – EXACT REPRO
Rear (Lift) "door" weatherstrip with the clips installed and ready to just install.
C9922
3 lbs.
Station Wagon Engine Cover & Side Panel Weatherstrip
Correct Clark repro rubber weatherstrips for these covers.
Weatherstrip for Engine Cover

C8419E
1 lb.
Weatherstrip for Both Side Covers

C8419P

1 lb.
Repro – 61-62 WAGON ENGINE COMPARTMENT WEATHERSTRIP – NOT EXACT
Rear engine access door, goes on body.
C3717
1 lb.
REAR ENGINE ACCESS DOOR LATCH GASKET
This gasket goes between the latch and the door (backside) of the rear engine access door.
All 61-62 Wagons (also fits 61-63 FC latch).
C6660
2 oz.
Screws – Station Wagon
(Engine Cover, Side Covers & Differential Cover)
Originally the engine & covers to each side were chrome plated and the differential cover screws were zinc plated. We are supplying stainless
screws that can be buffed to look like chrome for all of these screw applications. Replace any rusted or damaged Phillips head originals.
These are original truss style head with #3 phillips.
Unpolished Stainless
Polished Stainless
Engine Cover takes 4 Type "A" screws
Type "A"
C3954U
1 oz. ea.
C3954P
1 oz. ea.
2 Side Covers take 2 Type "B" per side
Type "B"
C4870U
1 oz. ea.
C4870P
1 oz. ea.
Differential Cover takes 18 Type "B"
Set 22
Type "B"
C6023X
12 oz./set
C6023XP
12 oz./set of 22
MULTI-KITS
see Blue pg. MK-15
C9942
Wagon Door Drain
See page 222
C6660