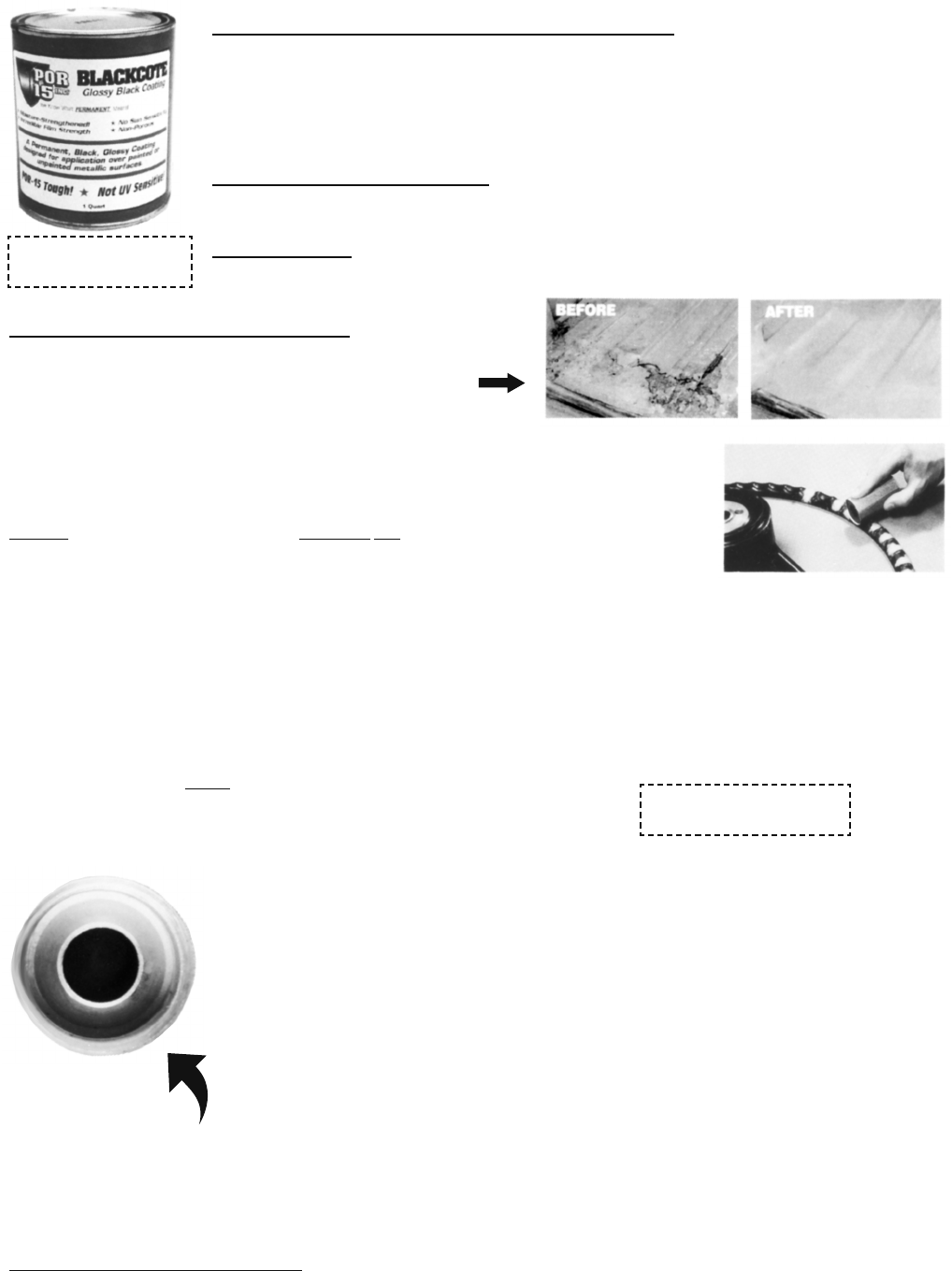 i
WARNING:
Products on this page can expose you to a chemical, which is known to the St

ate of California to cause cancer or reproductive harm. **For more information go to www.P65Warnings.ca.gov**
200
BLACKCOTE & CHASSIS COAT – TOP COATS
These are permanent black coatings for use directly over
POR-15
or other painted surfaces. When used over
POR-15
it becomes
the toughest, most permanent
NON-UV
sensitive protection against rust and corrosion impervious to salt spray, gas, acids and most
chemicals.
NOT FOR USE DIRECTLY ON RUST.
BLACKCOTE –
GLOSS BLACK

QUART

C11121

3 lbs.
CHASSIS COAT –
SEMI-GLOSS BLACK
PINT
C11396
1 lb. 8 oz.
TIE COAT PRIMER
Prime over
POR-15
with
TIE COAT
and you can then paint over it with nearly any type of top coat without the need to sand
POR-15
first.
SOLVENT – POR-15 & ALL Top Coats
Use to spray or clean up all of the above.
QUART
C11127
3 lbs.
Now you can lay this mesh fabric over a rusted area and coat with
POR-15 OR EPOXY PUTTY.
Designed to lay flat on most surfaces, it is perfect for bridging holes and rough areas.
EPOXY PUTTY –
"UNBELIEVABLE"
It is so strong you can drill, tap it, sand, saw & paint yet gentle enough that you can apply it with your bare fingers. Since it is
water-based, just wet your fingers and work it until perfectly smooth. Use to repair steel, steering wheel cracks, plastic pieces,
repair woodwork, etc. You get two sticks. Lay them side by side and cut off what you need, then work the 2 pieces together well.
INCLUDES
instructions for repairing steering wheels.
EXPENSIVE? YES!
but it works!
1/2 lb. (I can never use a lb.)
C11128X
8 oz.
1 lb. (goes a long way)
C11128
1 lb.
"MARINE CLEAN" –
All Purpose CLEANER & DEGREASER
This concentrated industrial strength cleaner cleans and degreases without leaving residues, nauseous fumes or flammable solvents. Dilute with water up to 10 to 1.
Cleans and removes grease, oil, mildew, wax. Use on canvas, vinyl, nylon, rubber, steel parts, in gas tanks and to clean engines. Use before using
PREP & READY.
PREP & READY
Provides the best adhesion for all paints on rusty or clean steel. The water based product gently etches the metal creating an ideal surface for paint while coating with zinc
phosphate.
IS NOT CAUSTIC, CORROSIVE, TOXIC OR FLAMMABLE.
Use on bare steel, mildly rusted steel, galvanized metal, aluminum and stainless.
ALSO USE INSIDE A GAS TANK BEFORE USING GAS TANK SEALER to etch any bare metal.
PREP & READY

20 oz. spray

C11131
2 lbs.
POR-15 Gas Tank Sealer -
See page 66
Copyright / Trademark WARNING!
We have worked hard to develop this business. We
WILL NOT
allow anyone to copy our catalog,
website, part numbers, photos or other protected property without our prior written permission.
Most Por-15 products must ship
surface.
CANNOT Ship Air.
Most Por-15 products must
ship surface.
CANNOT Ship Air.
NEW BRASS BRAKE "T's"
(fittings) have perfect "cones"
for a perfect seal. See page 150.
We answer letters, faxes, email & return phone calls.
CLARK'S – more than parts!
1965-69 Fiberglass Insulation:
In 20 years, we have only found one company that could come close to the original engine lid &
fender insulation. It is slightly stiffer than the original, but looks great installed. Note: Once the fender insulation is installed, you can easily damage it
if you try to remove it. Your best bet is to make it your last step of your restoration. See page 295B.