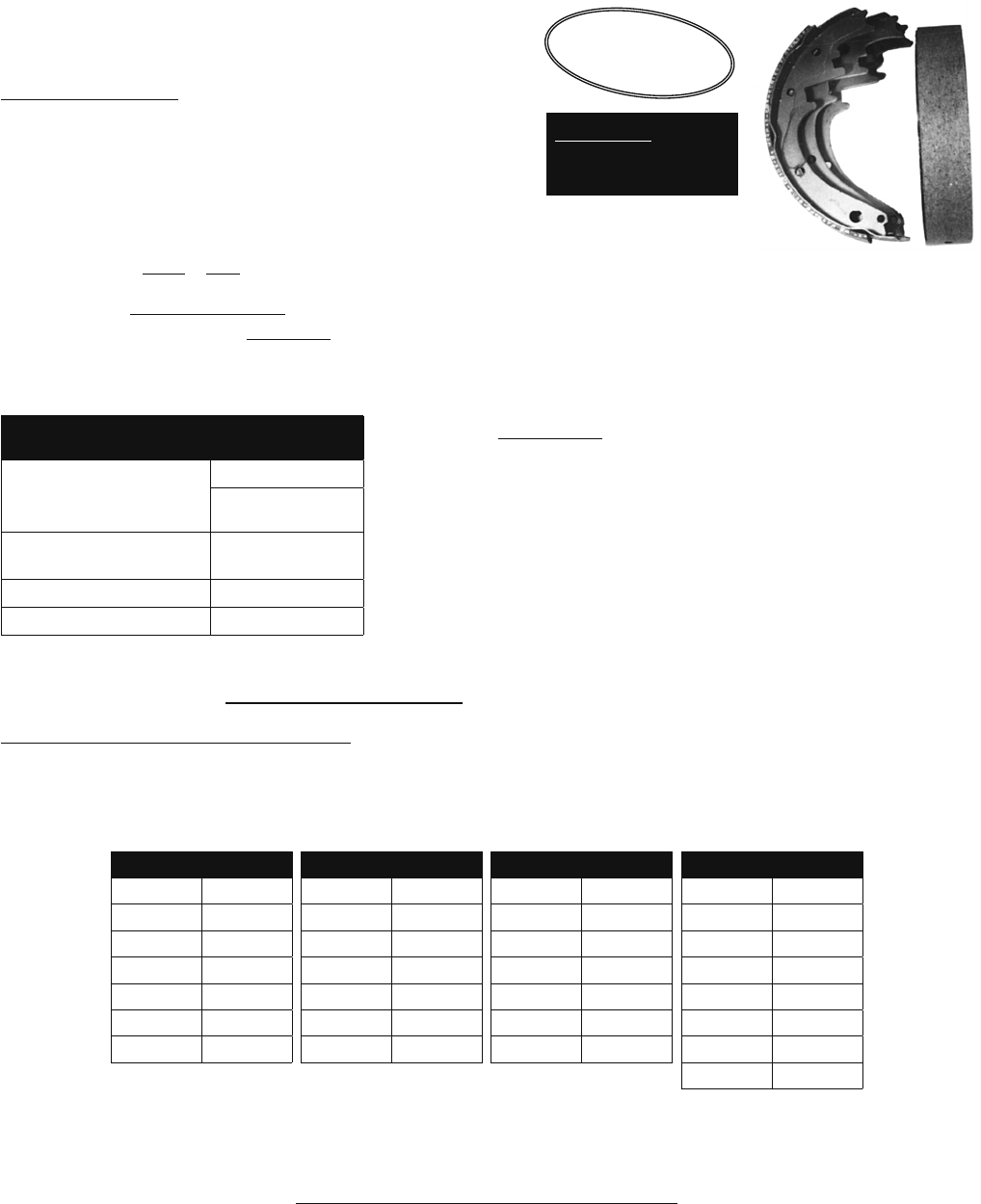 i
WARNING:
Products on this page can expose you to a chemical, which is known to the St

ate of California to cause cancer or reproductive harm. **For more information go to www.P65Warnings.ca.gov**
141
Brake Parts
We can supply nearly all brake parts and have others planned for reproductions. Be sure to check this whole section. Brakes are important! A brake job
often leads to more parts as you find more problems. We have indicated parts you should consider. Drums should always be turned with new shoes for
maximum performance and wear (see page 142).
BRAKE TOOLS:
Some make it easier and safer –

See page 332.
BRAKE SHOES
1. New Bonded Shoes
Non-Asbestos:
These are top quality, new steel cores bonded with premium
non-asbestos linings. No core charge (exc. original 60-61 style).
2. Metallic Shoes:
The metallic shoes are no longer available.
1960-64 Cars & Vans
Same shoes are used FRONT or REAR. Order 2 Sets for the whole vehicle.
1960-61 Cars also see


below.
SET =
Enough for Both Sides Front or Rear – 8 lbs./set
WT =
Shipping for all brake shoes is 8 lbs. per set.
BRAKE SHOES: The shoe
with the "short" lining goes
towards the front.
MULTI-KITS
see Blue pg. MK-11
BRAKE SHOES
BRAKE SHOES
Bonded
(Non-Asbestos)
1960-64
Cars

: FRONT or REAR
*Order 2 sets for Whole Car
f
1961-65
Vans: FRONT or REAR
*Order 2 sets for Whole Van
C3642
1965-69 Cars: FRONT
C3640
No core needed except for original style 1960-61 shoes.

SPECIAL 1960-61 ONLY
These are the original 1960-61 style shoes that are thicker where they ride
on the top anchor pin.
These ONLY fit 1960-61.
1960-61
can use
the
62-64 style.
DISC BRAKES
See page 150A
More Coil Spring Info – See Page 140 to Order
62-64 Convertible Special Front Springs:
We've had several customers say they never load the trunk and only have 2 people in the car, but
want the car to look basically level when empty. We now have springs that make the front ½–¾" lower than the stock springs when empty. The car may
appear just slightly low with 50 lbs. in the trunk and 2 people in the car.
C1659RL
6 lbs. ea.
COIL SPRING CROSS REFERENCE
This list gives original GM# and corresponding Clark #. See Page 140 to order.
GM #
CLARK #
GM #
CLARK #
GM #
CLARK #
GM #
CLARK #
3775098
C3026RC
3798434
C1661RP
3848968

C7545

3857690

C759CT
3781332
C1660
3817231

C2394R

3848970

C7545

3859201

C760CP
3789173
C3024R
3826077

C1659R

3848975

C768R

3859202

C760CT
3789174
C3026R
3826939

C2394RC

3848976

C768R

3875088

C762CP
3789399
C7472
3830731

C7472

3856560

C3027R

3875089

C762CT
3786318
C2396R
3830732

C7472

3856562

C3027R

3875090

C763CP
3797734
C3026R
3848586

C1661

3857688

C759CP

3875091

C763CT
Early HD Springs:
Unless you have a specific reason, we do not normally suggest the HD springs for the 1960-64 Cars & Wagons. They do not
lower the car! They do make for a stiff ride and often a higher ride. They also tend to make the rear wheels tilt out too much at the top making the tires
ride too much on the outer section of the tread.
LIGHT DUTY REAR FC SPRINGS
The original rear springs (& our rear springs) were designed for a load of people & cargo of 1700-1900 lbs. Some owners have said that they have no
plans to carry more than a couple of passengers and therefore, do not need a spring that will handle that weight capacity. We now offer rear springs that
are a little shorter and allow the tires of an empty FC to ride more perpendicular to the road. FC may appear 1/4" low if front is high (fronts tend to ride
a little high to allow for 3 passengers and a load right behind the cab).
61-65 FC rear "Light Duty"
Springs
C1662A
10 lbs. ea