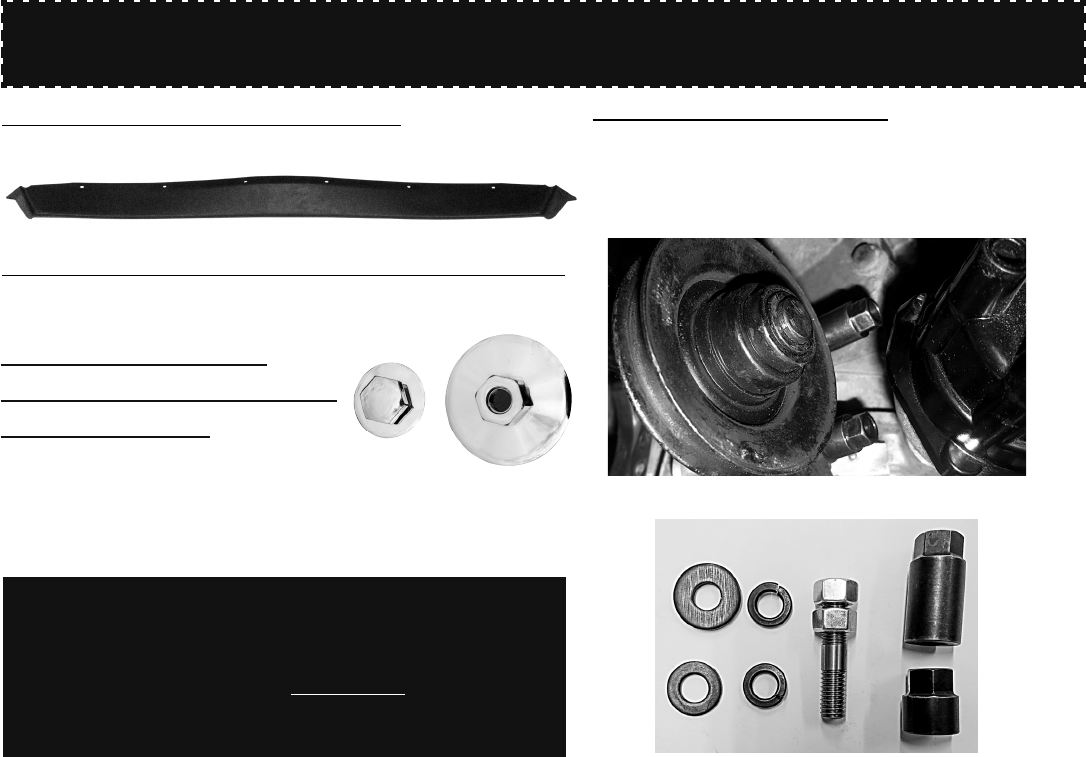 18
CX5786 - CX5789
CX6333 SUB C694R
CX9019 - CX9022
All items on
DWG
pages will be on sale starting on these dates, if not already sold.
Prices on the website & when ordered from us will reflect the discounted prices.
June 1-30 =
10% off

/
July 1-31 =
15% off

/
Aug 1-31 =
20% off

/
Sept 1-30 =
25% off

/
Oct 1-Nov 30 =
30% off
NOS Style Front Spoiler – 66-69
(also fits 65)
Molded black ABS-formed just like the original, grain slightly different and slightly
glossier. In stock.
C8182
$89 6 lbs.
65-68 Clutch Cable with Nylon Protected Cable
Like NOS – Less apt to fray & break.
Expected August 2019.
C260
$49 5
FAN BELT IDLER NUT KIT
This kit uses longer nuts to tighten the idler pulley such that a regular
wrench can be used. A stud is threaded in to replace the bolt and the
other special nut is used on the stud already on car. all year corvairs.
Idler nuts below pulley, next to distributor
IDLER NUT KIT
i
WARNING:
Products on this page can expose you to a chemical, which is known to the State of California to cause cancer or reproductive harm. **For more information go to www.P65Warnings.ca.gov**
USED PARTS we are buying
See website: corvair.com
65-69 Front Door
& Washer/Nut
One bolt/washer & the large washer/nut attach
to the front of the door to hold the vent window
chrome. The other bolt/washer is on the rear of the front door. Order plastic
washers below. Sold as a set of 4 bolt/washers and 2 washer/nuts. Beautiful
chrome plating.
C5793C

$18.15 4 oz.
C5793C
Full Set