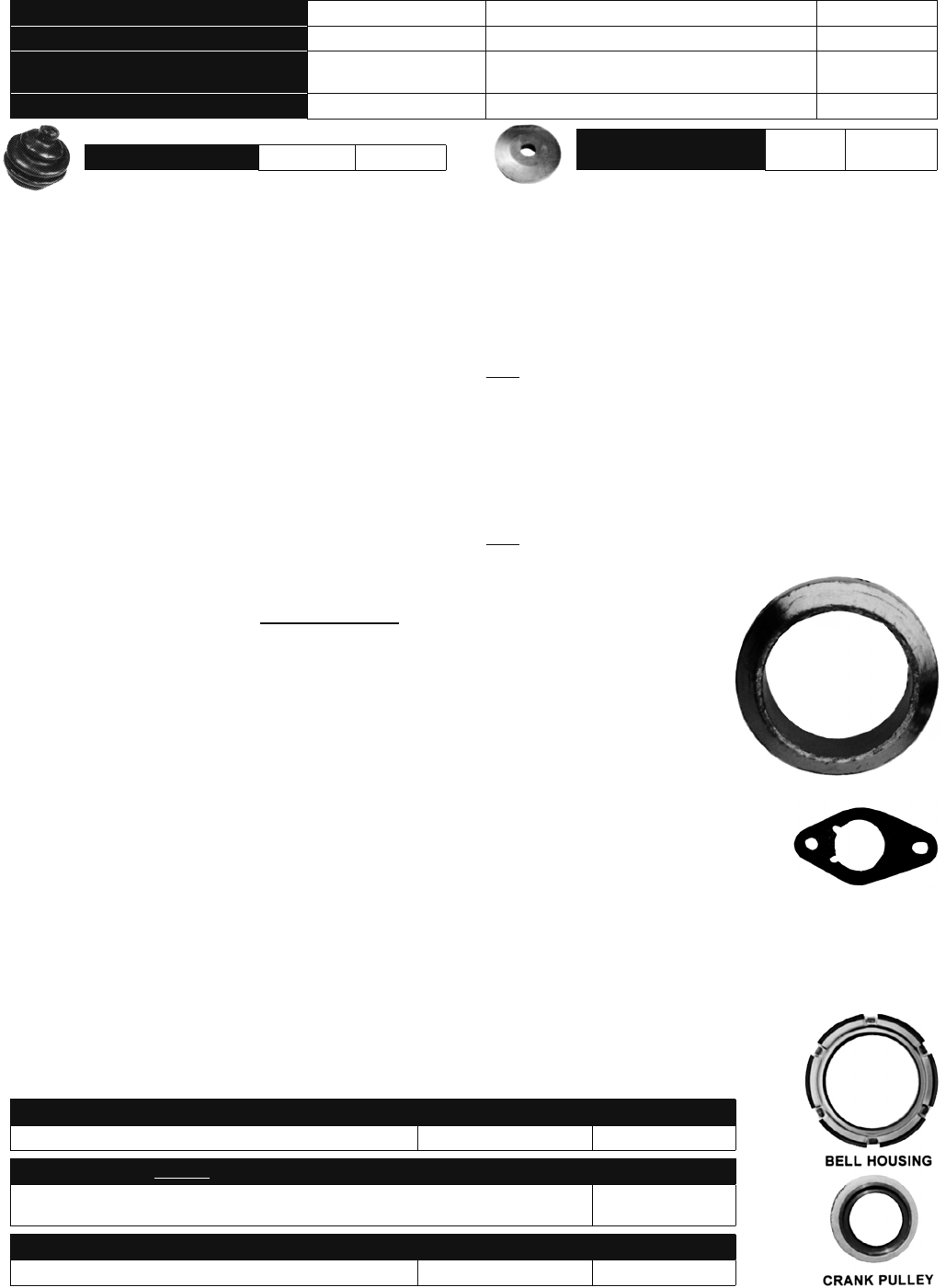 i
WARNING:
Products on this page can expose you to a chemical, which is known to the St

ate of California to cause cancer or reproductive harm. **For more information go to www.P65Warnings.ca.gov**
COPPER CYLINDER BASE GASKETS
These gaskets will slightly lower the compression ratio. They are die cut from
copper sheets
.020"
thick (.005" thicker than stock). They are the same
thickness that GM used on air-conditioned engines.
Each
.010"
thickness increase
ADDS 1.5 cc's
to the head chamber volume.
This equates to an approximate
.225:1
compression ratio decrease in a late
engine when used in conjunction with our stackable copper head gaskets.
We
DO NOT

recommend the stacking of base gaskets: however, with one
copper cylinder base gasket and the proper choice of our head gaskets you
can reduce compression to the desired ratio.
Note:
Actual thickness may vary
+ or – .002"
from listed thickness.
GRAPHITE EXHAUST PACKINGS
ALL
CLARK EXHAUST PACKINGS
– individually or in KITS,
ARE GRAPHITE
!
These packings are produced to
CLARK
specifications and are the BEST packings that have ever been available.
GRAPHITE PACKINGS are BETTER because:
●
NO

bad odor the first 4-5 times you start your engine.
●
STRONGER!

Steel reinforced graphite is much less apt to crumble or break apart.
●
GRAPHITE

is much less affected by heat, moisture, oil
●
GRAPHITE

packings can be made to more exact dimensions and compress for a tight, leak-proof fit.
●
SAFER

– less apt to leak.
●
NO ASBESTOS

or other "MYSTERY" material.
"PLASTIC" CARB. SPACERS
– These were discontinued by GM. We had the material analyzed by a lab with the instructions to give
us a
BETTER "modern" material
without the asbestos. The new material can take
MORE
heat than the originals and still has good
hot and cold flexibility and strength. We now have dies that produce parts so flat that the spacers do not have to be resurfaced
(like
the originals had to be)
.
It is still
suggested
you use a thin gasket above and below the "plastic" spacer.
CLARK EXCLUSIVE – SEE PAGE 56
Clark's CRANK SEALS – the BEST QUALITY
POLYACRYLATE & VITON
See page 3 for correct seal installation.
Unlike some seals on the market that are made from nitrile, our
regular seals are polyacrylate
(as specified by major USA seal manu-
facturers)
. It is more expensive, has a higher temperature rating and better oil resistance.

Now

we also have bell housing and crank
pulley seals that are exactly the same as the original seals but produced with
brown Dupont VITON
. You can order any of our
GASKET
OR SEAL KITS
with
VITON
crank seals by just
ADDING V
to the
end of the part number
.
Crankshaft Seals:
1960-69 ALL
BELL HOUSING
Original – Polyacrylate
VITON
Fits in bell housing (be sure to order bell housing
gasket C4628
)
C493
6 oz.
C

493

V
6
oz.
CRANKSHAFT SEAL SPACER
Needed when a
1964-69
crankshaft is used in a
1960-63
engine. Helps position seal into correct
loca
-
tion on crankshaf
t gear. Also use to position seal on new area of any crankshaft gear.
CRANK PULLEY – REAR HOUSING SEAL
Original – Polyacrylate
VITON
Common oil leak area
C483
4 oz.

C

483

V 4

oz.
7A
Oil Dipstick Hole Grommet
style
A solid copper head gasket is far superior to the stock folded steel type
gasket. The thin metal edge of stock gaskets can result in hot spots that
cause detonation and burn through. The not uniform thickness of steel
gaskets will deform the gasket surface of your aluminum heads. With solid
copper you have a uniform pressure between the cylinder and head that
provides a reliable seal without hot spots. Our copper gaskets are good for
stock through
+.060 overbore.
Due to lower octane levels in the fuel available today, some pinging in the
hi-performance and turbo-charged engines is being experienced. In order to
simplify a minor reduction in compression, we offer gaskets
.010" thicker
than stock
(.042")
and .020" thicker
(.052").
These head gaskets are also ideal to compensate for cylinder head
resurfacing when no compression increase is desired. In many cases,
.030"
or more is required for a good cleanup. Due to the solid copper design you
can
"stack"
these gaskets two high and mix or match the two thicknesses to
acquire the head volume desired. This practice is also helpful when putting a
turbo on hi-performance heads. Many people overlook the fact that increased
bore sizes also increase compression. These copper gaskets are made from
the correct grade of copper.
Note:
Actual thickness may vary + or – .002" from listed thickness.
INDIVIDUAL
GASKETS

&

SEALS
Crankcase Tube thru Bottom Shroud
1961-62
Grommet – not exact but works good.

C10046

4 oz.
Right Rear Shroud below Distributor
1960-69
Heat switch wire goes thru it.
Exact Repro.

C1278R

1 oz.
Left Front Shroud where Wire Goes to Thermister
All 1962-66 Spyder & Corsa
Head temp sender unit. Usually brick hard if old.
Exact
Repro.
Right Shroud Where Smog Pump Tube goes thru
1968-69
Next to distributor.

Discontinued
Oil Dipstick Hole Boot
COPPER HEAD GASKETS