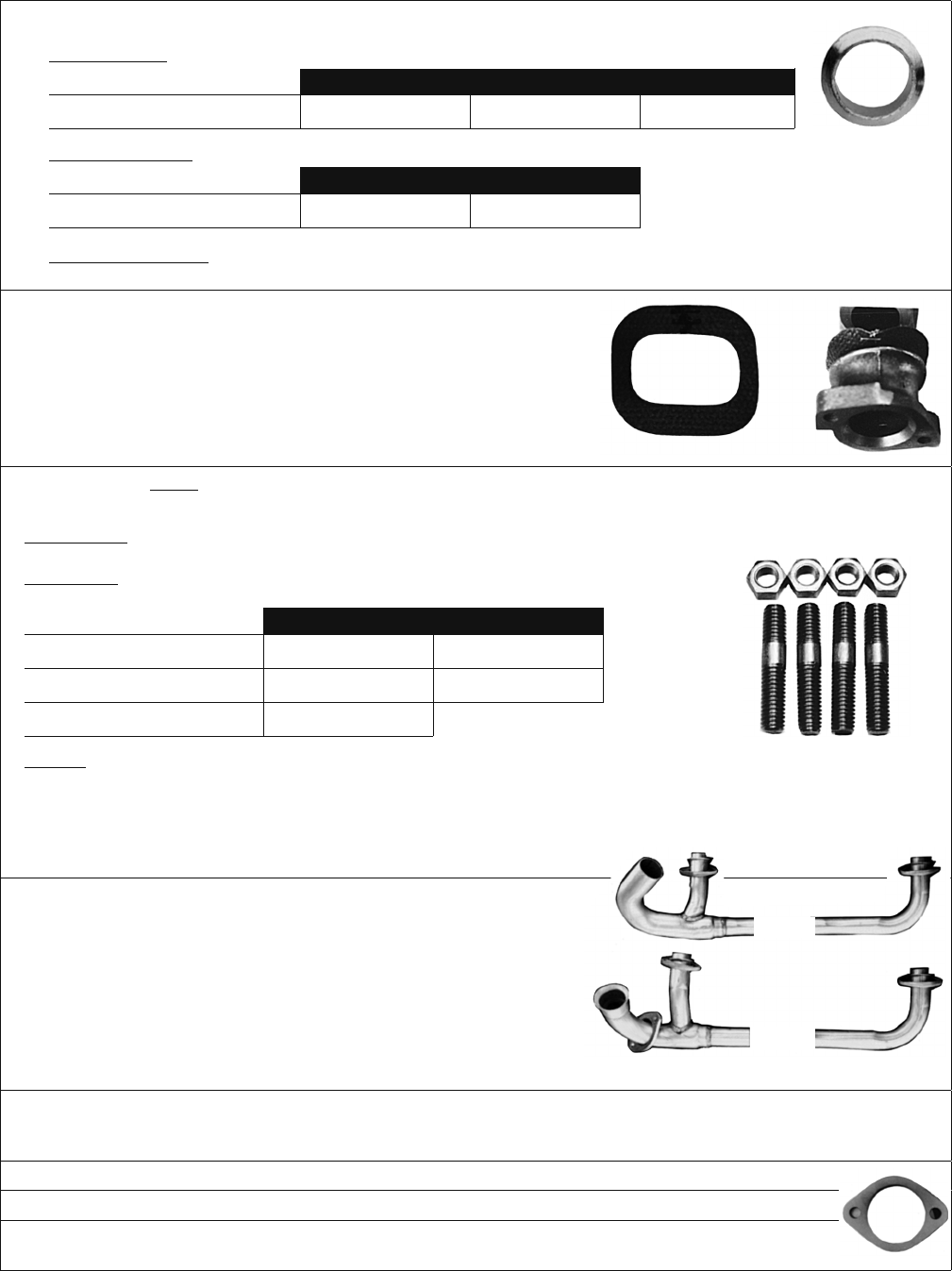 i
WARNING:
Products on this page can expose you to a chemical, which is known to the St

ate of California to cause cancer or reproductive harm. **For more information go to www.P65Warnings.ca.gov**
40
Turbo Exhaust
PICTURE #
2. & 3.
EXHAUST GASKETS:
Packings – GRAPHITE! (Info, see page 36B)
Manifold to Head:
These are the correct packings for your Corvair. I.D. measurements are approximate.
3
needed per side
Set of 3 / "1" = Set of 3

Set of 6 / "1" = Set of 6

Individual Gaskets
1960–69 All (exc. 140)
(1-5/32" I.D.)

C479A

3 oz./set

C479C

6 oz./set

C479AX

1 oz.
Manifold to Crossover
2
needed
Set of 2 / "1" = Set of 2

Individual Gaskets
1960–69 All (exc. 140)
(1-13/32" I.D.)

C243

4 oz./set

C243X

2 oz.
Full Exhaust Gasket Set:
6 manifold to head and 2 manifold to crossover gaskets (packings).
All (exc. 140HP)
C8616

8 oz.
All 140HP
C8615

8 oz.
4.
Manifold Collars
Original size, material, color, attaching! Woven material keeps air in and dirt & water out,
where manifold goes thru shroud. Helps to prevent steaming after going thru puddles.
Complete, easy to install.
C2418
5.
Studs:
Manifolds DO NOT come with studs (unless you order the "KITS"). Order separately. These are original size studs. If your old studs are bro-
ken off, you will have to drill out and tap hole. Sold Set of 4 for 2 manifolds or Set of 2 for 1 manifold – includes instructions. See also "Bolt Kits".
Stainless Steel:

I strongly suggest these in new manifolds as removal and replacement of crossover is very easy in the future. Supplied with brass
nuts.
Regular Steel:

These are much cheaper but do rust immediately! Supplied with brass nuts.
Set of 4 & Brass Nuts
Set of 2 & Brass Nuts
Stainless
C900 8 oz./set

C900X

4 oz./set
Regular Steel
C2040 8 oz./set

C2040X

4 oz./set
Brass Nuts Only
C900B

2 oz./set
Bolt Kits:
When drilling and tapping holes is impossible. These bolts & nuts are the right length to allow you to just drill
a hole & stick bolts completely thru instead of using studs. I suggest Kit #1 as Kit #2 is a little weaker but easier to install.
Kit #1 –

Holes must be quite good and straight. Nut sizes give a little trouble tightening but this is the strongest bolt kit. Enough for 1 manifold.
Kit #2 –

Weaker but easier to install. Allows for badly drilled or aligned holes.
6.
Crossover Pipes – Aluminized
NOTE: The 65-66 can be used on a 62-64 (with 65-66 inlet) but the 62-64 on a 65-66
causes outlet clearance problems. 62-64 inlet slides inside the crossover and uses a
"muffler" clamp. 65-66 inlet also slides inside the crossover BUT first a steel collar and
gasket are put on the inlet. The collar bolts to the collar that is attached to crossover and
when they are tightened they collapse the gasket sealing it. Inlet must match crossover
year application.
1962-64 Style Crossover
1965-66 Style Crossover

C242

6 lbs.
Exhaust Wrap Kit – See page 52
7.
Clamps:
Used on 62-64 style only.
Heavy Duty Clamp

C1152H
6 oz.
8.
Gasket:
1965-66 Style. Fits on inlet and seals against crossover flare.

SPECIAL GRAPHITE GASKET

C244

2 oz.
9.
Collar:
1965-66 Style. Slides down inlet pipe to bolt to crossover and compress gasket. Original Style Repro

C1017

10 oz.
10.
Bolt Kit:
1965-66 Style. Set of 2 that bolt collar on crossover pipe to collar on inlet pipe. For original inlet or our replacement
inlet pipe collar.
C5612
4 oz./set
Y-pipe, exhaust pipe
INSTALLATION HINTS,
SEE PAGE 36B
C241
C242