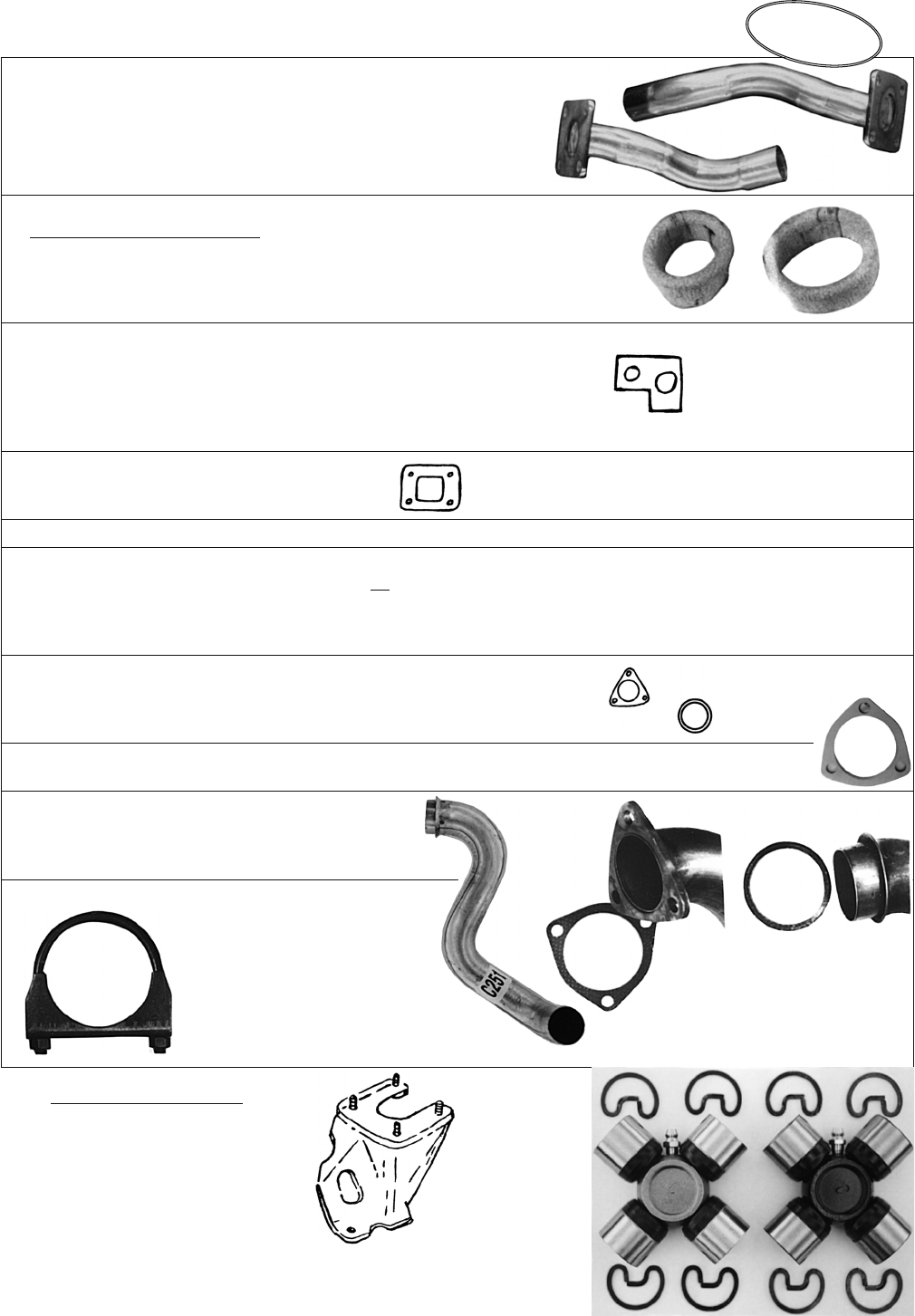 i
WARNING:
Products on this page can expose you to a chemical, which is known to the St

ate of California to cause cancer or reproductive harm. **For more information go to www.P65Warnings.ca.gov**
41
Turbo Exhaust
PICTURE #
11
. Inlet Pipes:

From crossover to Turbo base. These are a very good reproduction.
Note that installing a crossover and inlet on a Turbo is a little tricky. Be sure to have
manifolds loose at the head. Everything must be lined up and in place,
then tighten every thing.
1962-64 Style
C246R
4 lbs.
1965-66 Style
C247R
4 lbs.
12
.

"Collars" (non-asbestos)
Non-asbestos (heat resistant material) packing fits around pipes where they go
thru shrouds to keep out dust, exhaust and water. Usually need to be replaced each
1962–66 Inlet Pipe Collar
C250
4 oz.
1962–66 Outlet Pipe Collar
C250A
4 oz.
13
. Collar Retainers:

Inlet and outlet pipes go thru these (slightly different from the original but even the judges will be hard put to tell).
Sold as matched set – upper & lower. Difficult to install.
Retainer Bolts:

Hold above retainers into the shrouding – Sold as a full set.
1962-66 Bolt Set
C5630
2 oz./set
14
. Gasket:

Square gasket between inlet and Turbo base.
15
. Self Locking Nuts: Hold Turbo to inlet pipe bracket. Sold Set of 4.

1962-66 Turbo

C3756

2 oz./set
16
. Studs – Bolts:

For the Turbo exhaust housing. Holds outlet pipe on.
Note:
1962-63 The exhaust housing outlet on these is a flat, triangular surface and uses bolts (not studs).
1964-66 The exhaust housing outlet is triangular but has a recess for a round "donut gasket" – these use studs.
BOLTS: 1962-63 (Set of 3)

C3161

4 oz./set
STUDS: 1964-66 (Set of 3) – Stainless Studs & brass nuts

C999

4 oz./set
Outlet Gaskets:
See Note with #16 & picture #19. Turbo exhaust housing to outlet pipe.
Flat Triangular Gasket: 1962-63 Style

C248

2 oz.
Round "Donut" Gasket: (GRAPHITE) 1964-66 Style

C249

4 oz.
18
. Outlet Collar:

Steel triangular collar holds outlet pipe to Turbo exhaust housing – 1964-66 style.
Original Style Repro.
1964-66 Outlet Collar
C1054
1 lb.
19
. Outlet Pipes:

From TURBO to MUFFLER. See Note #16.
21
. Clamps:

Turbo Muffler & Tail Pipe.
2 1/2" Regular Clamp
C13A
6 oz.
2 1/2" Heavy Duty Clamp
C13AH
8 oz.
MULTI-KITS
see Blue pg. MK-3
Turbo Base Support
See USED page 353
UNIVERSAL JOINTS
See page 167
64-66
62-63
All Aluminized
C1054