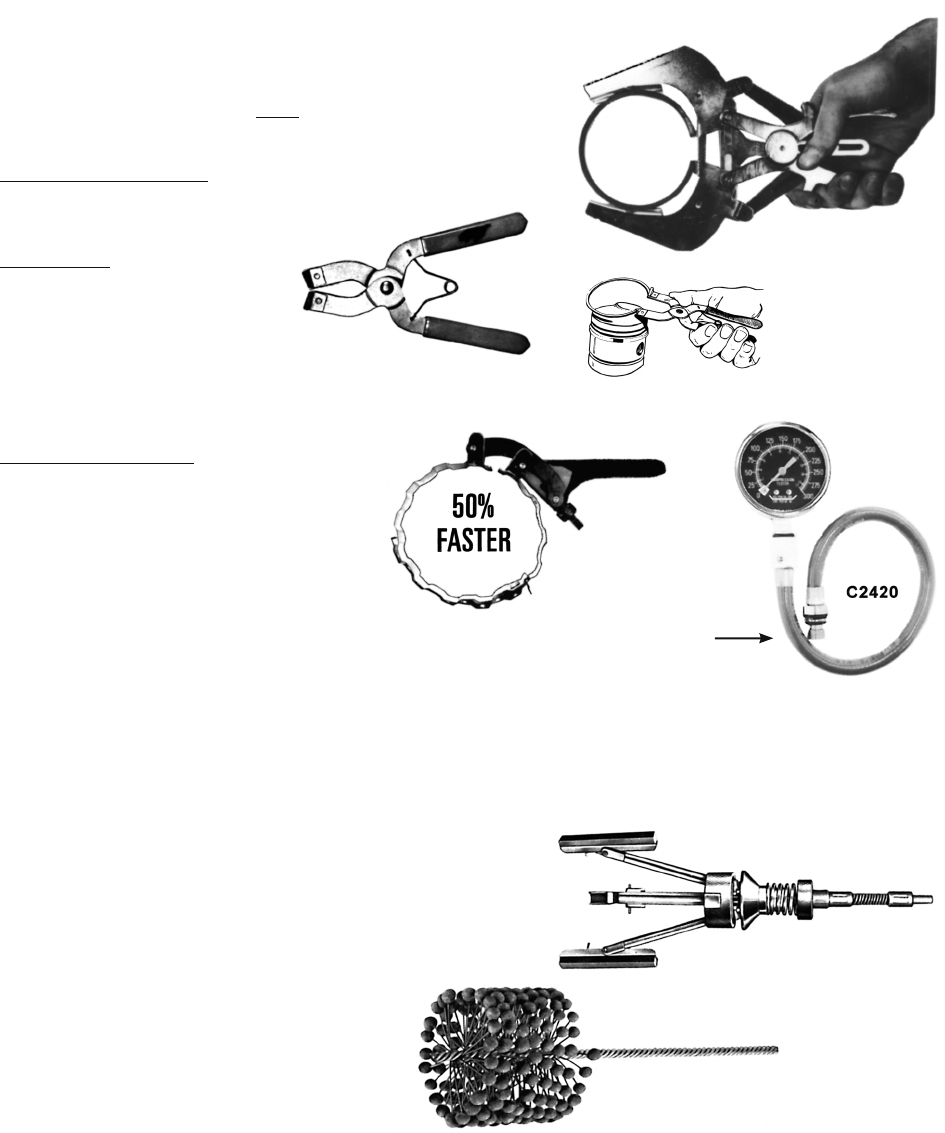 i
WARNING:
Products on this page can expose you to a chemical, which is known to the St

ate of California to cause cancer or reproductive harm. **For more information go to www.P65Warnings.ca.gov**
335
ENGINE TOOLS
PISTON RING EXPANDERS
Get this for: no more broken rings, no more cut fingers, (or shattered nerves).
Puts the fun back into ring jobs. So simple yet so GREAT!
For All Corvairs and most other Cars.
Holds rings at 4 points for less chance of distortion or breakage.
Not quite as good as the one above
but still easy and safer than no tool.
RING COMPRESSOR
This special ring compressor is an absolute MUST for installing Corvair pistons and rings.
Faster, easier,
never gets
"carried into cylinder with piston".
Easiest to
"take apart"
and adjust tightness.
Comes with 12" flexible hose. A MUST for use on Corvairs. Use to check your engine or engine of a car you are buying.
Most places get $10.00–15.00 to have each cylinder honed. With a little practice you can get a good cross-hatch pattern so vital to a good Corvair ring
job. Both of these tools operate with any electric drill. The first one is a little fancy but we find both give the same results.
For best results be sure your final honed cylinders are
not worn more than .005"
.
#1 – 3 STONE: 2" - 7"
Stop collar acts as a safety if tool is removed from cylinder while turning.
REPLACEMENT
STONES

C5282

4 oz./set
#2 – FLEX CYLINDER HONE
Easier for the first time user.
Good from
3 1/4" to 3 1/2"
. (All Corvair cylinders
to +.060
).
Use with 3/8" or larger variable speed drill.
NTF (NF) – NOTIFY
If you are interested in these parts – order them!
The computer keeps track so we'll know if there is interest. It will only accept your customer # once for a part.
ORIGINALS – THE MOST COMPLETE & EASIEST TO USE – See page 244
ASSEMBLY MANUALS – ALSO A MUST – See page 243B
C7471