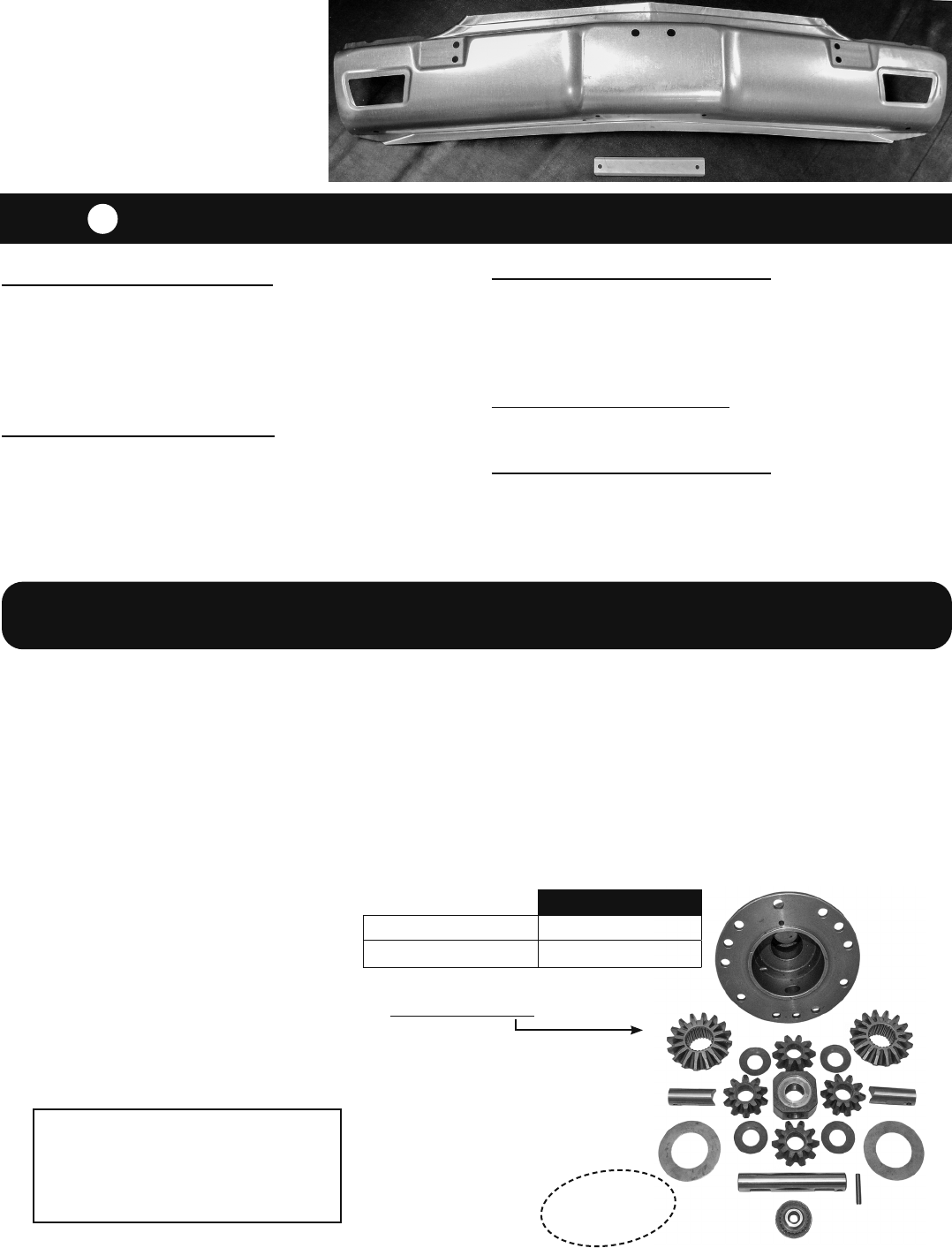 1
MINIMUM ORDER
While we do not charge a minimum order fee, we do ask that
you try to keep order amounts above $20. We understand
that this is not always possible but we appreciate it if you can
condense smaller orders into one larger order – it helps us run
efficiently and keep costs down.
SHIPPING NOTICE
We have switched our shipping from UPS to FedEx.
FedEx support is excellent and they are now delivering
residential ground shipments 7 days a week at no extra
charge (to most addresses). Air Saturday is still an extra
charge.
A company is going to be offering the "Delco" style repro
1960-64 battery. I have tried to get them to make some
changes to make it even more original but not sure they will.
Please check availability.
C12541
Turbo Shaft Seal Ring BACK IN STOCK.
In our tests, sealing better than NOS rings. Part # C6.
NEW WEBSITE VIDEO
There have been many changes to our website so we have
done a new video showing all the new aspects of using our
catalog. You will find a link on our home page under
Clark's
COD: As of 2021 we are no longer accepting COD orders.
!
THANKS TO YOUR ORDERS, THE REPROS KEEP COMING!!
Ultimate 4 Spider Gear Carrier
The 4-Spider gear unit was developed long ago by Crown and later improved by Otto Parts. However, for years
CIDCO 1
had been taking this OTTO unit and making it even
stronger for customers demanding the ultimate in differential strength and reliability. Clark's made slight improvements to the CIDCO design and now offer the strongest 4
Spider Carrier ever.
POSI owners see note below.
WHAT'S DIFFERENT?
1. The 4-Spider carrier is machined in the area of each Spider gear shaft to accept the stock cupped washers.
2. The Spider shafts are machined to allow for maximum lubrication.
3. The center block is designed and machined so that its walls are thicker. It is fabricated from 4130 steel bar stock and then heat treated for extra strength.
4. For 1965-69 Cars, a stock axle yoke nut is ground to a control thickness. This allows the builder to fine tune the axle yoke
"axial play"
. By assembling each half
of carrier with the
"standard"
yoke nut in place and bolting the yoke to the carrier, the builder can determine the actual thickness for "minimum" yoke movement.
This provides long term rear suspension alignment and better handling.
COMPLETE Ultimate Kit
1961-64 Cars & 1961-65 Vans
1965-69 Cars
*
COMPLETE Ultimate Kit
(as shown)
•
4-Spider housing center block
•
(4) Spider gear cup shims
•
"standard" nut (65-69 kits)
POSI Owners
The
Complete 4-Spider Kits
on
pg. 126 include (2)
side gears
. You only need (1) and will have to use
your old posi side gear.
ADD "P" to PART #
and price
is less $$ and kit will only come with (1) side gear.
(example: C9499CP)
*
Price includes Core Fee for "Standard" nut (for 65-69)
Some stock set ups have more than 0.050" of play between
the end of the axle yoke & the diff "nut". If you are personally
setting up your differential you will need a dial gauge – these
can be found online for very low cost. Included in the cost of
the Ultimate 4 Spider Kit is us machining your 2 stock nuts
to the needed thickness that you have determined – just
return our "standard" nut & your 2 nuts and indicate needed
thicknesses. We will machine the nuts within a couple days of
receipt; return shipping included (shipping is extra outside the
USA). Full detailed instructions are included, but you really
need the shop manual. '65-69 PRICE INCLUDES A CORE FEE
THAT IS REFUNDED WHEN "STANDARD" NUT IS RETURNED.
IN STOCK!
IN STOCK! '65-69 Front Lower Steel Panel
Excellent 1 piece stamping from
the bottom to slightly above the
bumper and from factory seams
at each end.
C9173C
40 lb. dimensional