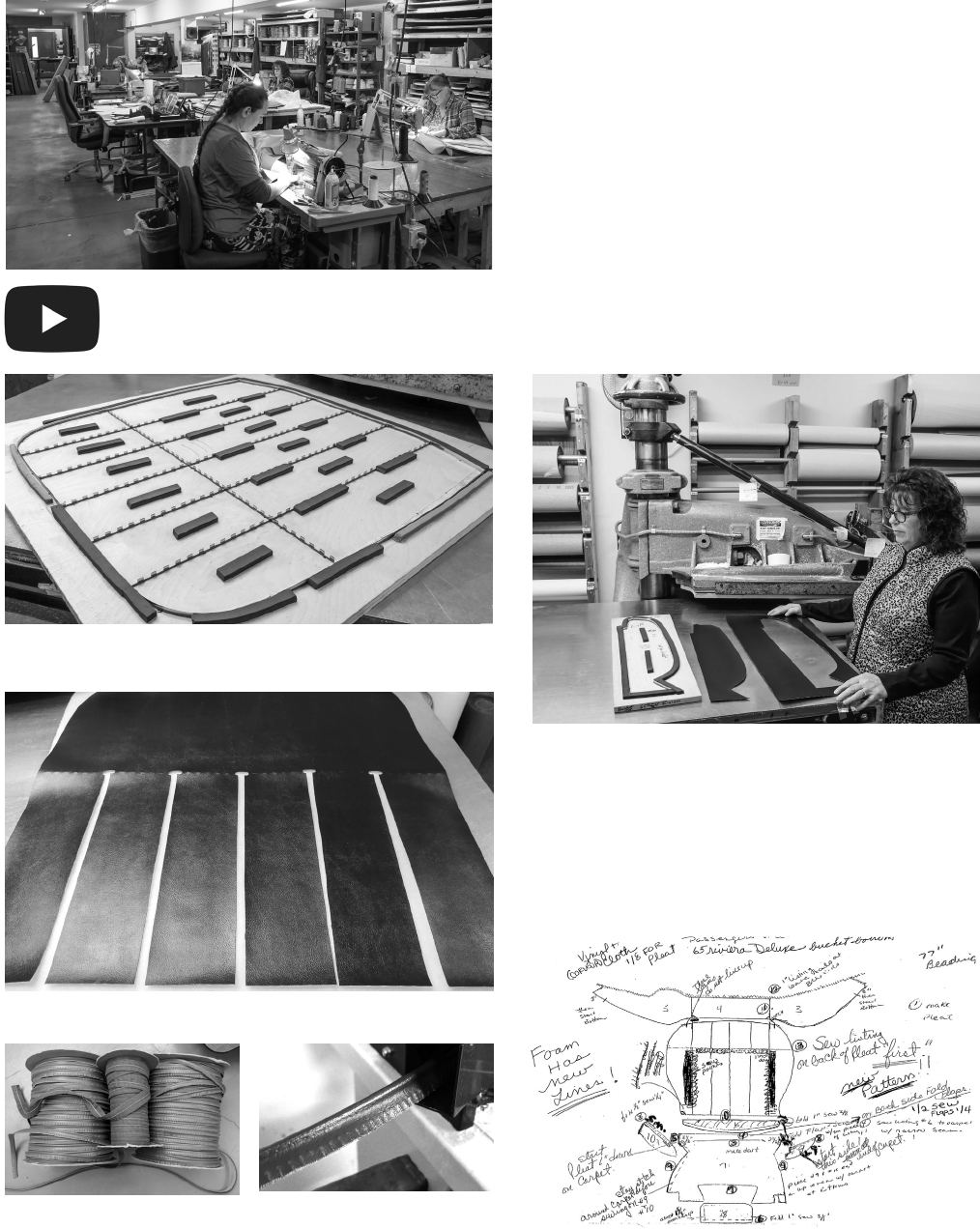 i
WARNING:
Product

s on this page can expose you to a chemical, which is known to the State of California to cause cancer or reproductive harm. **For more information go to w

ww.P65Warnings.ca.gov**
24
CRAFTING YOUR UPHOLSTERY ITEMS
7 sewing stations with 3 different types of machines.
Die-cutting machine to save time and keep pieces perfect.
Notebooks with detailed diagrams for each piece of
upholstery, a machine for slitting vinyl rolls, a machine
to produce beading/welting. But most important are
our dedicated specialists who know that quality is more
important than speed. From start to finish, they are
rightly proud of their upholstery creations. A quality repro
upholstery will last for years.
Upholstery Video:
YouTube video link at our Riviera online catalog. A more detailed tour of our upholstery
department and production of various items, as well as our die-cutter, slitter, beading machine and dielectric embosser.
You also see some of the 100s of rolls of vinyl, fabric and leather to understand how your interior is skillfully produced.
DIE CUTTING MACHINE:
Nearly all our upholstery pieces are
cut with steel rule dies. These are very sharp steel blades &
steel punches exactly located in special plywood. The tooling
indicates the direction the vinyl must be in before cutting as all
vinyl has a slight stretch & needs to be in the correct direction.
We may use up to 12 toolings for the top of a bucket seat. The
first step is to cut all the pieces for a top or bottom of a bucket
or rear seat.
This die not only cuts the vinyl to size but also cuts "perfs" in the
vinyl to insure exact alignment for this particular seat bottom.
Top piece for '65 custom with vinyl cut outs & perfs at top
BEADING OR WELTING:
Most upholstery has small & large – it is
produced from long, narrow pieces of the same vinyl. Our machine
puts many slits every inch to allow beading to smoothly round
corners.
EXPLODED DIAGRAM:
Our notebooks have a diagram of each
upholstery piece we make so that it will be as close to factory
as possible – it tells the order in which to sew the pieces, type
of stitching, how much to fold under, etc., etc., etc.! This is a
bucket bottom.
a
~'t,
~~
-;,:;;:;:;c:~
~---
(sf'
v->f
,,.--..-f·v
--,~
;,;
,.
~t:=~
...
/
::.
~~;._.,
---
,;1-1~
==i==r~~:___..,
~-