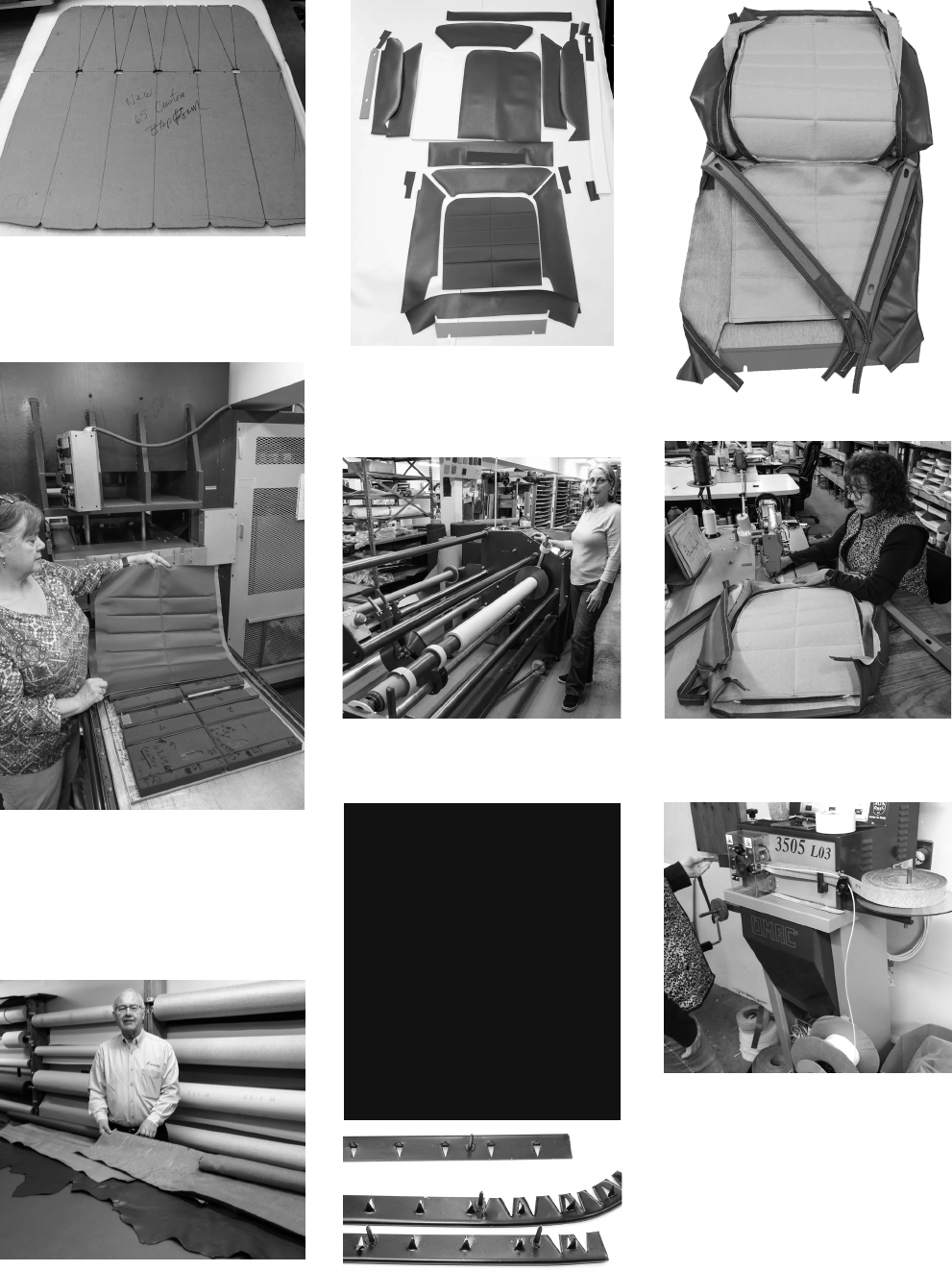 i
WARNING:
Product

s on this page can expose you to a chemical, which is known to the State of California to cause cancer or reproductive harm. **For more information go to w

ww.P65Warnings.ca.gov**
25
CRAFTING YOUR UPHOLSTERY ITEMS
This template is used to draw lines on the
3 layer foam piece. A mark is made at each
notch & then lines are drawn. Now a sharp
blade is used to cut the first layer of foam to
help create the pleat depth.
"EXPLODED" 1964-65 standard bucket
top. Vinyl, cardboard, foam, listing,
beading, thread, and expertise allows this
to become upholstery!
Inside view of a bucket seat top
A dielectric machine produces microwaves
that oscillate rapidly from the platen through
the vinyl to the brass tooling and back & in
a few seconds melts the vinyl so it can blend
with filler or backing materials leaving a
sealed pattern in the vinyl. On Riviera just for
the rear of the bucket seat.
Amy runs the vinyl slitter to produce all
the smaller widths of vinyl we need for
beading, binding or die cutting.
Happiness is sewing the last seam on a
bucket top!
Cal Clark with some of our hundreds of vinyl
rolls on the wall, and some of our leather
hides and Riviera fabric on the table.
This beading machine hot glues a nylon
cord inside the folded over vinyl and then
cuts several small slits per inch to allow
the beading to round corners without
kinking.
Close up of our repro nail strips for our
exact repro door panels
The same care and
knowledge is used to
produce our carpets,
door panels, door welting,
package tray, trunk panels
and headliners. This can
take up to 18 hours for some
sets of upholstery – you only
want to do this once & we
want you to have the best
upholstery possible. Be sure
to see the interior discount