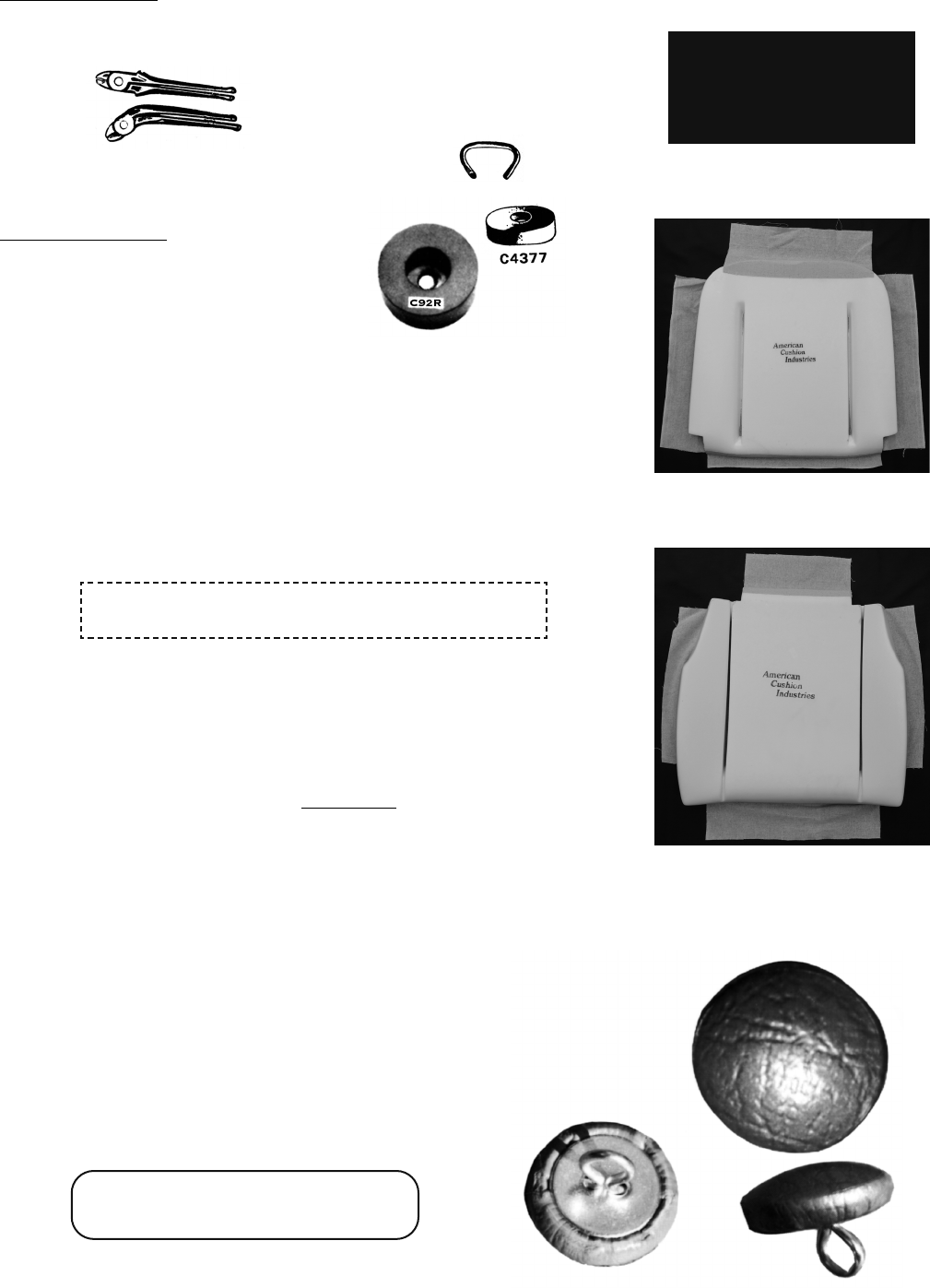 i
WARNING:
Product

s on this page can expose you to a chemical, which is known to the State of California to cause cancer or reproductive harm. **For more information go to w

ww.P65Warnings.ca.gov**
13
Hog Ring Pliers:
These are used to attach the reproduction upholstery the same way as the originals. Generally you will need from
200-300 clips.
PROFESSIONAL PLIERS (NO CLIPS)
EXTRA HOG RINGS:
Set of 100
C4880
6 oz./set
SEAT BUMPERS:
We have round and oval.
Check your seats
ROUND

C92R

2 oz.
*DO NOT FIT REAR*
Now you can replace those old foam buns with new high quality, original density foam. A
special fabric is formed onto the foam (similar to the original) for attaching to the frame.
New foam will help give a fuller appearance and fit to your new upholstery kit and give a
more comfortable ride!
DO NOT fit rear.
NOTE: These DO NOT fit 1965 "Custom"
SOLD AS A SET OF TOP & BOTTOM CUSHIONS ONLY
Fit left or right front bucket.
1=SET for 1 FRONT BUCKET SEAT
1963-65 Riviera C10805
Both of our top & bottom seat buns (sold as a set for one bucket) have the 4 pieces
of attaching fabric, which is critical – do not buy ones without!
Note: A slit must be cut across the top
for wires & hog rings as w/ original.
Shipping Weight: GROUND = Dimensional 30 lbs.
If you are ordering seat upholstery too, we'll box buns with it to save shipping.
with critical attaching fabric
'63-'65 BOTTOM
with attaching fabric.
Front corners have to
be trimmed slightly
PRICES
You can get up-to-date prices on our website – either enter the Riviera Catalog (bottom
right of home page index) and click on the part number or just enter the part number in
the search box (upper right of home page) –
corvair.com
RIVIERA UPHOLSTERY BUTTONS
Covered with the vinyl or fabric to match your upholstery. See page 8, 18 & 19 for all
of the vinyl & fabric color codes. It is nearly impossible to recover your old buttons; we
suggest you order these for the best results. Buttons are sold in sets for best pricing or you
can order them individually. Please be sure to add appropriate color code when ordering
(on the internet, there is a dropdown menu for the color choices).
1963 = 38 Buttons
R300
2 lbs.
1964-65 = 32 Buttons
R301
1
½

lbs.
1965 Custom = 20 Buttons
R302
1 lb.
Individual Buttons
R303
2 oz.
For Leather Sets,
order the correct color of vinyl to match your leather.
We cannot cover buttons with leather. All vinyl colors match our leather.
Door Buttons – Page 22
All R items on this page
qualify for the interior
e
a;.
~
C4377
-------------------------------------------------1
I
~-------------------------------------------------·
(
J
----