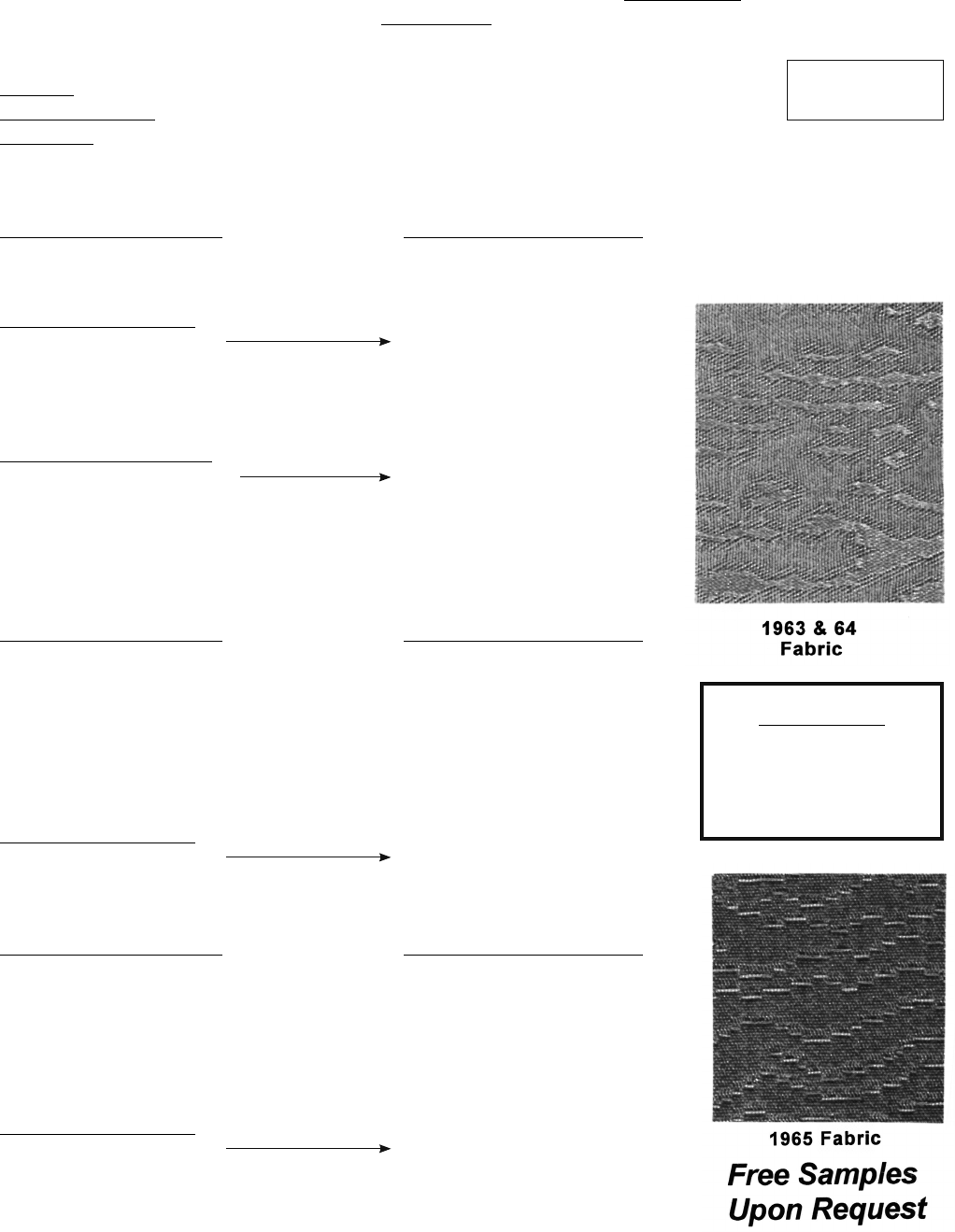 i
WARNING:
Product

s on this page can expose you to a chemical, which is known to the State of California to cause cancer or reproductive harm. **For more information go to w

ww.P65Warnings.ca.gov**
8
UPHOLSTERY COLORS
– See Center Fold Samples
Samples sent for FREE - just ask for SAMR–( ).
Fill in the 3 color code letters from below. These are the
original combinations but we can do many combinations that are not stock.
For example:
We could do 1964 with
1963 black fabric or with a fabric of your own.
Please note:
Vinyls may not be exact.
PLEASE SEE SAMPLES.
Also some vinyls used with fabrics are not exact matches so we list several codes. We suggest you get both and
decide.
NO RETURNS BECAUSE YOU DIDN'T SEE A
SAMPLE.
VINYLS:
Many are exact matches but we suggest
samples first
.
FABRIC & VINYL:
Some fabric and/or vinyl colors are slightly "off".
Please get samples first.
LEATHER:
We have tried to match the leather and vinyl colors and luster to the original sample book. I think the
matches are excellent but
please see samples first
! (The dark blue is very dark as on most cars.)
NO RETURNS BECAUSE YOU DIDN'T SEE A
SAMPLE
COLOR SAMPLES
pgs 17,18,19,20
1963 VINYL – CODES ( )
COMMENTS ABOUT OURS
Light Blue
(HLE) – TRIM #716 =
Very close
Silver
(HVE) – TRIM #726 =
Very close
Sandalwood
(HZE) – TRIM #736
=
EXACT
1963 FABRIC & VINYL
FABRIC CODES ( )
VINYL CODES ( )
Blue
(FHE) – TRIM #717
Blue
(HDE)
Black
(FBE) – TRIM #787
Black
(HBE)
Sandalwood
(FWE) – TRIM #737
Sandalwood
(HZE)
Gray (not original?)
(FGE)
Gray
(HGE)
1963 LEATHER & VINYL
LEATHER CODES ( )
VINYL CODES ( )
Black
(LBE) – TRIM #788
Black
(HBE)
Red
(LRE) – TRIM #778
Red
(HRE)
White
(LWE) – TRIM #748
White
(HWE)
Saddle
(LAE) – TRIM #798
Saddle
(HAE)
Dark Blue
(LDE) – TRIM #718
Dark Blue
(HYE)
Silver
(LLE) – TRIM #728
Silver
(HVE)
1964 VINYL – CODES ( )
COMMENTS ABOUT OURS
Blue
(HLE) – TRIM #601
=
Very close
Silver
(HVE) – TRIM #602
=
Very close
Fawn
(HFE) – TRIM #603
=
Darker
Red
(HRE) – TRIM #607
=
Very close
Black
(HBE) – TRIM #608 & #628 = EXACT
Dark Blue
(HTE) – TRIM #621
=
A little lighter
White
(HWE) – TRIM #624
=
Very close
Saddle
(HAE) – TRIM #629
=
EXACT
1964 FABRIC & VINYL
FABRIC CODES ( )
VINYL CODES ( )
Green
(FJE) – TRIM #610
Green
(HJE)
Blue
(FCE) – TRIM #611
Blue
(HDE)
Fawn
(FFE) – TRIM #613
Fawn
(HFE)
1965 VINYL – CODES ( )
COMMENTS ABOUT OURS
Blue
(HLL) – TRIM #601 (stand)
=
Very close
White
(HWL) – TRIM #604 (stand)
=
Very close
Black
(HBL) – TRIM #608 (stand)
=
EXACT
Saddle
(HAL) – TRIM #609 (stand)
=
EXACT
Green
(HGL) – TRIM #620 (custom) =
Close
Black
(HBL) – TRIM #628 (custom) =
EXACT
Saddle
(HAL) – TRIM #629 (custom) =
EXACT
1965 FABRIC & VINYL
FABRIC CODES ( )
VINYL CODES ( )
Green
(FGL) – TRIM #610
Green
(HJL)
Blue
(FHL) – TRIM #611
Blue
(HDL)
Fawn
(FFL) – TRIM #613
Fawn
(HFL)
Black
(FBL) – TRIM #618
Black
(HBL)
TRIM CODE
Found on trim plate on
the firewall near the
brake master cylinder in
the engine compartment
Free Samples
Upon Request
64
Fabric
1965
Fabric