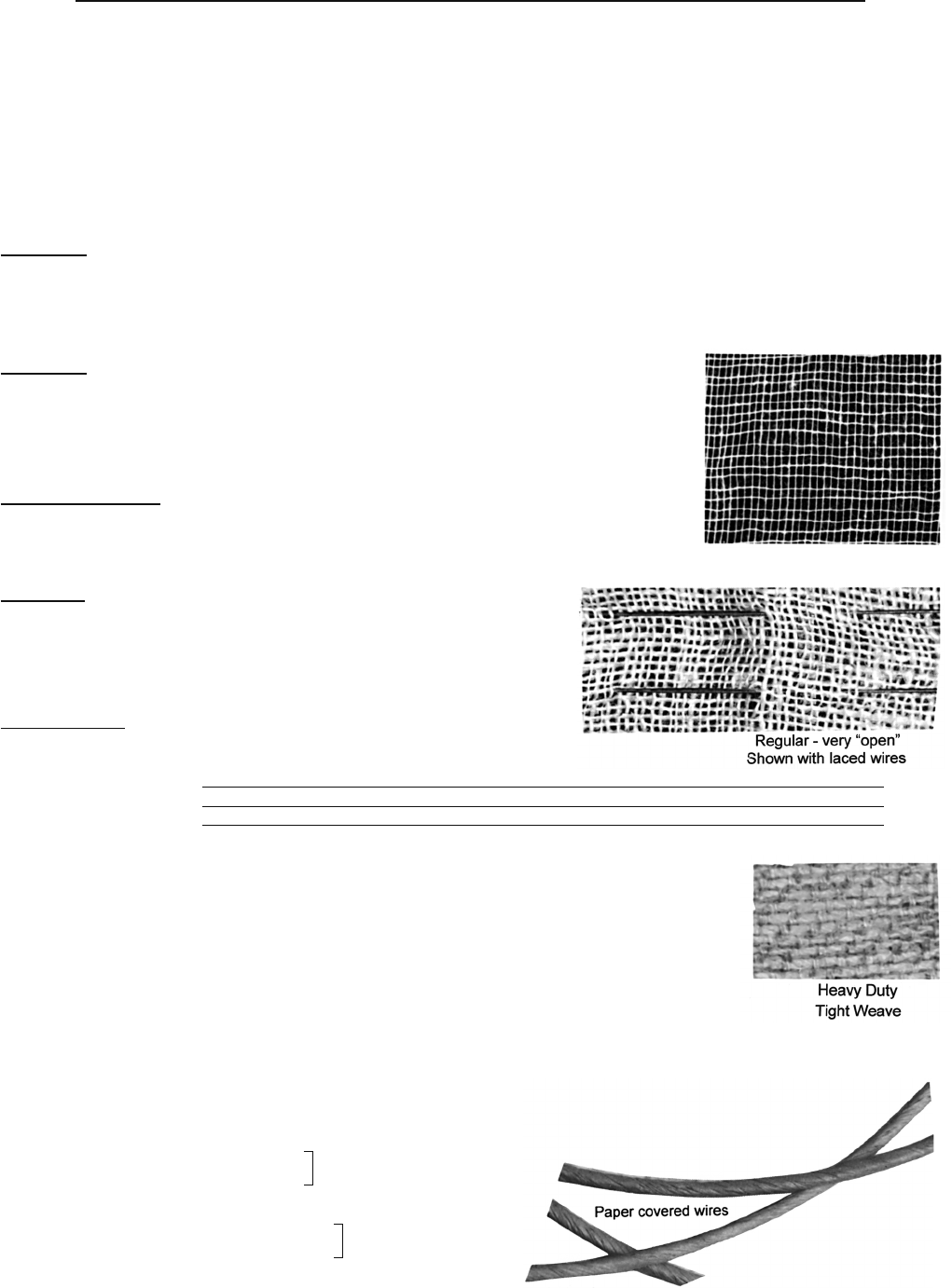 i
WARNING:
Product

s on this page can expose you to a chemical, which is known to the State of California to cause cancer or reproductive harm. **For more information go to w

ww.P65Warnings.ca.gov**
12
New Upholstery Padding & Other Items
We are now offering many different items that will help you completely rebuild your seats before installing your upholstery sets. It isn't hard to do, but
does take time and these materials will give you a superior installation as well as a more comfortable seat. We can supply enough different items
that you can replace all of your flattened-out, smelly, and/or weakened material. IF YOU HAVE TIME WE SUGGEST YOU REMOVE YOUR INTERIOR (TAKE
MANY detailed PHOTOS!!) AND DETERMINE JUST WHAT YOU MIGHT NEED.
See Seat Buns,

page 13.

WE OFFER VARIOUS MATERIALS FOR YOU TO
CONSIDER – FREE SAMPLES WITH AN ORDER.
HOG RINGS – Larger Quantity!
Now available in packages of 500 hog rings so you'll be sure to have plenty – you get 500 for about the price of 300!
C4880X
1 lb. (500) (Good quality hog ring pliers worth purchasing. See TOOLS,

page 13.

)
NOTE:
Not all seats, all years used all these materials, so check your seats before ordering.
Cotton:
Old cotton was a little denser than what we can now get. I like to put the pieces together, put them under a piece of plywood & weight it down for a
day before I start to use it.
Bucket Seats:
They used some small pieces to help fill out the seat. New seat buns usually eliminate the need. We have found that NON COTTON ITEMS ARE much
easier to use if you do need to add a little material. Tops most likely to need extra filler.
Cotton:
27" is wide enough for most car seats – you will need 2 layers per bottom & 2 per top (see above).
Remember, the cotton usually needs to hang over 2-3" at each end. Size Needed? Most seats (except buckets) need to be
55-66" for 1 layer, so a rear seat could need 4' x 55" (not counting any "under padding").
Sold by the yard: 1 = 27" x 1 yd, 3 = 27" x 3 yds., etc. (pieces will be continuous)
C4881L
Weight approx 1 lb./yard

Sample =
C4881LA
Cotton Skrim:
This important material goes on top of cotton & helps to keep the cotton from shifting as the
vinyl moves. It was used by the factory.
Sold by the yard: 1 = 36" x 36", 2 = 36" x 72", etc.
C13227

8 oz./yard

Sample =

C13227A
Burlap:
Many seats use some burlap – burlap has wire laced (woven) through it, but you can
replace them by weaving the wires. The burlap is often weak or torn. The wires can rub on the springs
below so we like to put a layer of regular or heavy duty burlap over the springs, then install the burlap
with the wires laced through on top. We include instructions & hints to make it better than the fac-
tory. We offer the burlap by the yard. Regular is about 40" wide; heavy duty is about 30" wide. The
wires can usually be reused and lacing isn't too difficult. If rusty, consider new ones.
New Spring Wire:
To lace through burlap. Use needle-nosed pliers to form ends. Sold in 55"
lengths; cut to length as needed. Buckets seats usually need 16-17" per wire.
C3719
4 oz./piece (wt less if ordering 10 or more)
Suggested Yardage
Bucket Seat (top & bottom)

2 yards
Rear Seat (top & bottom, all cars)
4 yards total
Regular Burlap:
Original in Corvairs (1) = 1 yard x 40". Will be shipped as a continuous piece; order 5 & get 40" x 5 yards, etc.
C13170
10 oz./yard

Sample =
C13170A
Heavy Duty Burlap:
Use on top of springs before the regular burlap with the wires laced through.
1 = 1 yard x 30" and will be shipped as a continuous piece. Order 5 & get 5 yards x 30", etc.
C13171
14 oz./yard

Sample =
C13171A
Paper Covered Wire:
All Cor

vair upholstery has wire in the listing – it is often paper covered. The paper covering
kept the wire from cutting through the listing and as the hog rings gripped the paper covering, kept the wire from moving. Zigzag
wire and even bare wire was used (bare wire rusts & is more apt to cut through the listing). We are offering thin & thick wire.
The thin wire will work for all car & FC upholstery. The thicker wire was used in several places that Chevy thought there would be
more stress. 25 Feet is plenty for the FC front seat (they often used thick). 50 Feet is plenty for any car or FC with rear seats.
Why replace?
Usually the old paper has deteriorated. Bare wire must be sanded or the rust can quickly deteriorate the listing.
Thin Paper Covered Wire
(most often used thickness)
Thick Paper Covered Wire
(often for FC & limited areas in car & bucket seat)
25 Feet
C10019W

1 lb. 4 oz.
50 Feet
C10020W

2 lbs. 8 oz.
J
J
-
-·-
..
.
,.._
1
-•
·-·
_
,._.
.,,
..
.,,
di
•
...
..
~
,
,-
611'
,
..
...
.
.
.,
.,.
.
,
lll
j
I
..
=
II
-·
'
I
I
m
I
+
I
II
l
■
I
11
.,
m11
'
II
'I
..
I
II
H
II
l
l!J
-.,.
t
...
II
,n
INII
lilt
..
.....
.
...
•