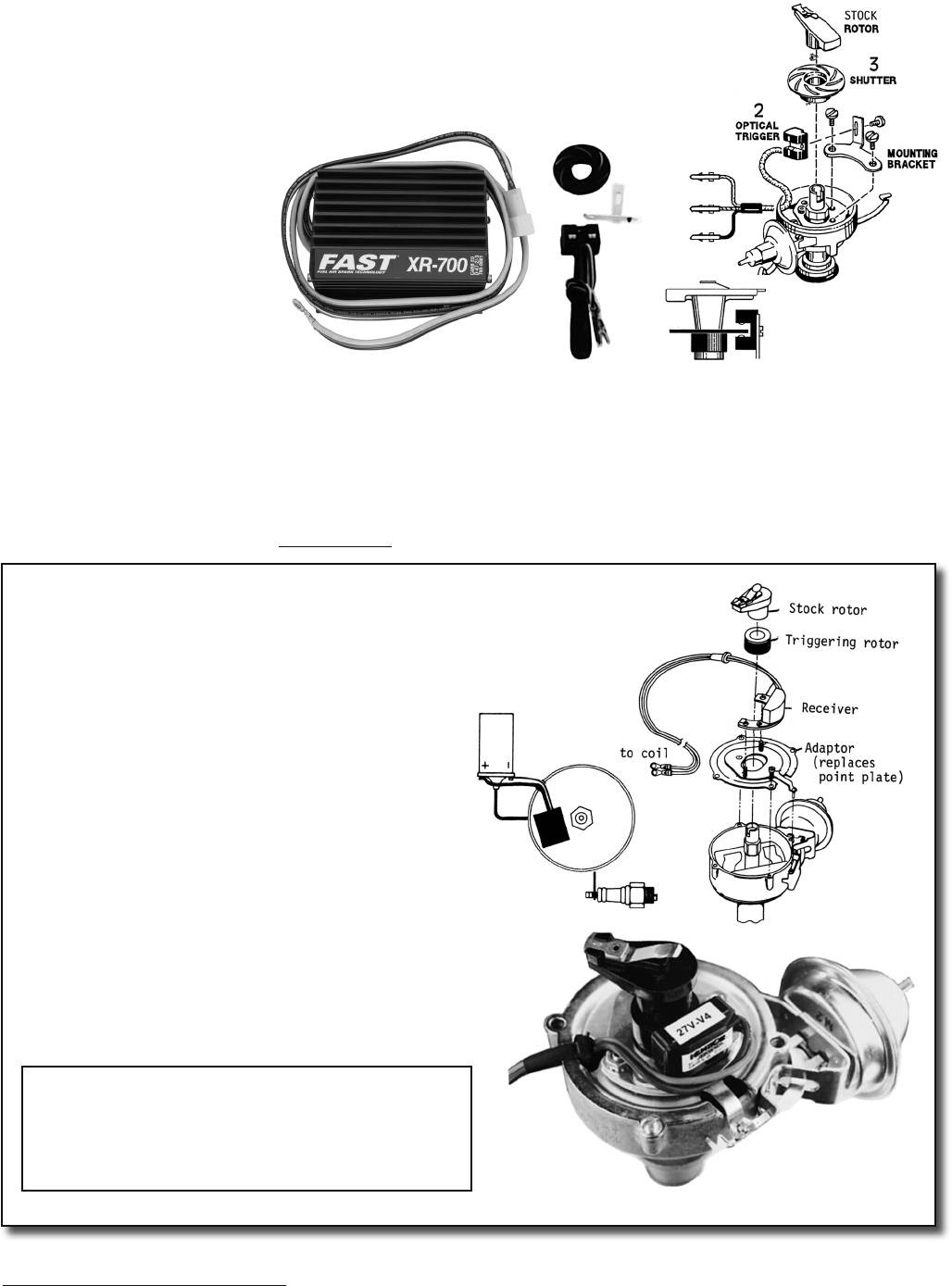 i
WARNING:
Products on this page can expose you to a chemical, which is known to the St

ate of California to cause cancer or reproductive harm. **For more information go to www.P65Warnings.ca.gov**
74
Light Diode Type
This
ELECTRONIC IGNITION
is an excellent system to put on your Corvair and installation usually requires less than 1/2
hour.
(Don't confuse this with CD units that still use points.)
1. Control box and wiring harness: Mount in a cool area.
2. Light unit: Fits where points were.
3. Light breaking disc: Fits on distributor shaf
t below rotor.
Replaces:
B. No need to set dwell (point gap)
Eliminates effect of:
B. Worn distributor shaft and housing
Benefits:
A. Exact spark all the time
B. Much "hotter" spark at all RPM
C. No point or condenser replacement
D. Superior performance especially on
110
,
140
, and Turbo
We ran this unit on our
1964
Spyder for several years and were impressed. We had found for years that our Turbo would "miss" the first couple times we "revved" it up af
ter sev-
eral days of city traffic and on short winter trips. All we did was install this
"Electronic" Ignition
(on the market for over
30
years) on our stock Turbo distributor and ever since
we can rev to
5500
RPM every time with no missing and the best performance ever! Unit can be installed so that if necessary it can be returned to
100
% stock components in
20
minutes. For top performance, be sure your rotor, distributor cap, and plug wires are in good shape.

Mag Wires Suggested!

Above unit also fits all
Chevrolet
6 cylinder.

1962

–69

distributors only.
Corvair Electronic Ignition
C

2851
2

lbs.
Suggested Coil:
See page

75

Flamethrower II Coils WILL NOT work with C2851 or C6790
Electronic Ignition
Magnetic Ignitor
Use with stock engine wiring harness.
This unit fits inside the distributor cap and replaces the points and condenser.
All you put back in is the small
"IGNITOR"
receiver and special triggering
rotor. The rotor has 6 slots that are "seen" by the magnetic sensor. Once
installed all that shows is 2 wires going to the coil. Holds timing within ¼
degree, unaffected by dirt, moisture, oil. Install in less than 10 min.
Fits all
1962–69 Corvalr distributors
and all 1963–75 Chevrolet 6 cylinders except
V6. Since 1991 (when we stopped selling these), the company has made
these more resistant to the high heat in the Cor
vair distributor and are now a
good choice.
Ignitor II
Although we still have the original
IGNITOR
(above) you'll want to consider the additional
features of the
IGNITOR II
.
A. Still fits inside distributor cap. NO moving parts, NO black box.
B. Senses current level in coil and adjusts dwell to maintain peak energy throughout
entire RPM range (especially 3000–5000 RPM). (Powerful micro controller with
adaptive dwell algorithms)
C. 2 times MORE available plug voltage than with standard points or original IGNITOR.
D. Quick and easy installation. Fits 1962–69 style Corvair distributor.
E.
Want even better high RPM performance?
You MUST use a FLAME THROWER II COIL: See page 75, #5, 6 & 7)
SIDE VIEW
(installed)
to control box
Note:
All units on this page still require a
condenser on the coil for radio noise suppression.
See page 75A for a comparison of
Ignitor vs. Ignitor II
IGNITOR SYSTEM
WIRING DIAGRAM
IGNITOR/IGNITOR II
installed
Electronic Ignition Note:
All units on this page have been extremely good and long lasting, however,
if they fail, it is often "all or nothing" so we suggest you keep your old points and wiring in your car just in case.