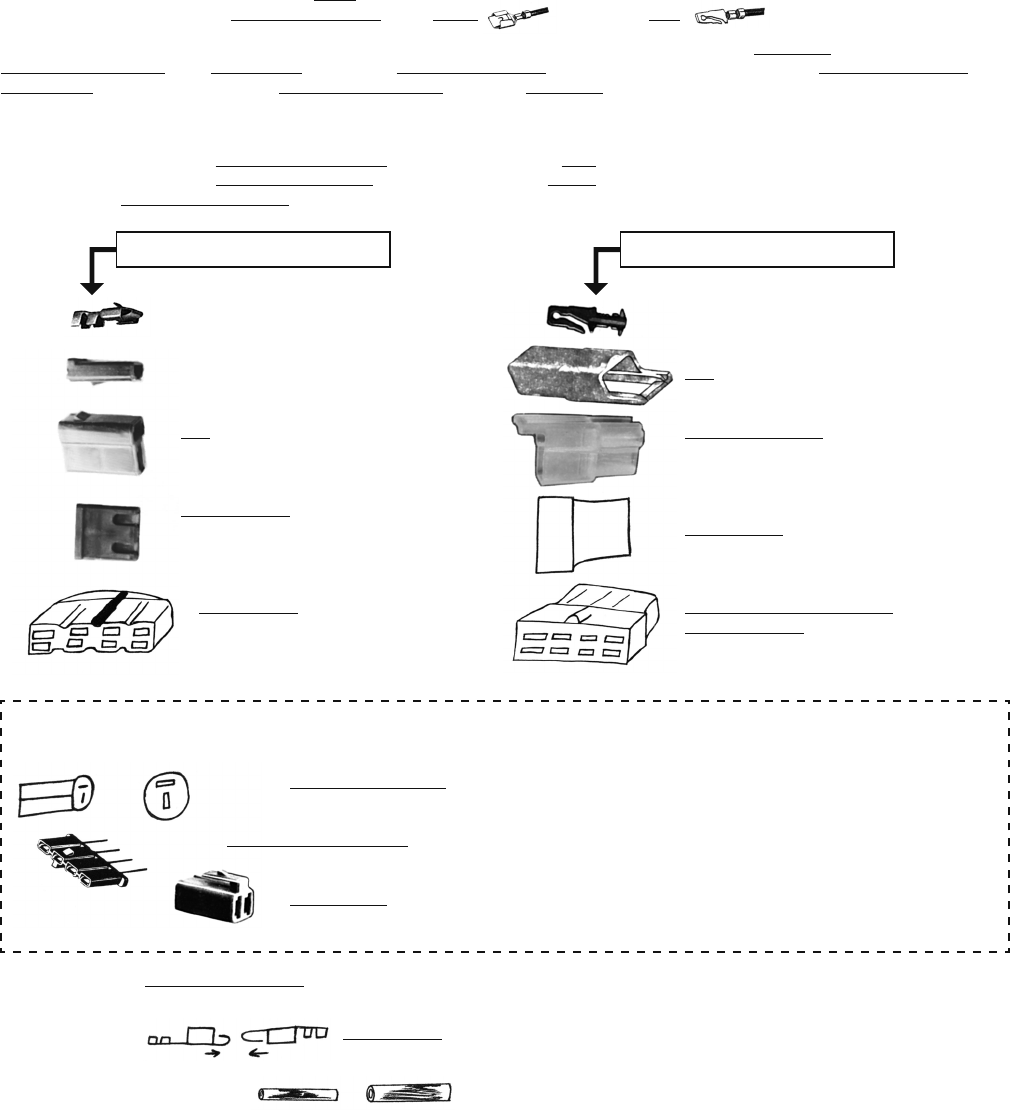 i
WARNING:
Products on this page can expose you to a chemical, which is known to the St

ate of California to cause cancer or reproductive harm. **For more information go to www.P65Warnings.ca.gov**
100
Electrical Connectors & Housings
METAL CONNECTORS:
There are 3 basic STYLES of metal electrical connectors used in Corvairs.
The
2 MAIN METAL ONES are:

Female

Male
PLASTIC HOUSINGS:
The plastic housings are referred to as Male & Female. (To really confuse things: gener ally a

MALE METAL

connector is used in a
FEMALE PLASTIC HOUSING
, and a

FEMALE METAL

connector in a MALE PLASTIC HOUSING. So, when a connection is made, you have a MALE PL

ASTIC HOUSING with a
FEMALE METAL
connector inside, going into a
FEMALE PLASTIC HOUSING
, which has a
MALE METAL
connector inside).

All of these come on the Exact Repro Wiring
Harnesses.
HOPEFULLY:
We can "de-confuse" this:
A
– We have shown the
FEMALE METAL CONNECTOR
above the plastic housings (
MALE
) that usually use it.
B
– We have shown the MALE METAL CONNECTOR above the plastic housings (
FEMALE
) that usually use it.
C
– The MATCHING MALE & FEMALE plastic housings are also opposite each other.
FEMALE metal connector
MALE metal connector
Fits All Housings Below
q
Dual Plastic Plug:
Used on Van engine harnesses
Matches C5238
Fits on end of main harness (at engine
end). Most 1961-64 Cars. 8 position.
Fits All Housings Below
q
"Opposite Receptical"
Dual Receptical
Original 8 Position, White Plastic
Housing Receptical
Used on most 1961-64 engine harnesses. Sold each.
f
f
f
f
f
THESE HOUSINGS ALSO USE FEMALE METAL CONNECTORS (C3295)
Round Plastic Connector:
Often used on early harnesses for tail light connectors, etc.
C5107
1 oz.
Voltage Regulator Connector:
1965-69 Cars
C6094
2 oz.
Alternator Plug:
1965-69 (buy also C3295)
C3298
1 oz.
END VIEW
FC DASH CLAMP:
Vinyl coated clamp for the harness behind FC dash. Screws to bottom right screw of the square
wiper access panel to hold the wiring in place.
C1438C
2 oz.
Connector:
Sold Set of 5 pair.

C3964

2 oz./set
As used on 1965-69 at original multi-connector at engine compartment. Install into original housing.
RUBBER SLEEVES (tubes)
These sleeves are used in several places and slide over the wire and connector to act as an insulator. Sold Set of 5.
Small (l .D. approx. 1/16")
C7195
2 oz./set
ELECTRICAL "GREASE":
This compound is formulated to keep dirt & moisture from all electrical connections to prevent corrosion & to provide ease in removal.
We suggest it for horns, starter solenoid, light bulbs into sockets, main harness to multiconnectors, etc. One 2 fl. oz. tube is enough for up to 100 average connections
Please use your customer number. Thanks!
SHOP MANUALS – A MUST!!
OUR ORIGINAL CORVAIR SHOP MANUALS COULD PAY FOR THEMSELVES
MANY TIMES OVER WITH JUST ONE USE – See page 244
ASSEMBLY MANUALS A MUST TOO!