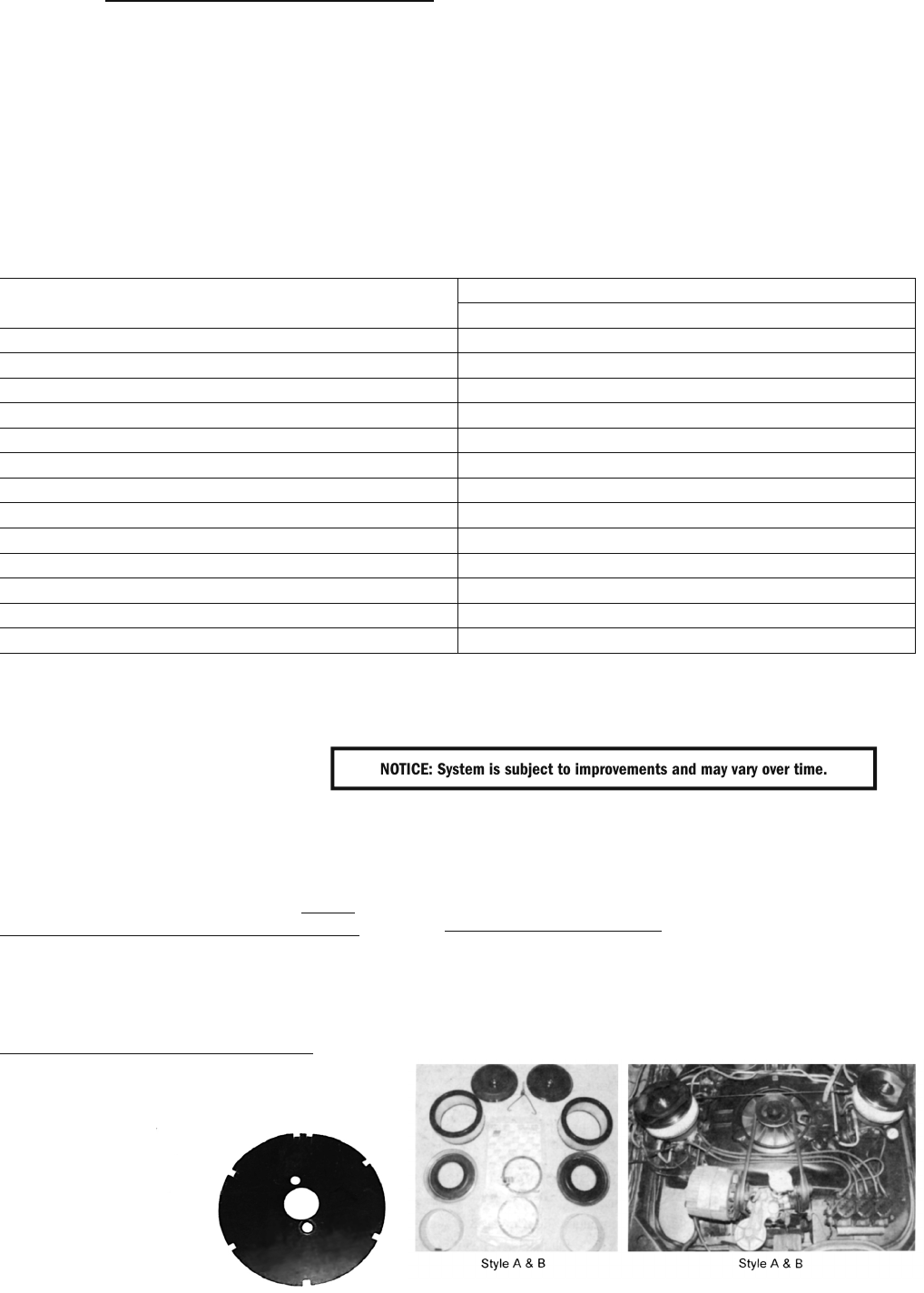 i
WARNING:
Products on this page can expose you to a chemical, which is known to the St

ate of California to cause cancer or reproductive harm. **For more information go to www.P65Warnings.ca.gov**
63B
FUEL INJECTION –
Full kit $1,500.00–$1,800.00
Why Fuel Injection?
Fuel injection is the next generation of power, performance and dependability that Corvair engines need and owners deserve. From the
quick start on cold mornings and being able to immediately drive down the road, you will realize it performs like today's cars. No more adjusting carbs, points, frequent
spark plug changes; you can just start it and drive. At highway speeds, your EFI computer adjusts the timing for optimal fuel economy and performance. It also retards the
timing when high combustion temps can destroy an engine. "Dieseling" during a hot stop is a thing of the past and rev limiting is active if you miss a gear. GM Throttle
Body Fuel Injection is probably the most dependable system that GM has ever developed and is now available for your Corvair.
What Does it Look Like?
We like it because it can look almost stock (see photos).
Is This for High Performance?
This will give excellent performance. but if you are out to make a "monster motor", this is probably not what you need.
What Won't it Do?
It will not cure engines that need to be rebuilt due to worn rings, cylinders, burned valves, etc. Your engine must be in good condition.
How Hard is it to Install?
The person installing this kit should have good, basic mechanical knowledge; see "other information for this build" below. Your
engine can also be easily returned to stock. Comes w/complete, detailed instructions & U-tube videos (accessible via the website). Website: www.corvair-efi.com. The site
gives more detailed info & photos of nearly every part. Please visit the site before ordering.
The Basic Parts Included:
(2) Dual Throttle Bodies (TBl-700) with special levers
(Left pull) includes IAC, Injector and TPS
(1) Fuel line TBI block-off / svc port-passenqer side
(1) Knock sensor & adaptor
(2) TBI to Corvair aluminum adaptor
(1) GM – IAT sensor
(1) Throttle linkage to TBI rod
(1) Crank trigger sensor bracket
(2) Intake manifold gaskets
(1) Throttle rod – 1/4" adjustable w/clips
(1) Custom wiring harness for Early or Late
(1) Throttle actuator assembly
(1) CN Corvair ECM chip (145 or 164 ci)
(1) Temp sensor (requires pipe tap into choke hole)
(1) GM OBDC – 1 ECM w/modified EPROM
(1) Clark's fuel return "tee"
(1) GM coil pack DIS with module
(1) Set of Emerson Wires (8mm black)
(1) GM crank sensor & wire assembly
(2) GM TBl-700 to adaptor gasket
(1) GM map sensor
(1) Distributor block-off shaft retainer
(1) Fuel line 5/16 passenger side
(1) Distributor block-off
(1) Fuel distribution 5/16 "tee"
(1) Fuel pump block-off
(1) 5/16 Fuel return line-drivers side
(1) Set magnet driven variable speed sensors for drive axle (LM only)
(1) 5/16 Inlet fuel line-drivers side
(1) JTR variable speed sensor (EM only)
Also included are Harmonic Balancer drilling instructIons and throttle rod cut & weld instructions, 0
2
sensor and more!
The Following Parts need to be purchased locally for Warranty/Exchange or Shipping purposes:
(1) Fuel pump (internal or external). We recommend internal as it is quieter and used in stock TBI systems. If external is used, it must be a "roller vane" type. The cheaper
solenoid type will fail soon after installation.
NOTE: you must have a clean or new tank without rust or debris and a new strainer or your new pump will be ruined.
(2) 6' 5/16" steel and rubber main fuel line
(2) 6' 5/16" steel and rubber return fuel line
Other Information for this Build:
1. Fuel pump, air cleaners and adapter solutions are available separately and are NOT part of this kit. Air Cleaner / PCV must also be taken into consideration.
2. You must drill and tap choke holes to accept ECM temp sending unit.
3. VSS on late model will require tack weld to the rear control arm.
4. Due to the noise of the Corvair engine, the knock sensor is disabled when above 3200 RPM.
5. We will repair or replace (at our discretion) any part found defective for 6 months after the date of purchase. Modified/abused parts will not be exchanged or refunded.
Engine & Body Style
Air Cleaner Adaptors
145 ci 1961-63 Cars (98–102 hp & 80 hp)
C13102
145 ci 1961-63 FC (102 hp & 80 hp)
C13106
164 ci 1964 Cars (110 hp & 95 hp)
C13110
164 ci 1965-69 Cars (110 hp & 95 hp)
C13113
164 ci 1965-69 Cars (140 hp)
C13114
AIR CLEANER SYSTEMS –
available in

3 Configurations
A.
61-69 (exc FC/Wagon) – 6" chrome air cleaners with air cleaner stacks will fit all
Dual chrome air cleaners.
C13080A
6 lbs.
B.
61-69 All – The low profile air cleaners with adapters for FC/Wagons, but can be used
with any model.
C13081B
6 lbs.
C.
64-69 – Regular adapters to factory air cleaners for 64-69 model are available.
Requires the 64-69 style air cleaner system with center filter (95, 110 & 140 HP).
Photo – next page.
C13082C
6 lbs.
Fuel lnjection Improvement Part
Order this trigger wheel separately & you will not have to drill the
balancer, plus you will get smoother idling. You get the wheel, spacers
to go between the wheel and balancer, 2 bolts, and instructions. You
may want to use lock washers or Loctite. Can be used with balancers
or early 95hp pulleys.
NOTICE: System is subject to improvements and may vary over time.
C13263