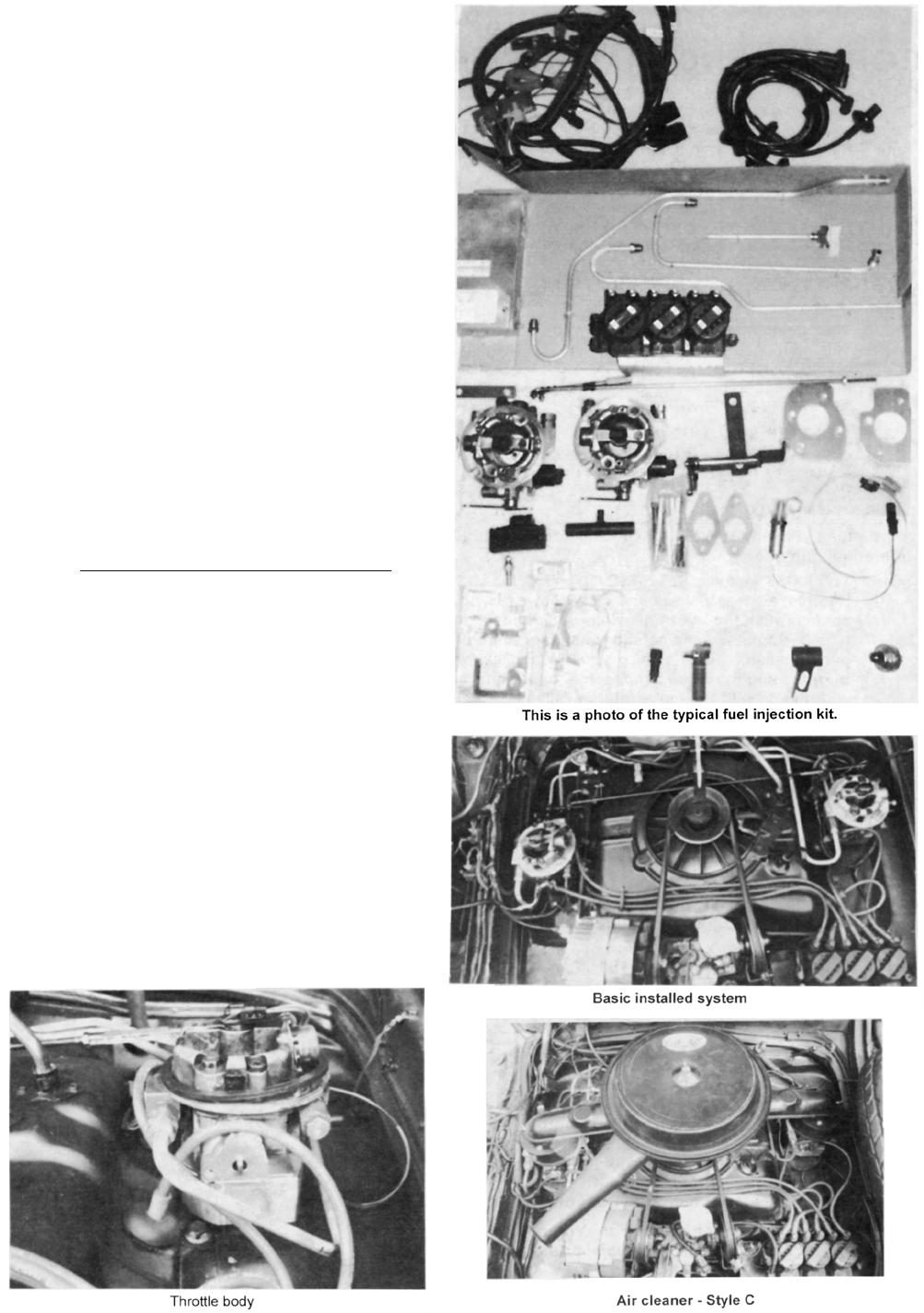 i
WARNING:
Products on this page can expose you to a chemical, which is known to the St

ate of California to cause cancer or reproductive harm. **For more information go to www.P65Warnings.ca.gov**
64
BACKGROUND:
Fuel injection has always been costly for Corvairs,
mostly because of the welding required on the port injection and the
manufacture/use of low production parts. The throttle body was chosen for
its dependability and simplicity; it also uses mostly GM main-line production
parts for cost and reliability. The dual throttle body has been used before,
but was fragmented and used a costly computer to run it. This system uses
a Water Temp Equivalent (WTE) method for the ECM to control and trim the
engine's operation. We hope you find that this is one of the most well thought
out, economical and dependable kits ever produced for the Corvair while
providing years of trouble-free service. This EFI system is a DIY system with
many pre-made/adapted parts to aid you in the successful installation of your
system, but relies on your skill & knowledge of Corvairs and EFI. If you doubt
your abilities, hire an installer or enlist a friend/club member to help you with
the install.
THEORY:
Carbs and points that control the Corvair and all motors of that
era are a compromise. The carbs give the best fuel mixture only at certain
times due to the design. Distributors cannot compensate for temperature and
use flying weights to control the timing. Good, but again, a compromise. Fuel
injection with DIS applies the best fuel mixture and timing for that RPM, load
and temperature. Other sensors also trim the fuel and timing , but those are
the basics.
What Should I Expect?
Ease of starting, good all around
performance and better fuel economy. This will not make your worn out engine
a good engine; it does not fix burned valves, leaking heads, cracked pistons,
etc., it's fuel injection. It maximizes the amount of fuel and spark for the best
all around performance and economy based on external factors which a
traditional carb and points system cannot do.
A laptop computer and the USB diag cable is not required, but highly
recommended (http://www.obd2allinone.com/sc/toplevel.asp?cat=2). You
can see everything your engine is doing and can tell in an instant if you have
something not working/disconnected, etc. The wiring and all components
are checked as a kit (on running motor) before shipment, but your skills and
attention to detail can make this a dream or a nightmare.
These kits are basic GM OBDC-1 computer with GM components. If taken
to an automotive shop/FLAPS, they can scan the car just like a 94 and
older Chevy truck to get the codes. We have not made any changes that will
interfere with the GM code or signals.
MORE ABOUT THE KITS:
A Tach lead has been added to the wiring
harness and the crank sensor is now adjustable up to 8 degrees. The wiring
harness has all new Delphi crimps and any joints are soldered, heat shrunk
and taped. All is enclosed in a wire-loom and is designed to drop in over the
engine setup. The IAC sensor needs to be mounted in engine compartment;
close to the air intake system is best. 140HP system is the 110HP with
high inputs for fuel and air. The kit comes with Clark's turbo return "T", so no
cutting or drilling of the sending unit is needed. The harmonic balancer will
need the ¼" holes drilled (template included) and the throttle rod (trans to
throttle actuator) must be cut (shortened) and re-welded. No other machine
work or cost is required; this kit is pretty complete.
Installation manual will
be a written hardcopy and U-tube videos accessible from the website.
Fuel Injection – More Info