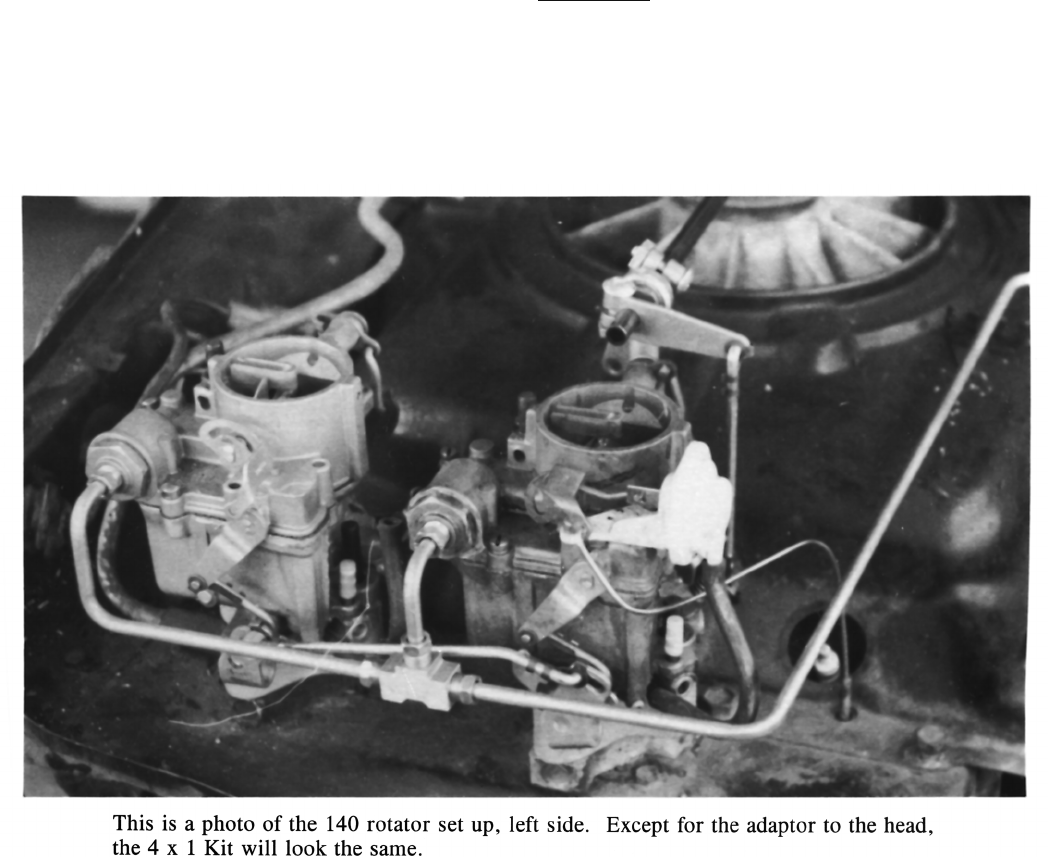 i
WARNING:
Products on this page can expose you to a chemical, which is known to the St

ate of California to cause cancer or reproductive harm. **For more information go to www.P65Warnings.ca.gov**
63
4 x 1 CARB KITS
(converts 2 carb engines to 4 carb!)
This kit will convert your 2x1 engine to a 4x1 much like
a 140 engine. The progressive linkage is very positive
and well constructed to stay ad justed. Linkage ratio is
designed to gradually open the secondary carbs after 25%
throttle opening on the primary carbs. Testing indicates
this to be the ideal ratio for best throttle response and
driveability. The horsepower in crease on a stock engine is
40% and even more if a good low speed cam with slightly
increased lift is used, such as the OTTO PARTS OT-10 cam.
The adaptor casting also rotates the carb 90° which
eliminates carb ooding and starving in hard cornering.
Those of you who have automatics will really be impressed
with the sharp improvement in response from stop lights.
When the torque curve of an engine with this conversion
is compared to a stock 140, it offers a higher torque curve
than a 140 hp engine at engine speeds up to 3,000 to
3,500 RPM, which is obviously the most used RPM range
in street type use. In respect to gas mileage, when driven
with a light foot or in the same manner as your stock
engine it will give comparable mileage.
The carbs you will need with this Kit are two more like the
ones that came on your engine. Year is not important but
they should be a like pair and must not be 140 secondary
types.
Should you want to use carb base insulators, which we
do recommend, order 4 insulators (C506) and 4 more
C506HT base gaskets.
See page 56.
You may also want to read about 4 x 1 Kits in "How To Hot
Rod Corvair Engines"
pages 17-19
. Includes excellent
instructions.
See photos this page and next. You must use the air
cleaner sets listed on
page 62
for
OTTO 4 x 1 Kit
.
Stock air cleaners won't work.
Kit includes:
All linkage pieces, 4 x 1 adaptor casting,
all fuel lines & connections from fuel pump, carb base
gaskets, carb studs, and anged carb mounting nuts.